Want to learn how to land more clients? Build relationships. Building relationships and networking is one of the best ways to land clients!
Stacy Hanson is a freelancer, stay-at-home mom, former virtual assistant, and now podcast manager. She has figured out how to land clients by building relationships and networking and is on the blog today sharing her story and tips on how to land clients.
Stacy was first on the Live Free Blog back in 2022 when she shared a day in her life with us.
You can read that blog post here! 
She was on the blog again when we did a post about her and how she began freelancing as a virtual assistant. 
Today, I am talking with Stacy about the ebbs and flows of her business over the years, how she has pivoted from a virtual assistant to a podcast manager, and her tips on how to land clients by building relationships!
Stacy's Story
Stacy began freelancing back in January 2021, and before that, she was a dental hygienist. At that time she had two kids and had become a stay-at-home mom. As she was trying to figure out motherhood, while being home for her kids and there for them, she wanted something outside of motherhood too.
After finding The Live Free Academy, Stacy dove in as a virtual assistant.
From virtual assistant to podcast manager
The last time we talked with Stacy, she was looking into pivoting her business into podcast management because of some experience she had with some client work.
Now, Stacy has been in business for 2 ½ years, and has fully transitioned her business into only podcast management!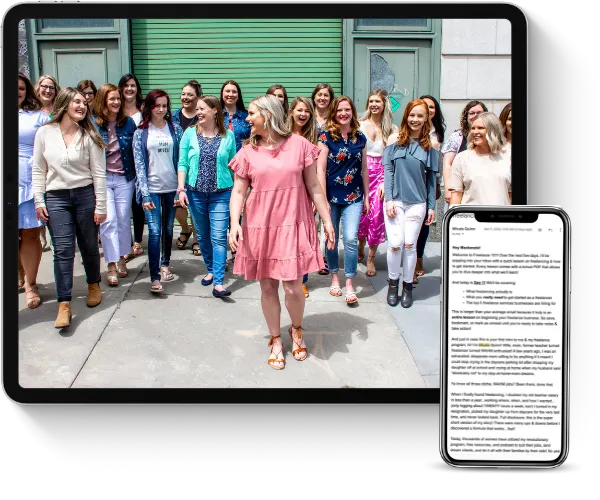 Learn how to earn $3K a month+ as a freelancer working less than 25 hours a week even if you think you have no experience.
This FREE crash course will teach you all about the freelance industry, so you can finally end the family vs. finances battle.
Stacy's decision to pivot
As a virtual assistant, Stacy worked on some behind-the-scenes work for clients doing editing or uploading. She also landed clients in subcontracting roles on podcast management teams which gave her some experience as well.
Enjoying the podcast management role, and feeling like she had hit a wall with being a general virtual assistant Stacy found a podcast manager course with Lauren Wrighton.
While pivoting her business, Stacy had a few clients that went in different directions with their businesses. Another was starting maternity leave and was pausing services at that time, leaving Stacy with just 1 client. Stacy saw this as the perfect time to start transitioning her business to podcast management.
Routes To Find Clients
In the beginning, Stacy learned how to land clients through a job board from a program she was in. She also was very active in Facebook groups through networking to find and land clients.
After a while, Stacy shifted her efforts to Instagram. She learned how to find clients on Instagram by connecting with podcasters and building relationships with them.
Lastly, she landed a few clients with referrals.
To sum it up, the routes Stacy used were:
Job boards
Facebook groups
Instagram relationship-building and networking
Referrals
How to Land Clients
After a slow season
Shortly before having her baby, Stacy parted ways with all her clients for one reason or another.
A little worried, but knowing in hindsight that it was what she needed at the time, she put her business on pause.
She focused on being home with her new baby for a 3-month maternity leave. Once that 3-month mark hit, Stacy felt like she had the time to start working on her business again.
Landing 1 client at a time
So she started to focus on just landing 1 client at a time.
Stacy remembers being a little nervous about finding clients again but ultimately knew she would be able to after having been through this dip in clients before when she was a virtual assistant and gone down to 1 client within a week.
Stay says she just tries to remember there are always going to be ebbs and flows in business, and before she knew it within a week again she had landed 3 more clients!
"There will always be downtimes, and changes happen really quickly. You just have to be adaptable, flexible, and willing to work through those challenges.
How to Land Clients by Networking and Building Relationships
Stacy's clients didn't just appear, she was actively working on building relationships and networking to land clients. Whether it's in Facebook groups or on Instagram, she is very active on the platform.
Stacy hasn't necessarily been posting and creating content every day but has been successful with making genuine connections with people through comments and messages. Because that's how they are going to remember you and come back to you. Or refer you to someone they know!
3 tips on how to land clients
Be active with your time.
Get clear on where you are going to focus your networking efforts.
Be active in making connections.
Connect with Stacy on her Instagram or her website!
If you've been wanting to enroll or are waiting for a sign to sign up for The Live Free Academy, here is your sign! Click here to enroll, now is the time!
OR
If you are saying now is the time I need to really dive in and learn about what freelancing is and if this is for me. If that is you, come to my live workshop! I'm hosting this live workshop on October 16 at 12 pm noon CST.
In this workshop, you will learn about the who, what, and why of freelancing. You will walk away with your plan to start your freelance business and work 20 hours a week while matching your income.
You will have a chance to see if freelancing is something you want to pursue, and you will have the chance to ask me any questions. Sign up for the live workshop here!