I am so happy to bring you another episode from The Live Free Academy Success Stories Series. Crystal started her business back in 2019 and has been doing this for just over 4 years. And boy, has she had a wild ride!
In reading Crystal's story, you will learn how she got started, landed her first client within 2 weeks, and built her business battling depression and ADHD.
Crystal started her business doing general virtual assistant jobs at $25/hour. She transitioned from doing tech VA tasks with a rate of $65/hour to growing her role to a funnel expert charging up to $120 per hour! Crystal upped her virtual assistant salary by specializing in various virtual assistant jobs and did all that in just 4 short years.
I know you're going to love this story about overcoming challenges and increasing your virtual assistant salary. It may just inspire you to keep going on your business or to finally get started!
About Crystal's Virtual Assistant Jobs
Crystal's elevator pitch:
"Hi, I'm Crystal Silvas, and I am a web developer and certified master marketer. I help female entrepreneurs marry the tech and design in their businesses in WordPress and FG funnel."
Crystal describes her interests as being very techy and understanding the technical side of things, but at the same time, she loves the creative side of things as well.
So she takes a holistic view of looking at websites and funnels and building them with the technical pieces on the backend so that everything runs smoothly from the beginning.
Crystal's background
Before Crystal had any virtual assistant jobs or roles, she worked at Nintendo of America. She started working as a customer service rep dealing with fraudulent activity. She also worked there doing data forecasting and scheduling for the workforce management department for the call center. There she was telling managers when to hire, fire, and determining how many people they needed at any given time on the phones for any given thing.
Crystal was eventually fired from that job, and ties that to her struggles with ADHD.
She even applied for the managerial job when her manager quit, after she had been filling in in the role for 6 months, and was told they were going to hire someone with specific software program experience.
Eventually, when that company hired a new manager, they brought in a new software program. However, Crystal was listed to learn the new software and teach it.
Crystal says that experience led her into a spiral of anxiety and depression.
Shortly after, she and her husband found out they were pregnant! This led them to a decision to move out of the Seattle area to a smaller suburb where her husband was from at 36 weeks pregnant!
She began working at a kids' consignment shop in the area part-time and wore her baby while working. However, when her daughter began crawling the owner told Crystal she could not bring the baby to work anymore due to safety concerns.
So, Crystal quit working at the kids' consignment shop and stayed at home with her daughter. However, Crystal began feeling that she needed more mental stimulation.
Finding virtual assistant jobs
Shortly after, Crystal joined the HireMyMom.com group and found The Live Free Podcast. She binged the podcast and began looking into the program!
In 2019, during a promo, she purchased the course, went through the first 3 modules, and was doing the Swap It Sunday Thread getting testimonials.
Crystal landed her first client within 2 weeks from The Hire Form.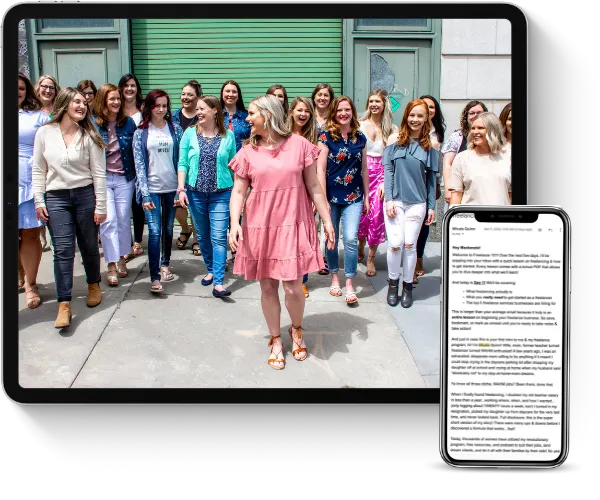 Learn how to earn $3K a month+ as a freelancer working less than 25 hours a week even if you think you have no experience.
This FREE crash course will teach you all about the freelance industry, so you can finally end the family vs. finances battle.
For this first client, Crystal's virtual assistant job was as a general virtual assistant for a yarn company.
Virtual Assistant Jobs
General virtual assistant
Crystal's virtual assistant jobs began with the yarn company, where she performed general virtual assistant jobs.
Tech virtual assistant
At about that same time, she started working virtual assistant jobs in a technical role. This was with a girl that ran Facebook ads and had a course group and courses for a $5 per-day ad system.
Both these clients were on retainer for 15-20 hours per week in total between both clients.
After about 3 months of working with these two clients, Crystal decided she wanted to shift into more of a tech virtual assistant role. So, she let the yarn company go and connected that client to a new general virtual assistant from the course.
How to Increase Your Virtual Assistant Salary with Specialized Roles
After working in the technical virtual assistant role with 1 client for 3 months, Crystal raised her rates from $25 per hour to $35 per hour.
They worked together for 6 months, then when the client asked Crystal to lower her rate back to $25 per hour, Crystal declined and they ended their working relationship.
With the next client Crystal booked, she doubled her rate to $65 per hour.
Currently, Crystal's rate varies depending on the work she is performing for the client. There are a few clients whose rate is around $85 per hour, but any new clients are now booked at $120 per hour.
Steps to increase your virtual assistant salary
A good start to a technical virtual assistant salary is a $35 per hour range for the first 1-2 clients.
Then each subsequent client you should bump your salary to $10 per hour.
Create a premium service that you can charge more for, like $120 per hour.
Then offer monthly maintenance packages to book them as retainer clients.
Working as a Tech Virtual Assistant
A technical virtual assistant job can vary with different tasks, but many of the tasks that Crystal does in a technical virtual assistant job are:
Tech Automation
Troubleshooting
Set up Facebook pixels
Figuring out how to make separate systems talk to each other
Additional services in addition to tech virtual assistant jobs
Additional services Crystal offers that are separate from her tech virtual assistant job is website development and funnel building primarily inside WordPress and FG Funnels.
With this, Crystal doesn't have as many clients as she does with technical virtual assistance, but she gets some clients that are usually one-off projects.
Then she can extend those projects for websites and funnel-building jobs with other services like monthly maintenance and website edits.
Learn More About Virtual Assistant Jobs
I hope this post inspired you to find out more about the virtual assistant jobs you can do with freelancing! Whether you are wanting more basic freelance information, or how to begin a virtual assistant job head to MicalaQuinn.com for more info!
I have so many resources to help you, no matter the stage you are in! You could be just learning about freelancing, looking to start your freelance business, or increasing your virtual assistant salary with specialized projects and virtual assistant roles. No matter the stage, I have resources to help you along the way and you can find them here!