Now that we've covered 2 BIG reasons why increasing your productivity is difficult for moms working from home in Part 1 of this series: 2 Reasons You Can't Increase Your Productivity. We want to talk about tips on how to increase your productivity.
We are with Megan Sumrell who is a time management and productivity expert. Megan teaches women who work from home her system about how to increase your productivity by creating a system that is Bottom-up. Rather than what normal goal-setting and planning calendars teach.
How to Increase Your Productivity with the 5-Step Planning Process
Megan has a 5 step basic weekly planning process for each week. Following this process shows you exactly how to increase your productivity!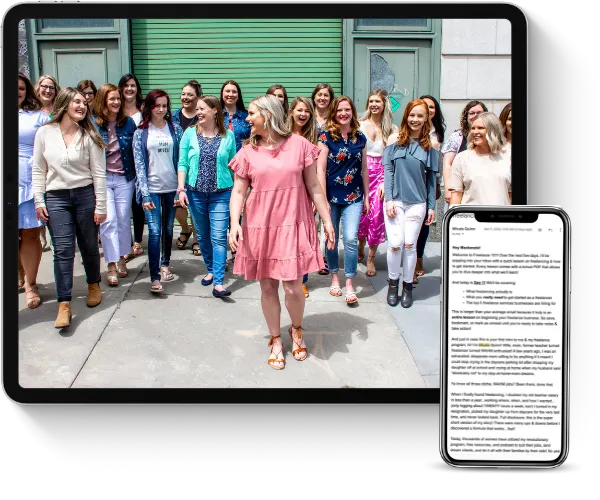 Learn how to earn $3K a month+ as a freelancer working less than 25 hours a week even if you think you have no experience.
This FREE crash course will teach you all about the freelance industry, so you can finally end the family vs. finances battle.
1. Get a weekly layout calendar.
You need a calendar in a weekly layout, whether you are a paper planner or a Google calendar person it doesn't matter. However, it needs to have each day as a column and weekly hours under it-a blank square is not going to do.
First, on your calendar, you need to note your current commitments like doctors, dentists, business meetings, etc.
2. Capture Your "Busy Being Busy Time"
The second step is capturing your "unavailable time" or "busy being busy time". For moms, this is probably a lot of your time. These are the routine pockets in your day where things are happening that need to be happening, but aren't the things that are growing your business, project-related, or even work-related.
For example, every morning from 6 AM to 8:30 AM there are a lot of things happening in Megan's house. The are kids getting up, she is packing lunches, walking the dog, and doing school drop-off.
However, during this time Megan cannot work on any home projects or things for the business. So, visually she blocks off this time off the calendar.
Megan says this step is often an eye-opener for her course students in helping them to realize the actual hours they have to increase productivity.
3. Block Off Personal Time
The third step is blocking off personal time for yourself. You cannot forget yourself, so whether that is 45 minutes to sit and watch Netflix shows or read a book, or get coffee with a friend. Get it on the calendar.
4. List Recurring Tasks
Next, look at the time there is, realistically, to do all the things on your list. Plug in and create a list of the recurring tasks. These are the things that you've decided you want or need to do regularly every week, but things that will not happen on autopilot.
This could be something like recording a weekly podcast or creating a weekly newsletter for your business. All these things are captured on a list, so when you sit down to do weekly planning you can look at the realities of the week.
Then also look at how you can group some of these things for efficiency. Rather than spread it out Monday, Wednesday, Thursday, would it be more efficient, while in the zone, to just knock them all out in one block of time? To increase productivity you will create a window to knock out all the writing tasks during this 1-2 block of time.
5. Plan One-off Projects
Last, add in the one-off projects. What are all the things you want to get done that are not part of that recurring checklist? Things like building a website or a big reorganization project like switching bedrooms. Identify pockets of time in the week where these projects can be worked on.
If you want to see this planning system in action, Megan has this training video plus others like "Ditch The Overwhelm" and "How To Stay Organized With Only 1 Notebook" on her app ThePinkBee.
Did you know, there is a 12-month payment plan for The Live Free Academy? You can enroll and get started today for just $147. When you begin on the payment plan, you get the entire course upfront. We don't hold anything back just because you are on a payment plan.
You get instant access to the full course that teaches you how to build your business step-by-step. You'll also get access to the skills training, the job leads board, the coaching calls, the student community Facebook group, and everything else that is a part of The Live Free Academy program. Get started and land your first client within 30-60 days at MicalaQuinn.com!