The fear of client rejection holds us back from taking a chance on ourselves. When freelancers begin to think about the possibilities of freelancing, that is when the fear of client rejection creeps in and sets us back. How to handle rejection from a client? Learn how with these 3 tips.
Let's face it rejection is a part of freelancing. There will be clients that will tell you no! And believe me, the first no is hard to hear.
What separates successful freelancers from the ones who give up is not overnight success or 24/7 hustling. Everyone hears no. Everyone gets rejected. It's the women who don't let the fear of rejection hold them back. They keep trying, and more importantly, they keep going even after a few no's.
Now, this is easier said than done! Hearing no on a job you thought would be the perfect fit for you is especially tough. That's why we are discussing how to handle rejection from a client with 3 things you can do to bounce back from client rejection. To help you keep going the next time you start to feel the fear creeping in.
3 Steps on How to Handle Client Rejection
1. How you react to client rejection
Remember: you are not alone
Remember that every freelancer is either in the same position as you or has been before. All freelancers face rejection at some point, especially when first starting!
Keep putting yourself out there
The difference between the women who are moving forward and those who are stuck? The women who are moving forward. All the women with amazing success stories. The women you see taking over Instagram and doing Live Free Podcast interviews. Those women are not letting rejection or the fear of rejection get to them. They let it roll off their shoulders. They keep putting themselves out there.
So, keep networking and making connections. Eventually, you will land that first client.
2. Mindset: keep it positive
Keeping a positive mindset can help you in more ways than one. Even if you don't feel optimistic at that moment. Take some time to reframe, then come back with a better attitude. Negative self-talk can affect your confidence.
You wouldn't tell a friend that she will never succeed after a bad interview, would you? So why would you do that to yourself? Instead, try reminding yourself of a few things.
Use your why
First is your why. If you don't know why this one is important, stop what you are doing and listen to this podcast episode. In it, you learn about your why and how it is the key to never giving up on your freelance dreams.
Then find some things that make you smile. Things that make you feel good about yourself. It could be a photo of your babies, your dream for your business, or some client testimonials that will remind you that you can do this.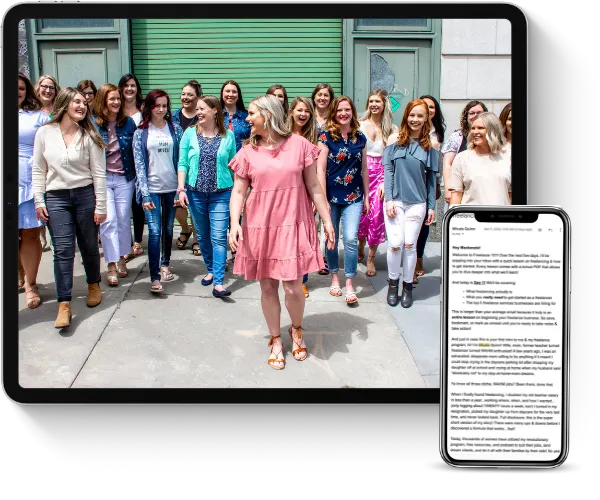 Learn how to earn $3K a month+ as a freelancer working less than 25 hours a week even if you think you have no experience.
This FREE crash course will teach you all about the freelance industry, so you can finally end the family vs. finances battle.
3. Analyze and improve
You will probably miss out on a few jobs that feel like a perfect fit, and it really stinks when that happens.
You may want to respond to a rejection email with a few choice words to make yourself feel better, but by all means, try NOT to do this! If you can, take the rejection with grace and respond professionally.
Don't burn bridges
After all, you don't know if this opportunity will lead to others. And a nasty email could put you on the bad list of the hiring person. An excellent way to respond to a rejection email is to thank them for the opportunity, tell them you understand their decision, and please keep you in mind for future projects. You never know when they may reach out to you!
Analyze what's not working
If you are hearing a lot of no's from your outreach. Whether it's a pitch on a Facebook networking group or a cold call to a local business, it may be time to evaluate your script. Something is not catching their attention or speaking to your ideal client. So go back to the drawing board. Figure out how you can make your services more appealing. Determining how your services will solve your client's problems is the best way to get in front of them.
One important thing to remember is that there will always be more jobs and more chances for you to put yourself out there. So, do not let the fear of client rejection hold you back!
We all feel it at some point in time. I for sure did! The fear of rejection isn't made up, but it can be overcome. It takes work, and if you are willing to put in the time and effort, you can and will conquer your fear of rejection.
If you want help with any of these steps, please reach out to me at [email protected]! I would love to help you reframe your approach to landing clients. In my step-by-step program The Live Free Academy, you get training videos, tutorials, guides, and coaching support to help you land clients ASAP. Plus, exclusive access to the best community of virtual assistants and freelancers who have gone through or are going through to connect with!
Next time you get a no from a pitch, remember these 3 tips to help you handle client rejection:
You control how you react

Keep your mindset positive

Analyze what's not working