Last week on Instagram, I did a poll asking what topic you wanted more information about. Overwhelmingly, how to get freelance clients if you can't afford virtual assistant training like The Live Free Academy was the winner.
So, let's talk about it! How do you get freelance clients? Follow these steps.
Make a list of contacts and ask around.
Plant a seed.
3 things to send when you get a referral.
When to get to work.
How to Get Freelance Clients
The one thing you need to do to get freelance clients before you can afford The Live Free Academy course is to have conversations with every single person that you know.
1. Make a list and ask around:
Make a list of all the people in your circle who have businesses or know people. We've all got an 'Aunt Debbie' who is well-connected in the community and knows people. Right?
Reach out via phone, email, in person, or text and say something like this; "Hey, Debbie, I'm starting a business as a virtual assistant. I just wanted to reach out and see if you would happen to know of anyone needing a virtual assistant right now, would you?"
2. Plant a seed:
She might ask, "What's a virtual assistant?" Then you will explain it to her.
She may say no, that's okay! Ask her to keep you in mind if she hears of anyone.
Because what you have just done is plant a seed. Now, she will be looking out for you, and that seed might bear fruit in a week or month, sometime down the road.
She may yes. In that case, take control and ask for an introduction email.
3. 3 things to send when you get a referral
Once you are introduced you need to send 3 things to land your first client.
4. Get to work!
After receiving all those back, then and only then should you get started working with them. You must follow this process to protect yourself as a freelancer. You do not want to work and not get paid for it!
Virtual Assistant Training Resources
Now if you need virtual assistant training, there are templates inside The Live Free Academy.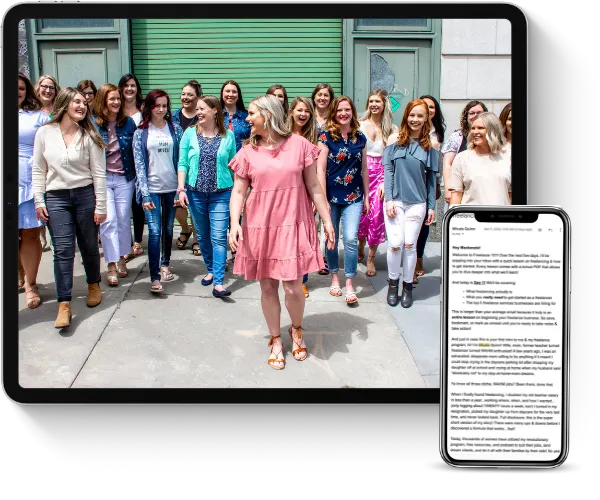 Learn how to earn $3K a month+ as a freelancer working less than 25 hours a week even if you think you have no experience.
This FREE crash course will teach you all about the freelance industry, so you can finally end the family vs. finances battle.
However, if that is not in the cards for you, or you need something less expensive to begin, I have The Freelance Template Shop.
Here you can find a discovery call-template, a contract, and a proposal template. There are onboarding templates. There are resources for you to learn how to get freelance clients!
Free virtual assistant training and resources
The moral of the story is,
Don't let the 'I can't afford it' mentality keep you stuck.
You can get freelance clients without virtual assistant training like The Live Free Academy, it is just going to take more grit, more trial and error.
It might take a little bit longer than if you had the shortcut laid out for you inside the LFA. The point is, you can do this! And when you are ready to enroll in The Live Free Academy, I'll be here to help you!
And if that's not in the cards, and all you need are The Live Free Podcasts and free resources from my website, then I am so happy to have been a small part of your business!
The Live Free Academy Course
The Live Free Academy is not a prerequisite to landing freelance clients!
It is a shortcut or step-by-step plan for you if you don't know what to do and want someone just to show you. It is your one-stop shop to build your freelance business, how to get freelance clients, and how to start working with them in no time.
There are two components to the LFA. There is the core program that includes any, and all future updates made to the course content. This is the core component that is going to teach you how to build your business.
Skills training
In this component, there is skills training. These are trainings like the skills camp that I've been doing. Those are included for all LFA students at no additional cost, plus the library of skills training ready for you to binge, like social media management, VA skills tasks, podcast management, and so much more!
Support
The other component of The Live Free Academy is the support element. If I know anything, it's that as you build your business, you will want support. Whether that is to have me look over your pitch on our weekly coaching calls or need someone to talk through which ideal client to pick and how much to charge.
The best part of The Live Free Academy is that you don't have to build your business alone.
When you enroll, you get either 6 months of access to the support elements on a payment plan or 12 months when you pay in full. You have access to the weekly coaching calls with me, access to the LFA community, plus access to the Job Leads Board!