In this post, I want to introduce you to someone who took the Land Your First (or next) Client Challenge and in it landed 5 clients in 30 days! She now helps here behind the scenes at the Live Free Academy–Taylor Trost!
Taylor was a teacher at the time and was planning her wedding, but wanted something different.
She signed up for the Live Free Academy and landed 5 clients in 60 days!
Today she is sharing her story about how she began and up-leveled her business by becoming an operational business manager. Plus, what she does here at MQHQ as director of student success, and tips on how to get clients!
Taylor's Story
Taylor is a former teacher who taught for 7 years before she left teaching. Taylor has a master's degree in teacher leadership.
Finding the LFA
In February of 2022, Taylor found the LFA from an ad and purchased the course just 2 days after attending the live training she went to.
On top of building her business and resigning from her full-time teaching career, Taylor got married last year!
Taylor was drawn to freelancing after losing her passion for teaching. She didn't know where to go. But after a free training during the week of parent-teacher conferences, she took a chance and decided to sign up for the course.
Route Taylor Took to Find Clients
After signing up, Taylor set a goal to get through the program in 4 weeks. She finished it in 2 weeks!
Taylor's next goal was to land 1 client and get 2 discovery calls in the first month after finishing the course.
She ended up having 8 discovery calls in that first month!
Where to find clients
To find clients Taylor found clients mostly through Facebook groups as a virtual assistant, and through applying for jobs on the Live Free Academy Job Board.
Facebook Groups for Finding Clients
Since Taylor didn't pinpoint a niche client she wanted to work with, she joined various groups on Facebook for networking.
It was a very broad range of groups, she says. For example, her home state + entrepreneur, small business owners, and the Boss Moms Group.
How Taylor Explained Her Experience as a Beginner On Discovery Calls
The discovery calls Taylor had were from a Teachers Pay Teachers Facebook group. Which is teachers who are creating resources and selling them.
On her very first discovery call, Taylor says she was very clear about her beginner experience. She explained it was her first time being a virtual assistant, but was excited to help. That after the call she would send a contract and an invoice, after a proposal walking the potential client through what the process would look like.
Tips For Finding and Pitching Potential Clients
Taylor says she was searching for opportunities to share her portfolio and her knowledge by giving tips in the Facebook groups. She was trying to be helpful, for free.
Then she would throw her pitch in when appropriate, but when she did she always made sure to follow the directions they left.
Details About Client Work
Total clients + hours per week
When Taylor began to find clients, she had:
A couple of clients were 2 ½ hour clients, totaling about 10 hours per week.
1 client was a 4-hour package, totaling 1 hour per week.
That was on top of doing the client challenge, working full-time, and planning a wedding.
Now, client work, Taylor says she is working 15 hours per week with client work.
How to Balance a Full-time Job and Find Clients
Keep school work at school
Taylor says she kept her work at school, so all grading and planning was done during any free or prep time she had. Sometimes there was a need for a little bit after school hours or work during a lunch break. However, she was very devoted to keeping her schoolwork at school so that she could go home and have time at home.
Time blocks for client work
She also planned out when she was going to work on her business. In the LFA course, I teach you to find blocks of time that you can work.
So, Taylor blocked out time on a Saturday, and each day in the evening. She explains that it was easy for her to work at that time because her husband works late, and they have no kids yet. It was just natural for her.
Taylor's routine to find clients
Every day after Taylor's full-time teaching job, she would come home and do client work, once she landed them.
Every day she was checking the Facebook groups she was in and interacting with them.
She would look at the LFA jobs group every day, even screenshot it at work, then come home at night and make the time to apply for those jobs.
She would look for new jobs to apply to and track it all in her spreadsheet.
How Taylor's Business has Changed in the Past Year
Taylor says she loved being a VA and it was great for starting, but she felt she had a lot more to offer. She has been doing a lot more for clients like giving opinions on things and strategy.
Taylor realized she wanted to transition to an OBM. Now she's doing a lot more work to help business owners plan and strategize.
Taylor's Role as Director of Student Success
Taylor helps me by making sure that every woman who enrolls in the Live Free Academy has their questions answered, and are supported. Taylor helps me out in our Facebook groups and runs our monthly live challenges.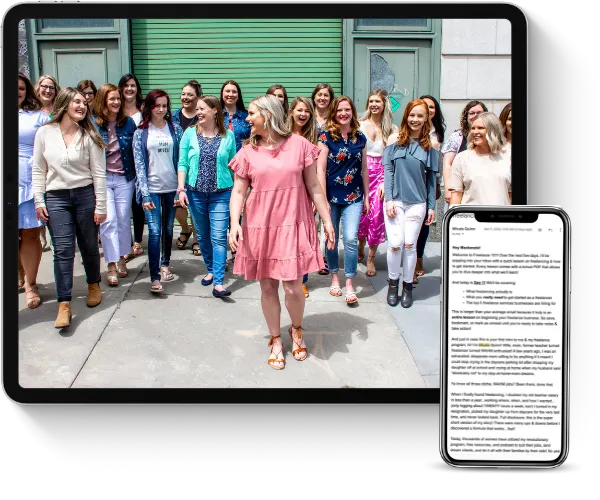 Learn how to earn $3K a month+ as a freelancer working less than 25 hours a week even if you think you have no experience.
This FREE crash course will teach you all about the freelance industry, so you can finally end the family vs. finances battle.
As the Director of Student Success, Taylor is in the Land Your First (or next) Client Challenge group that kicks off every month. She gives feedback and support to the students enrolled, advising them on new things to try. She asked questions to keep students engaged, returning daily, checking in, and doing those consistent tasks.
The Land Your First (or next) Client Challenge works by needing to know who you want to work with, your solid foundation, and an offer. Then from there, it's a matter of finding and connecting to potential clients.
Taylor helps with creating accountability to ensure the students come in, show up, and do the things they say they are going to do. Because that's when we see the most success, from 0 to 1, 1 to 3 (and even 5) clients in 30 days!
Taylor landed her 5 clients after participating in one of the Land Your First (or next) Client Challenges, and that's how she exploded. So, if you are in the LFA and have not done one of those challenges, make that a priority!
Advice for not landing clients
Taylor says she still has her spreadsheet of all the clients she applied to and had discovery calls with and it's long. She has applied for a lot of things, and sometimes we are just not the right fit, she says.
"You can't get disheartened, but try to keep moving on, keep looking, and you will find clients that are the ones for you."
Biggest challenges students face
Taylor says that the students in the Land Your First (or next) Client Challenge mostly face 2 challenges.
How to find clients
How to get their pitches opened
When it comes to finding clients, there are so many different ways. You mostly have to make sure you are being consistent and putting in the time. Just being consistent for 1 week or 2, isn't enough time.
How to Get Clients: 2 Simple Tips
1. Follow up
Taylor's tip on how to get clients: follow up!
One client, that Taylor applied for either didn't choose Taylor or didn't reply. Taylor decided to follow up 2-3 times, and it ended up that she wanted to hire Taylor for something different than originally pitched!
They are still working together to this day!
2. Build consistency
If you are inside the Live Free Academy, make sure you sign up for the next Challenge: Land Your First (or next) Client Challenge!
You can participate any time of day, on your own time. There is no set place to be or push-ups required!
It is how to get your 1st, 2nd, or next client by building consistency and momentum. Sign up here!