Today, on the blog, you get to meet Anna Bradley. Anna started her business back in 2019 as a virtual assistant, then dabbled in social media management, and now is a Dubsado specialist.
Anna loves helping other online service providers build sincere and efficient client relationships. She is a mom to 4 children ages 17-23 and has been married to her true love for 27 years. Anna loves traveling and gardening on her land in rural Missouri.
Anna has so much wisdom to share with us about starting a freelance business and how to find freelance clients both as a beginner and with specialized services. Anna also shares tips to set up your business in Dubsado to get your CRM up and running!
Beginning a Freelance Business
Anna has 4 kids in high school and up. While they were growing up, she homeschooled for several years while working at a local famous authors' museum. Anna and her family love to travel, but felt stuck at her job while her husband was traveling without her. She also felt she was missing out on her kids' events at school.
Then they tried homeschooling, but running homeschool while working part-time was hard to balance. Anna wanted a change.
She didn't know how or what.
The Live Free Academy
Then, in 2019, she stumbled upon The Live Free Academy course. Anna struggled with deciding to invest but ultimately decided to. After which, she says she does NOT regret it one bit!
Anna started the program as a virtual assistant and found clients through the Live Free Job board. Then she began to niche down into social media management but only liked it okay. So she kept going, developing her business and setting it up within a program called Dubsado.
Dubsado is a CRM. CRM stands for client relationship management. It is used to bring on potential clients, organize, and automate systems and processes. For example, signing contracts and collecting payments for your business.
Through using Dubsado, and getting the backend systems and client processes focused on, Anna realized she loved that part of the business. She loved thinking about her business that way, the clarity it brought her, and the direction it took her business. So she decided not to offer social media services anymore and niched her services into a Dubsado specialty.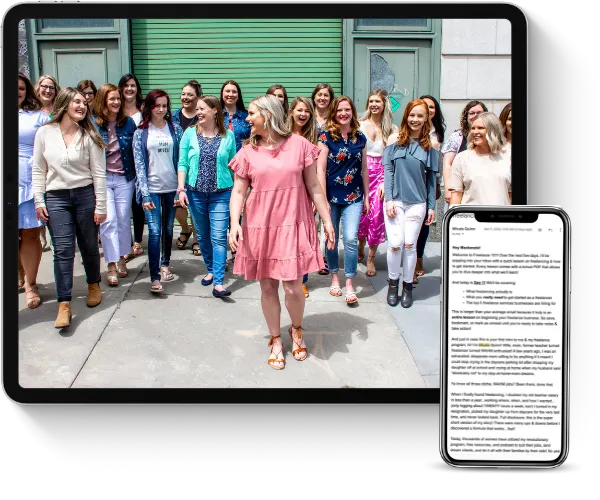 Learn how to earn $3K a month+ as a freelancer working less than 25 hours a week even if you think you have no experience.
This FREE crash course will teach you all about the freelance industry, so you can finally end the family vs. finances battle.
How to Specialize Your Services and Find Freelance Clients
1.  Working as a general virtual assistant, begin to niche your services by doing some of those specialty services for clients.
2.  Take small steps to niche your services. By using a general VA portfolio to find freelance clients, Anna didn't need to do much to rebrand her business.
Then when she decided to pivot into being a Dubsado specialist, she started right away by finding clients to set up in Dubsado, so she could practice.
To do that, she would offer a setup service at a low-end price in Facebook groups she was a part of.
3.  Last, talk to other people who are already in that niche. This helped Anna figure out if this was something that she would love.
How to find freelance clients after specializing
1.  Referrals: After finding clients from your initial smaller offer like a 'setup' for a low beginner price, you will likely get referrals from those clients. Build off those referrals to build up your client base.
2.  Revisit former clients: Go back to former clients and propose small changes to their current setup. Because businesses are always changing, and CRM systems are evolving, there are always changes and updates that you can propose or refresh to help their system be more efficient.
How to Determine if You Should Become a CRM Software Specialist
Do you like systems?
Do you like creating systems?
Do you like to strategize?
Can you think through different ways to do systems for different clients?
Do you want to learn Dubsado, the backend, and the tech side?
If you answered yes to these 5 questions, you may like specializing in Dubsado or another CRM software!
Do you need to be certified to be a specialist?
No. You do not need to get certified to become a specialist. You can get many clients without a certification.
Most of the time clients are not just looking for certifications. It could maybe do a little bit for you, but there is no need to have one to start specializing your services and find freelance clients in your specialty.
The Reson You Want a CRM for Your Business
Each CRM is going to be a little bit different, but if you are looking into a CRM talk to a specialist about your particular business.
You can be a VA just starting your business and with Dubsado, you will get 3 clients free each month. Everything is there and set up automatically for you. The scheduler, signing of invoices, and contracts.
So that by the time you get to your 4th client then maybe you are able to pay the yearly fee.
Then you don't have to reset each piece later on from different systems.
What is a workflow?
A workflow is part of your system. For instance, when you are bringing on a new client, you start with a lead capture form on your website, Facebook business page, social, or whatever it is.
When they click that they fill out a lead capture form. From there the system would manually send out your confirmation, and a Zoom link.
OR
It could look like sending a proposal, invoice, and welcome letter all automated from your CRM system.
The more you make it easy for your client, and the more you communicate with your client, the better.
Learn more about CRM systems
If you want to learn more from Anna about Dubsado for your business, connect with her on her website or Instagram.
Learn more about freelancing
Whether you are looking to find freelance clients, just starting your virtual assistant business, or just want more information about freelancing check out the free resources section of my website.
I have multiple resources to help you no matter what step of your freelance journey you are in! From the Freelance Crash Course that will teach you more about freelancing to The Business Launch Checklist. Check out all these resources and more for free!