Branding is the look and feel of your business. It communicates with your customers what you are all about, and will help them build a relationship with you.
So it's no surprise that when you are starting a business as a virtual assistant, you want to create a brand board to keep track of the look and feel that you are trying to convey to your clients!
How do you create a brand board though? What are the parts of a brand board that will help you keep everything consistent? Let's talk about it! In this blog post, I'm going to cover what exactly is a brand board, what are the basic elements, and how to create a brand board.
What is a Brand Board?
Your brand board is a document or template that has all your branding elements in one place for easy reference. Your branding elements will include logo, colors, fonts, branded photographs of you, and stock images. You will refer to this document when you establish your branding for any documents, social media, website, or print communications you create!
What is another name for a brand board?
Other names for a brand board are a brand style guide and mood board.
What are the benefits of a brand board?
It will keep your messaging, and visuals cohesive.
Help to build your like, know, and trust factor.
Differentiate you from your competitors.
Will evoke emotions that can move your audience.
Read more about why you should brand your business in this post.
How Do You Design a Brandboard?
To design your brand board, let's look at the elements that are typically included in a brand style guide.
Elements of a brand board:
Brand name:
For the name of your business or brand, you will choose either your name or something creative.
I highly suggest using your name, because your name is going to grow with you as your business changes. It will also humanize your brand, showing that there is a person behind this company.
Logo:
Create your logo in Canva, with a simple text-based design. You want to create a main logo and a submark with different variations.
Submark: this is something that you can use on social media graphics to show your brand. It's generally a simple mark that you can use in small spaces to show your brand rather than your entire logo.
Colors:
Pick colors that reflect the look and feel of the brand you are going for. 4-8 is a good range. Start with 4, you can always add more!
Fonts:
When you pick fonts, you want to pick 2-3 at most.
1 fancy accent font, 1 bold headline font, and 1 simple font that can be used for long blocks of text.
Photos and images:
Brand Photos: You can DIY these with your phone in the beginning.
Headshots: start with 3-5 headshots of JUST you looking at the camera.
Lifestyle: 3-5 lifestyle shots of you. Photos of you working with a laptop or holding a coffee.
Stock Images:
Also, find some stock images that match the look and feel you are creating. There are tons of free and paid options.
How To Create a Brand Board
Once you have all these things picked out like your fonts, logo, images, and colors you will want to put it all together on a brand board.
If you are a member of the Live Free Academy you have access to the brand board template to make it easy to create! You will also get access to some really beautiful color and font pairings that we put together for you.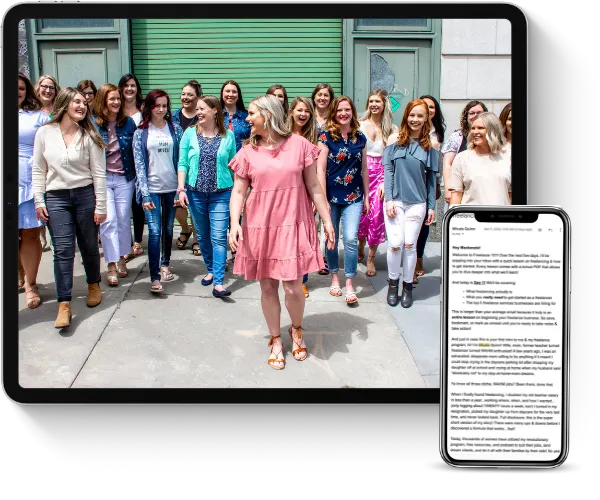 Learn how to earn $3K a month+ as a freelancer working less than 25 hours a week even if you think you have no experience.
This FREE crash course will teach you all about the freelance industry, so you can finally end the family vs. finances battle.
Step 1: Canva
However, when you want to DIY it start by heading over to Canva. If you don't have an account, create one and sign in. They have free accounts that will work just fine when you are a beginner freelancer!
In the search box, type in "brand board". You will see the different options that pop up here, choose one of the template options. (The one with the little picture icon next to it.)
Step 2: Find a template
Once you find a template you like, click it. If you opted for the free version of Canva when you signed up for an account, then make sure you are choosing a free template. You can tell because there is a little crown icon in the corner of the templates and items in Canva that are reserved for the pro users, and this little message will pop up when you over over the crown image.
Step 3: Customize
Once you find one you like, click it, then click "Customize this template". The template will open in a new window for you. Then you can start mixing and matching to change the colors, fonts, and images to match what you picked for your brand.
Step 4: Add your logo
If you haven't yet, take some time to create and upload your logo and submark to your template.
Step 5: Save it!
Rename this template so you can find it next time you need to make a branded document for your business. A great way to save it, while still in Canva, is to click the "Share" button in the top right corner of your screen.
Then scroll down to "Download" and click the option, then click the purple "Download" button. Save the document as a PNG (image) or a PDF (document) and then save it to your computer.
Open your Google Drive and create a "Brand Document" folder, then upload the document to that folder. This is where you will keep all branding documents in 1 place for quick reference.
Brand Board Tools
Pinterest
If you get stuck there are a few great tools you can use for inspiration! One of those is Pinterest. Open up  Pinterest.com and type in the search box your keyword + color palette, and in the results, you will see so many images to use for inspiration to help you make your own.
Image Color Picker
Another one of my favorite tools for creating a mood board is the Image Color Picker. Say you like an image you find online somewhere and love the colors in it. Go to imagecolorpicker.com, and upload the image. Once uploaded the site shows the colors in the photo and gives you the HEX code to use for that specific color.
Share Your Brand Board!
I would love to see your brand board! If you are an LFA member, come share your brand board with the group in the exclusive LFA Facebook group.
If you are not a member, when you sign up for the Live Free Academy, you get access to the step-by-step videos (like how to create your brand board), you will get scripts, templates, exclusive job leads, and land your next client challenges. Sign up for the Live Free Academy here!
If you are not yet an LFA member and decided to DIY your brand board today, but have questions email them to me at [email protected]. I would love to hear from you!