Are you wondering how to become an online course creator? A few years ago, I went from former teacher to freelancer to the online course creator job. Today, I am sharing my story of how to become an online course creator and why you might want to add a course to your freelance business!
How I Became an Online Course Creator: My Story
Transition from teacher to freelancer
In 2016, I was a teacher who desperately wanted to be home with my growing family. I quit my job in 2017 and was living my best life! I was freelancing, doing the naptime hustle, working about 15-20 hours every week. I didn't have daycare and was bringing home 3x my teacher take-home pay!
I retired from teaching in April 2017 when I went on maternity leave with my second child, George. By June and July of that year, I was starting to take steps to grow my business.
I began as a virtual assistant, but through that work, I realized that I loved marketing, social media, and sales funnels. I was working to pivot my business to more of an expert role.
Transition from freelancer to online course creator
I always thought one day it would be cool to help other women do the virtual assistant work I was doing then. However, I thought, maybe in 5 years, I will be ready for that. Little did I know that I was setting myself up for a transition into helping other women in their own freelance businesses.
While I was still freelancing as a virtual assistant, I was active in a ton of mom-only Facebook groups. Every day, I noticed women asking, in these groups, about being a stay-at-home mom but also needing an income.
As I was figuring things out myself, I would comment and try to help these women too. Eventually, I became known in these local Kansas City Facebook groups as "the lady who could help you work from home without joining an MLM."
So any time someone would ask that question, I would get tagged. Eventually, I became tired of retyping my story in each comment, so I typed it in a Google Doc and copied/pasted it in response to each comment.
I genuinely just loved sharing that and this life I was living. I wanted more people to be able to have that as well.
Then 1 day I was tagged in a post that became so engaging. There were so many people asking for help in this 1 post that I couldn't help everyone. So I started a free Facebook group to answer these questions and share more about Freelancing.
Then I had this lightbulb! I knew there were all these women wanting to learn how to freelance. I realized I knew how to do this thing that so many women wanted to learn. I had worked with course creators and knew how to create an online course. So, why not try it out and see what happens?
So I did a beta test to see if I liked it and was able to help. Spoiler I loved it!
How to Become an Online Course Creator
1. Create a course
My first beta course was a very Jimmy-rigged, duck-taped, thrown-together system inside that free Facebook group. So 1 of the first things I did for my course was to find a platform for it to live.
I chose Thinkific after going to this conference where Thinkific was a sponsor. Thinkific is a software platform that enables entrepreneurs to create, sell, and market their online courses. It is the software I use for The Live Free Academy, and I chose it because it is so easy to work with. I built a sales page to collect payment all through Thinkific, making it all an easy automatic process.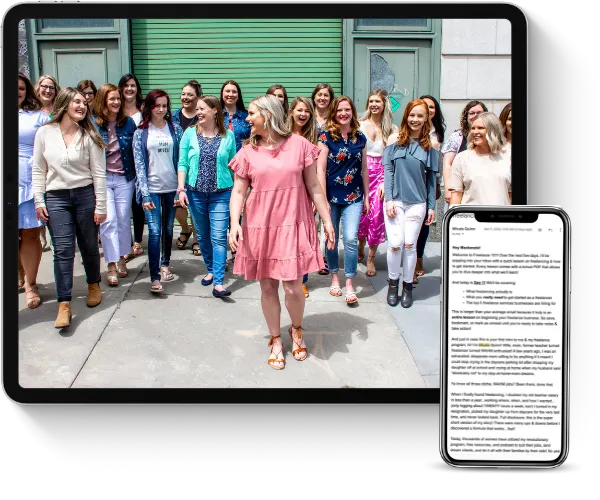 Learn how to earn $3K a month+ as a freelancer working less than 25 hours a week even if you think you have no experience.
This FREE crash course will teach you all about the freelance industry, so you can finally end the family vs. finances battle.
2. Track revenue and expenses
I have a good revenue coming in, but that is not all take-home pay. Expenses can often be between 25-50% of the revenue made.
When I first started that beta program and even in the first year of my business, I didn't track expenses. After I began tracking them I found it was easier to run my business and see what was helping my business.
So, I would suggest tracking your expenses from the start. You can do it in a simple Google spreadsheet!
Expenses: The Live Free Team
Teamwork makes the dream work, right? I realized very early that I couldn't do this all by myself since I had limited time to work and wanted to have time with my kids. So, I value the contractors who work on the Live Free team!
About half of my expenses come from my team. I am not a one-woman show.
There is Mackenzie, the DOO who helps manage the team and delegate the projects.
Staci is the DOM and does all things marketing strategy, some copywriting, both execution of these tasks and delegating them out to Emma.
Emma is the social media assistant on the team who creates graphics, captions, and scheduling.
There is Becky, who does content writing and SEO strategy for the blog and website.
We also have Chase, the executive and tech assistant. Chase manages the day-to-day details of email inbox management, scheduling, and bookings; and solves tech issues.
Taylor is the student success director who ensures all LFA students get the support they need. She also runs the client challenges.
Lastly, Nicole is the podcast producer. When I started the Live Free Podcast a few years ago, I knew right away I had no desire to learn how to edit or produce it.
Expenses: Advertising
Another of my biggest expenses is advertising and marketing spend. In the past, it's been $10-12k, but it increases with performance.
Expenses: Software and tools
The next expense is for software and tools. Those are Thinkific, the course software, Ontraport, and Zapier.
If you want to learn more about starting your own course and want to learn more information about it click here to find a free course.
Expenses: Affiliate payments
Lastly, in the expenses category are my affiliate payments.
3. Calculate Profit
So, from there you have the top-of-line revenue, then you take out all the expenses which is the profit.
From the profit, I have to subtract about 30% from taxes. That amount is what I can use to either pay myself or reinvest in the business.
4. Continuous marketing
Things to keep in mind when you become a course creator is that you will be constantly marketing the course. It was not something I was prepared for.
I thought the majority of my job would be helping my students because that's what I did as a former teacher. However, those high school students were forced to come to school by Kansas law and their parents! So, it was just kind of a culture shock for me to realize that when you build this course, people don't just come to it.
Start Simple
You have to continuously be marketing and promoting the course. So I do that through social media, The Live Free Podcast, emails, and The Live Free Blog. And without help to create and publish content on all these avenues, it would be very, very overwhelming.
I would suggest hiring an assistant to help you get some of those things done.
Add as you go
And maybe start with 1 or 2 marketing channels that you are going to hone in on in the beginning. Then you can add on more as you go!
If you decide to create a course and want to hire a great virtual assistant to help you check out the Live Free Hire Form. This form will go to all the amazing women in my course who would be a great person to help you! That's where I built my team, and let me tell you these women on the other side of this form are amazing!
Become an Online Course Creator and Freelance
You don't have to stop freelancing like I did. That was a personal decision I made for me and my family because I wanted to focus on the course. However, you don't have to stop freelancing to become an online course creator.
There are reasons why it may be helpful to your freelance business to do both!
Diversify your income
Adding a course to your done-for-you services can help you diversify your income. It can work for you while you are working on other client work. Plus, you can sell the course over and over again.
Add credibility
Adding an online course to your freelance services can help to establish you as an expert in your niche. When potential clients visit your website it can help to establish trust with your audience and possibly increase the chances of them coming back for client work in the future.
More resources
So now that you know how to become an online course creator by adding a course to your freelance services, and learning what it takes to create an online course. Have you nailed down your freelance services? If not, please check out my resources and the Live Free Academy course. 
You learn how to build your business from the ground up with modules about legal contracts and taxes, determining your ideal client, finding clients, landing clients, working with clients, and more. There is skills training and bonuses like coaching calls for 1-on-1 support. Plus, access to exclusive freelance job leads from business owners every single day!