No really, it did. 
Before freelancing I tried a few different businesses that just didn't work for me. 
A bow business

A baking business 
Then I found out about becoming a virtual assistant. I learned as much information about How to Start a Virtual Assistant Business as I could.
Once I had my foundation in place, I needed to actually find clients to pay me. But how? And where?! To answer these questions, I first had to get clarity on who my ideal client was (and no – it's not whoever will pay you!)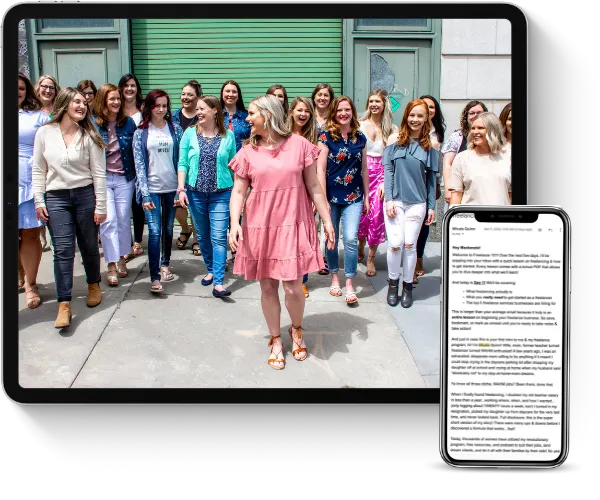 Learn how to earn $3K a month+ as a freelancer working less than 25 hours a week even if you think you have no experience.
This FREE crash course will teach you all about the freelance industry, so you can finally end the family vs. finances battle.
Get Clarity on Who Your Ideal Client Is 
Once you have set up your business legally and discovered your "why" that is going to drive your business, you'll want to start identifying exactly who you want to work with by defining who your ideal client is. 
I know, I know, right now you are probably thinking, "I just want someone to pay me" but trust me — that gets old super fast! 
Now, you do not have to turn down people who do not fit your ideal client perfectly but spending a little time figuring out what your ideal client wish list is will honestly help your business grow faster!
To figure out exactly who you want to work with, a few things to think about are…
Who is your ideal client? 

What are their interests? 

What are their pain points? 

Where do they hang out online? 

What problems do they need solved? 
To answer all these questions, you will want to start researching everything about your ideal client to determine how you can serve them best. Need more help? In my program The Live Free Academy, there is an entire module dedicated to workshopping methods to help you uncover who your ideal client is and the difference-making details about them.  
Once you have all the research compiled you can use it to create an ideal client avatar. Use your ideal client avatar to shape everything in your business from your logo to the style of your writing. 
Where to Find Virtual Assistant Jobs
Now that you know who you want to market to, you need to spend some time finding and connecting with them. 
There are several places where you can go to connect with business owners that may be looking to hire a virtual assistant or may not know they need a virtual assistant. Often business owners can get sucked into running the business and not realize how helpful having a virtual assistant can be. This is why making connections with people both virtually and in person can go a long way when finding clients, and there are various ways you can find clients: social media, leveraging your personal network, or even attending local meetups!
LinkedIn, Facebook, and Social Media Networking
LinkedIn is known for matching and connecting businesses and people looking to make professional connections. The more connections you make, the more your name and services are out there for people to see. Many users of this social media site are looking for virtual assistants. 
LinkedIn has a job search function so you can type in the search box "remote virtual assistant" and get a list of businesses currently hiring for this position. 
Facebook is another option for finding virtual assistant opportunities, and also the route I most recommend to brand new freelancers. You can join groups your ideal client is likely to hang out and begin networking and providing value. I recommend spending 20 minutes per day in 3-4 networking in Facebook groups specific to your ideal client. 
Marketing on social media is a great way to get your business name out there. By establishing an online presence on Instagram or starting a YouTube channel answering common questions, you position yourself as an expert in your niche and begin to attract potential clients. 
Your Personal Network
Networking and promoting your business with friends, family, or former co-workers can be tough but this is often how the majority of women in my program land their first client. Friends and family already know and trust you- an important factor in the hiring process. 
The hardest part is putting yourself out there with people that you know and knowing that business can create strain on existing relationships.
If you don't want to go into business directly with friends or family, you can always leverage word-of-mouth networking. Share with your friends and family your new business and the services you offer. You can use activities like soccer games or dance practice when you are standing around with other parents to network and share your business with others. You never know who will send a business lead that may turn out to be your new favorite client!
The easiest option is for members of my Live Free Academy. As a LFA member, you get access to the Job Leads board where you can choose to receive notifications about jobs from business owners looking to hire new and experienced VAs. 
That's How to Get Freelance Clients
This is a constant cycle of trial and error. Figuring out what works best for you and your business will be something that you will want to keep working at. Your strategy will probably change as your business grows and you acquire more clients. And that's okay! You can get training, communal support, and 1-on-1 coaching to help your business grow with you.