Use our virtual assistant training materials to get the experience you need to start your own virtual assistant business. We offer virtual assistant coaching and training.
How do I get started? What if I fail? Who will hire me? Is it really possible to create a consistent, full-time income from home?
The answer is Yes! You can start today and create a successful business freelancing in a virtual assistant role supporting other business owners. The best part? You can do this all from your own home on your own time. With a little brainstorming, you can start your journey to becoming a virtual assistant no matter what experience or skills you have.
First, let's talk about what tasks a virtual assistant can do to support other businesses and what steps you will want to take if you are thinking about becoming a virtual assistant.
What is a Virtual Assistant?
A virtual assistant is someone who operates as an independent contractor in roles supporting other businesses from a remote location. One of the best parts of being a virtual assistant is having the flexibility to work from home on your schedule and your terms. For example, you can set your rates, work with specific businesses in a specific niche, and even set your hours.
As a virtual assistant you will help support other businesses – often small businesses – as they grow.
For many, having a virtual assistant's (VA) support by working remotely offers more flexibility while simultaneously keeping fixed costs low, ultimately allowing that business the ability to scale depending on business needs.
VA support can vary in many ways depending on your skill sets and interests. You may want to start out offering general administrative support or you could offer specialized skills.
What does a VA do every day?
A virtual assistant can offer a variety of services depending on your ideal client's industry, your skills and experience, and your interests!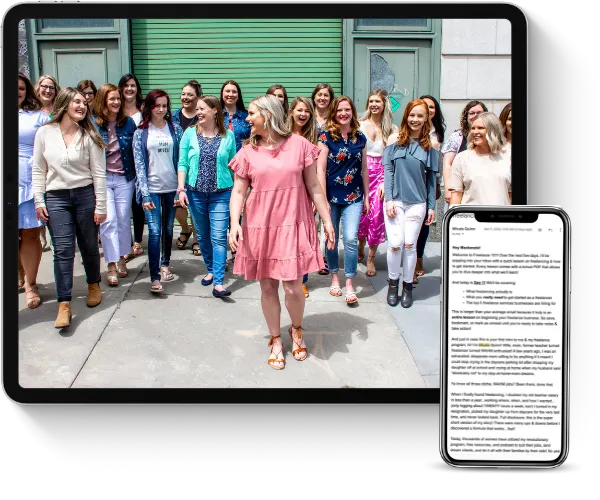 Learn how to earn $3K a month+ as a freelancer working less than 25 hours a week even if you think you have no experience.
This FREE crash course will teach you all about the freelance industry, so you can finally end the family vs. finances battle.
Services can range from email management, social media management, content creation, graphic design, general administrative services, and bookkeeping. To be honest, though, this list just touches the surface of services you could offer as a VA.
What skills are needed to be a VA?
You may be wondering what skills do I need to become a virtual assistant? What business would hire me? The answer is there are so many that could use your help!
As a virtual assistant, you will use your unique set of skills and experience to assist businesses within your niche no matter what your background is.
Nurses, teachers, stay-at-home moms, dental hygienists, administrative assistants, sales reps, HR representatives, waitresses, marketing professionals, lawyers, etc. The truth is, your unique experience has given you a set of skills that are transferrable and relatable to helping businesses grow.
If you want to learn more about how to identify what skills you can utilize in your VA business, download my free guide The Freelance Starter Kit + Ultimate Checklist to find out what services you can offer and who is looking for those services. You will also get a skills assessment to start transitioning to a VA today!
Types of tasks you can do as a VA when first starting out
General VA
A general virtual assistant is the quickest path to launch your freelance life. Many specialized virtual assistants have started as a general VA then pivoted into more specific niches while others have grown their general knowledge and skills allowing them to increase their rates.
All businesses big or small need general administrators to help with these day-to-day operations of running a business that owners have simply no time for.
These tasks include things like:
managing calendars and emails for the owner
booking appointments
making travel arrangements.
Email management is a favorite of mine to start with because everyone uses email and can help organize the chaos of an inbox.
Social Media
Dedicating enough time to create amazing content, share it, engage with other brands' content, and engage with their audience can be more than a busy business owner can manage. Planning, designing, and scheduling content can take up a lot of time that many business owners do not have, or just do not have the passion for managing.
Social media VA's can do things like:
Create a content plan or monthly strategy that organizes and creates consistency in messaging.
Create images, posts, and videos in programs like Canva, then schedule all posts for the month in programs like Later.
Social media moves fast, really fast. The algorithms are always changing and something new is always trending. Social media VA's stay up to date on current trends like hashtags and trending audio for clients to engage with.
Engaging in other creators' content and responding to comments on your content can take up a lot of time but keeping an engaging community on social media is vital to finding and growing a loyal audience for any business.
Blogging assistant
Bloggers do a lot to maintain a blog from creating content, updating content, repurposing content, maintaining, and managing all this content on their website, email list, social media, etc. Managing all this content is a lot for one person to manage and can be time-consuming to keep up with.
Tasks bloggers need help with include:
Research. If you like to research information, write content, or edit you could help with writing and posting blog content. Bloggers also need assistance sourcing images or creating graphics to match blog content.
Blog engagement. Responding to readers via email or social media takes time but is necessary for engaging with a growing blog audience.
Blog management. Managing a blog is more than just writing and uploading. Optimizing content helps articles be seen and helps searchability in the various search engines. By fixing broken links or simply adding captions to photos you can help increase searchability and SEO.
E-commerce
Starting and running an E-commerce store takes time, effort, and knowledge often beyond what a new business owner can manage.
E-commerce needs range from
updating inventory and inventory descriptions
managing orders and returns
even helping with general customer service inquiries
Managing all the merchandise on virtual platforms like Amazon, Etsy, and Shopify offers multiple opportunities to help with the day-to-day operations of running a store or boutique.
How can you get started as a VA?
One of the hardest parts about getting started as a Virtual Assistant is actually getting started.
Here's what I know: everyone has doubts about their experience when starting out. But you already have the skills you need to run a successful freelance business. Even if it's an entirely different niche. Even if you're starting completely over. Even if you're super scared right now.
Just because you are a teacher or a nurse, does not mean you do not have any value to offer businesses. You do! You absolutely do not need a degree in marketing to become a social media VA.
If you want to get started today, there are so many free resources available.
First, listen to this episode of the Live Free podcast here. We go through exercises that help you identify what skills you already have that translate into a freelance business that are exactly what business owners want and need in a VA!
Next, remember you are not alone. There are thousands of women just like you who started by wondering what could be and took a leap of faith to determine the skills they already have that they could offer to businesses. With my 1-on-1 coaching and the community of support you get when you sign up for the Live Free Academy program, hundreds of women have built a freelance business beyond their wildest dreams.
The BEST thing about being a Virtual Assistant is the freedom and flexibility it creates. You can work from home on a schedule that works for you!