EPISODE 147: SHOW NOTES
Are you afraid that if you try, you'll fail? Or embarrass yourself, or be the only one that can't land clients? I get it. I spent the first 20 years of my life terrified to try anything new because I was afraid to fail. I really get it and that's why in this episode I am sharing how I found success as a freelance despite fear of failure.
I'm not here to tell you to get over your fear. Instead, in this episode I'm sharing how to be successful WHILE you're fearful and what tools you can use to help you keep moving forward.
There's no time to 'wait to be ready' – not when we've got babies to raise and 9-5s to leave! After listening to this episode, head on over to the Live Free Podcast Mastermind to find the thread for this episode. Share with me what one thing you're doing to move forward today! Thanks for listening!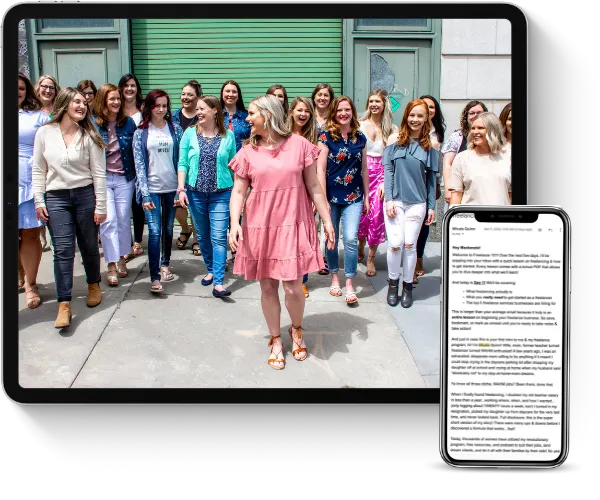 Learn how to earn $3K a month+ as a freelancer working less than 25 hours a week even if you think you have no experience.
This FREE crash course will teach you all about the freelance industry, so you can finally end the family vs. finances battle.
In this episode, we cover:
Why fear of failure is so common and normal,
How I let my fear call the shots while growing up,
How to start your business despite fear of failure, and
What tool to use when it's hard to move forward.
Resources and links mentioned in this episode:
Listen to the episodes mentioned in this one!

Episode 29: The key to never giving up: knowing your why!
Episode 31: How to set goals and actually accomplish them

Have you downloaded my new case study? Get the 3 core discoveries I made that launched my path to career freedom+ allowed me to put in my 2 weeks with confidence HERE!
**This post on success despite fear of failure may contain affiliate links, which means if you click one of our affiliate links and decide to make a purchase, we receive a tiny commission from the seller at no additional cost to you. We only share products and services we have used, tested, and love ourselves!**