Do you keep hearing about the great resignation and wondering what it means?
Career professionals, employers, and economists are all in agreement that it's happening and not slowing down anytime soon. Yes, the great resignation is real!
So, what is this great resignation for career professionals? Where are they finding better jobs? And how can you find a new career that you love too? Let's jump into it!
What is the Great Resignation?
The great resignation is employees leaving their full-time jobs (in droves) for new, better-paying jobs in new fields. Many elect to work from home for better hours, more money, and bigger opportunities.
In fact, according to this survey by the Pew Research Center taken in 2021, the top 5 reasons why U.S. workers left a job are
The pay was too low.
No opportunity for advancement.
They felt disrespected at work.
Because of child care issues.
Not enough flexibility to choose when they wanted to work.
It's evident that moms are leaving their full-time jobs at the office for more flexible jobs at home in record numbers and there is no sign it's slowing down anytime soon.
Are You Considering a Career Resignation?
Should you be considering a career change? These 3 things can help you figure out whether your current working situation is your jam or if you might be happier in a new one.
1. What's Not Working
What do you not like about your current position?
Is it rushing around in the morning getting your kids ready, dropped off at daycare, and yourself into the office by 8 AM? Is it the expectation that you have to be at your desk working from 8 AM to 5 PM, with only a lunch break?
Maybe you don't like the job duties you have.
Or you want to make more money.
What parts of this job are not working for you and your family? Write them down on a piece of paper to keep track. Then talk to your manager or boss about these things and see if any changes can be made.
2. What Are You Gaining and Losing by Making a Switch
With every job switch, there are trade-offs. What will you gain by switching, and what will you lose.
Will you gain the freedom to work when you want? Or get more money? Will you get to be doing the tasks that interest you? Will you be less stressed?
Once you figure out what your trade-offs are going to be by making a switch, rank them. Which ones are important to you? What didn't you get that you wanted? How important is that to you? How does it affect your family life?
3. What Options Do You Have?
So, you've tried negotiating with your boss and that didn't work out well for you. You've considered what you may lose and what you may gain from making a career switch. And you're ready to resign from your career, but are left asking yourself, "What will I do? How will I make enough money to support my family?"
It's time to consider your other options. Freelancing!
Freelancing is the answer to your dreams if you're ready to resign from your full-time 9-5 job. With freelancing, you could work from your home on your schedule and your terms.
Freelancing offers the best option for professionals looking to make a career change. As a freelancer, you gain the flexibility to work when you want, choose who you want to work with, and how much money you want to make. You get to be your own boss!
If freelancing sounds like the career change you have been searching for you can get started today with the Live Free Academy training. It's an online training filled with actionable steps and workbooks you will use to create the work-from-home business of your dreams!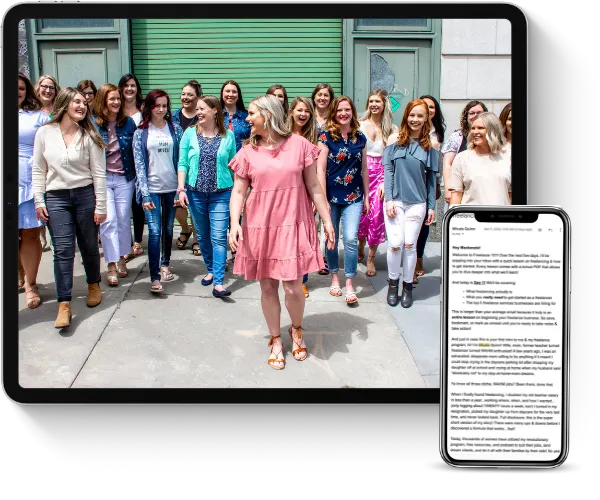 Learn how to earn $3K a month+ as a freelancer working less than 25 hours a week even if you think you have no experience.
This FREE crash course will teach you all about the freelance industry, so you can finally end the family vs. finances battle.
How to Prepare for a Career Resignation in 4 Simple Steps
1. Determine Your Skillset
You don't need fancy training or degrees to get started today as a freelancer! You have a skillset from your unique background and experiences that you can leverage with other business owners.
To figure out what that skill set is download the free Freelance Skills Assessment Crash Course. You will get a workbook to help you identify what skills you have you can use to turn into a freelancing business.
2. Acquire New Skills
No, you don't need specialized training, certifications, or degrees to get started freelancing today. BUT when you learn new skills that other business owners are needing help with, that will make you more in demand with your current and future clients. It gives you more opportunity to charge each client more money per service, so you can take on fewer clients while making the same amount or more money.
3. Create Your Business
From the taxes you have to pay on the money you make to determining whether an LLC or sole proprietorship is right for you, take the time to research the rules in the state you live in and register your business.
Don't worry you also get to do the fun stuff, too! Things like picking a name, creating a logo, and pairing it with fonts and colors for your branding.
Last, you'll create a niche for your business. Then determine who your ideal client is. Writing for your ideal client with specific messaging about how you can help them solve their problems will help you with messaging for your brand when trying to land new clients.
4. Determine Your Strategy to Find Clients
Niching down to a specific type of ideal client can be difficult. But when you connect with the right people and show them how you can help them fix their problems, that is when you will start landing clients.
So, determining who you want to work with, how you can help them solve a problem, messaging to explain how you can help, and figuring out where they hang out will help you get in front of more ideal potential clients, land more ideal clients, and grow your freelance business!
Are you a professional ready to resign and give freelancing a chance? To take back your life and be in charge of how you spend your time? Maybe you are feeling a little overwhelmed at the thought of getting started?
When you sign up for the  Live Free Academy program, you will gain access to the 8-step program with easy-to-watch and do lessons (plus worksheets & templates!). You also get access to additional training on pitching your services, guest expert interviews, and Masters of Online Business so you can start + scale your business as it grows!