How long does it take to build a business? Many say it takes the average person three years to build a business that is profitable or successful. But with freelancing, that is not true! Not even a little bit.
For me, it didn't take 3 years, and for the many women in the Live Free Academy, it didn't take three years either. In some cases, it only took a few months, and in others, it took closer to a year.
It is possible to build a business as a freelancer and replace your full-time income!
Do you want proof? Head on over to the Live Free Blog to read the many Success Stories from other women in the LFA program here!
So how long does it take to build a business and what does it take to become profitable? Read on to learn more!
Timeline to Build a Freelance Business
Once you tackle the skills you want to pursue, like virtual assistance or podcast management, or social media management then many women often question next if is this even realistic.
I need to make X amount of money per month, are my goals realistic? For those of you that are struggling with this, what you need is a business plan. To determine the timeline it could take to build a freelance business you need to make a business plan for your freelance business.
Now, if you do a quick Google search on how long does it take to build a business, you will get answers ranging anywhere from 1-3 years. But that is not accurate for the timeline to build a freelance business.
Those plans are all geared toward businesses that need to secure funding from investors and other things like product manufacturing that freelancing businesses don't need to worry about.
A freelance business can typically get profitable in as little as 1 month to 1 year!
Let's dive into the business plan to see what your realistic timeline may look like. A business plan will help you set an actionable goal, and break that down into milestones to set expectations that will enable you to see how long it might take to reach your goals and build a business.
Create a business plan
To create a business plan you are going to need the what, the how, and the when.
The what: what is your goal?
The how: how are you going to meet this goal?
The when: the timeline to build a freelance business.
Determine how much money you need to make
The What
To start making money you need to figure out what your income goal is. Is it to replace a portion of your income or replace your full-time income? Is it just some side hustle money? Whatever that goal is you need to know the number or amount you need to bring in monthly.
Right now we are not focusing on your dream number you want to make one day, where you want to double your income working fewer hours. This number is the amount of money you need to live on right now. Whether that is replacing your full-time income, a portion of your income or it is a side hustle for extra money that is side aside for bills or vacation.
The How
Next, we'll figure out how many clients you need to meet those income goals. This will be based on 3 packages that you will have available to clients to purchase.
Breaking it out this way makes it easier to see you need 4 clients, for example, to reach your income goals.
So let's say you have 3 standard packages: a basic entry-level package for $500 per month, a mid-tier level package for $1,000 per month, and a high-end package for $2,000.
Take your income goal, let's say for this example it's $4,000 per month. Take your income needed and divide it by these packages, and that will give you the number of clients you need to meet your income goals.
So, if you need to meet a $4,000 monthly goal and focus on selling:
basic packages at $500 per package you would need 8 clients.
mid-tier packages of $1,000 per package you would need 4 clients.
high-end package worth $2,000, you would need 2 clients.
The When
The third part of figuring out how long it takes to build a business as a freelancer is to determine your timeline. To figure out your timeline you will need to set goals with deadlines and consistently implement your strategy.
Give yourself some time to do the start-up stuff for your business like building a solid foundation by working through the course. The timeline for this should be about 1 month. Some people will knock this out faster and others will take a little bit longer.
Then once that is set up and you have built a solid foundation, you can start focusing on networking. Networking can take any amount of time, but the more you network and stay consistent in showing up the faster you will build relationships and land clients.
I have found that students who network daily, consistently for 30-45 days build up momentum and land 1-3 clients within those first 30-45 days of being consistent. 1-2 is more realistic, but 3+ can happen.
If you want accountability for networking sign up for a Land Your First (or next) Client Challenge.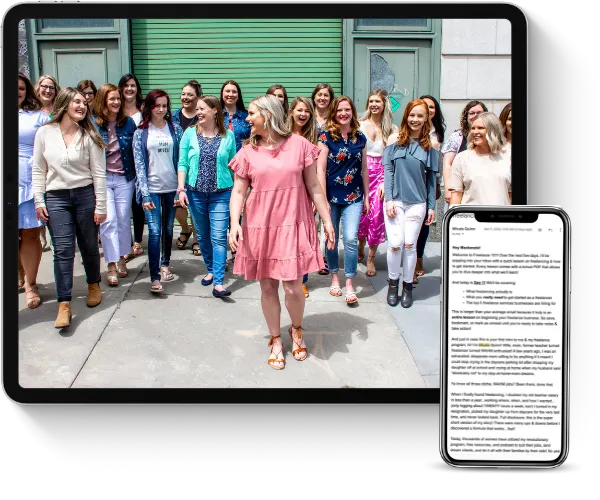 Learn how to earn $3K a month+ as a freelancer working less than 25 hours a week even if you think you have no experience.
This FREE crash course will teach you all about the freelance industry, so you can finally end the family vs. finances battle.
How Long Does it Take to Build a Business: Actual Timeline
So if you are someone who dives in and gives it your all, you can expect to land the 4 clients you need to hit your income goal in as few as 4-5 months, realistically.
That's setting up healthy boundaries and not trying to do it too fast in a more balanced way.
There are different stages of being overwhelmed or stuck when starting a business. Hopefully, this post helped you with one piece of the puzzle figuring out realistically how long does it take to build a business.
My goal is to help those of you that want to get started with the "can I", and "should I" questions so that you can make a decision once and for all. To help you definitively say either yes or no.
If you are saying yes, and you are not a Live Free Academy, please know that this course can help you at every stage of starting and growing your business!
With this course, you will build a solid foundation so that you can get ready for clients ASAP! Using the business plan we outlined earlier in this post, and with all the amazing tools and templates, and skills training, you will have what you need to build a freelance business that meets your income goals!