EPISODE 168: SHOW NOTES
Would it be a dream to work with a product-based business you love?
Did you know that product-based businesses are looking for virtual support in many areas? Yes, you can be that person for them! In this episode, Katie Hunt of Proof to Product, shares how freelancers can support product-based businesses, what they're struggling with and how their businesses have changed in the last year.
Katie is the founder of Proof to Product and mentor to product-based entrepreneurs. She's worked with thousands of entrepreneurs through her in-person conferences, online courses, and group coaching she offers. And if there is someone who knows what product-based businesses need – it's Katie!
Tag Katie (@ProoftoProduct) and myself (@micala.quinn) on Instagram with what you're doing after this episode to help product-based businesses. I love to see your takeaways! Thanks for listening today and talk soon!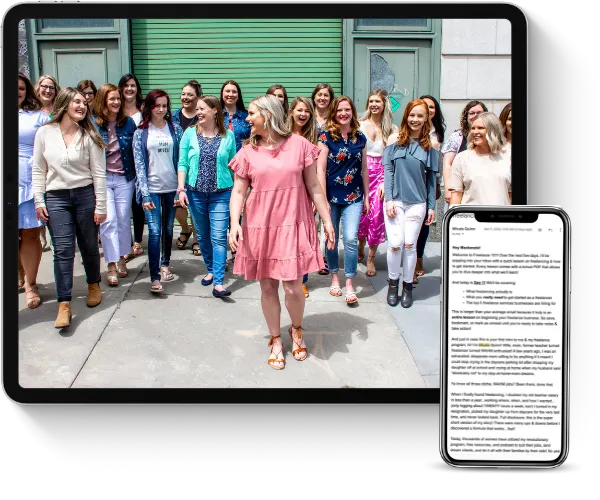 Learn how to earn $3K a month+ as a freelancer working less than 25 hours a week even if you think you have no experience.
This FREE crash course will teach you all about the freelance industry, so you can finally end the family vs. finances battle.
In this episode, we cover:
How freelancers can support product-based businesses,
What type of help product-based businesses are looking for,
The changes product-based businesses have gone through over the last year,
How freelancers can learn more about product-based businesses, and
What advice Katie has for freelancers who want to land these type of clients
Resources and links mentioned in this episode:
**This post about how to support product-based businesses may contain affiliate links, which means if you click one of our affiliate links and decide to make a purchase, we receive a tiny commission from the seller at no additional cost to you. We only share products and services we have used, tested, and love ourselves!**