This is one of my FAVORITE topics… Hiring!
Hiring and outsourcing tasks in my business has been one of the biggest contributors to my business' growth.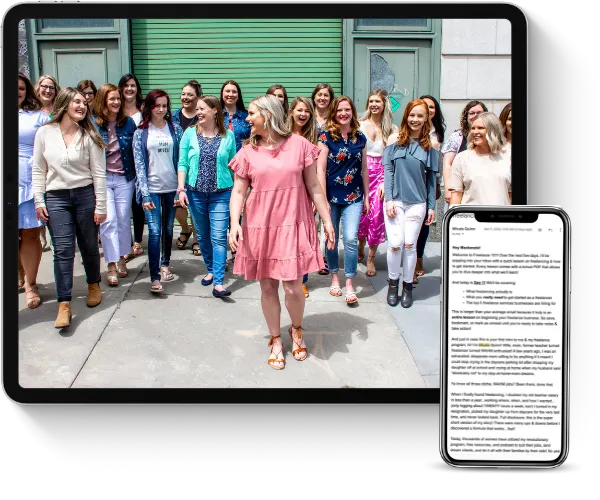 Learn how to earn $3K a month+ as a freelancer working less than 25 hours a week even if you think you have no experience.
This FREE crash course will teach you all about the freelance industry, so you can finally end the family vs. finances battle.
Before we dive into tips and strategies on how to hire effectively hire your first (or next) team member, let's chat about WHY we hire!
The first reason: you need an expert.
In this instance, you acknowledge that you do not know EVERYTHING, nor do you necessarily need to know everything. At some point in your business, there will come a time when you need to build your team with people who know more than you! And there are tons of specialized service based businesses out there who not only can help your business grow, but they WANT to!
You might need an expert for
Branding

Social Media Management

Sales Funnels

Pinterest

Web Design

SEO

Tech
Just to name a few!
The second reason: you don't have enough time to do it all.
One of the reasons a lot of us start our business in the first place is so we can have more freedom, flexibility, and time with our family! However, as your business grows and you begin to want to take it to the next level, you may find that there are just not enough hours in the day to get everything done! Maybe either the admin, general housekeeping items are taking up your time so you can't really spend the time you need to connect with potential clients or get future clients or customers OR you spend all of your time working with clients and NONE of the admin stuff gets done. Neither of these options is good.
But you also could just be burnt out and exhausted doing all the things on your own!
If this is where you are, you need a virtual assistant!
Someone who can come in and just take over the daily, weekly, monthly tasks that don't necessarily need you to complete them!
Here are some tips from Brenna Dean on hiring your first or next team member! Brenna is a Pinterest Manager and Copywriter! Check her out here!
Hire Team Member Tip #1: Hire someone who is cohesive with your company.
Anytime you hire, it is important to find someone who is cohesive with your company.
You want to find team members that potentially fit into your target demographic or at least have a passion or interest in your business. Also, it is helpful to hire people who aren't only aligned with your business' mission, vision, and values, but someone who YOU like and can get along with.
Hire Team Member 
Tip #2: Write a clear job description.
When you are looking to hire or outsource it is important that you are very specific with what tasks you are wanting to delegate. Certain job terms can mean different things to different people, for example, a Virtual Assistant (VA) may be someone who provides anything and everything. A VA can also be specialized in just Administrative, Social Media, or even Marketing. Be clear on what you want!
By being precise, it will weed out those who aren't qualified and those who don't offer those services.
Hire Team Member 
Tip #3: Be upfront about your budget and time needs.
If you don't know your budget, think about what you are willing to pay. It is important to share this with applicants prior to interviewing them. The average beginner Virtual Assistant charges $25-$35 an hour. There are tons of freelancers who would love to pick up an extra 5-10 hours a month. There are also tons who would love to take on a full-time contract! By being up-front with your budget, this will help weed out people whose price is too high.
Hire Team Member 
Tip #4: Consider if you are okay with hiring a beginner or if you need an expert.
When hiring, it is good to know what level of experience you would like your applicant to have. Sometimes it is critical that they have extensive knowledge whereas other times, it is better to have someone who is cohesive to your brand, who can learn and grow as they go, and who carries enthusiasm with your business' success.  
There are pros and cons to both.
A beginner will most likely be a more affordable option whereas an expert or person with more experience will charge more premium rates.
However, a beginner will probably need some training, and an expert will not need additional training or support from you to get the job done.
Hire Team Member 
Tip #5: Book discovery calls or fitting calls with the potential freelancers you are considering hiring.
The discovery call is for BOTH of you to make sure that you are a fit to work together.
Here's what to expect on a discovery call:
During your Discovery Call with your potential hire, you should expect an introduction about them and their business, a discussion about your business goals and needs, what expectations you hold, how your potential hire works (contact hours, work time frames, etc), as well as an opportunity for you to ask any specific questions.
Important things to discuss in your Discovery Call
Who your audience is – your ideal/target clientele

Your business goals and needs

Your brand – your brand voice, your brand image, your brand mission

Exact tasks that are being delegated

Testimonials and or examples of previous work
While hiring can be a daunting task, strong communication, sound contracts, and hiring the RIGHT person can really have a positive impact on your business!
How to hire:
There are tons of ways to go about hiring.
You can post in Facebook Groups or Freelance Job Sites or ask for referrals from trusted colleagues and friends.
However, posting in Facebook groups can become increasingly overwhelming and I highly recommend taking some legwork out of the way and going through Micala Quinn's Live Free Mama Group.
Micala has a group of freelancers who specialize in a multitude of skill-sets, with a variety of different levels of experience, and who have received above and beyond training to provide above and beyond service.
If you would like to go through Micala's group, complete this hire form.
Remember the more detail you provide, the stronger the pool of applicants will be.
Here's an image to show the starting hourly rates, depending on level… Now remember, some freelancers may not charge hourly but instead charge a package price. This is meant to be a guide!
Here's how the hire form works:
It will get sent to the women in Micala Quinn's program

Qualified applicants who fit your job description and budget will get in touch

Conduct calls with the applicants who you choose

Hire your top choice!
They will send over a proposal, contract, and invoice!
If you have any questions about our hire form or want specific recommendations from Micala reach out to her @ hello @ micala quinn . com!