Starting as a virtual assistant, one of the best services you can offer to clients is inbox management. It's one of my favorite services to offer when you are just beginning as a freelancer because this is a skill you likely already know how to do!
Read this post to learn more about offering inbox management for clients. Yes, clients will pay you for this service!
In today's post, you will learn the tasks needed to do this for clients and how to pitch this service to land (email) inbox management clients!
What is a Virtual Assistant?
A virtual assistant is someone who provides assistant services to businesses. Virtual assistants (VA) work on a contract basis, own their businesses, and perform tasks virtually. A virtual assistant helps clients by doing tasks for a business owner to save the business owner time.
As a virtual assistant, you are a doer. Your clients will delegate the jobs they need completed to you, and you help get them done!
What do virtual assistants do?
Inbox management is one of the tasks or services many virtual assistants do for clients. It's a great service to offer when you are just starting as a virtual assistant because it doesn't take any special skills or training.
Likely you know how to organize and manage an email inbox from your personal, school, or previous work experience. Read more about other services you can offer to clients as a virtual assistant here.
Inbox Management Virtual Assistant Tasks
There are 3 main tasks when managing a client's inbox.
Respond to potential client and customer inquiries.
Help solve customer issues.
Reply to all miscellaneous email requests.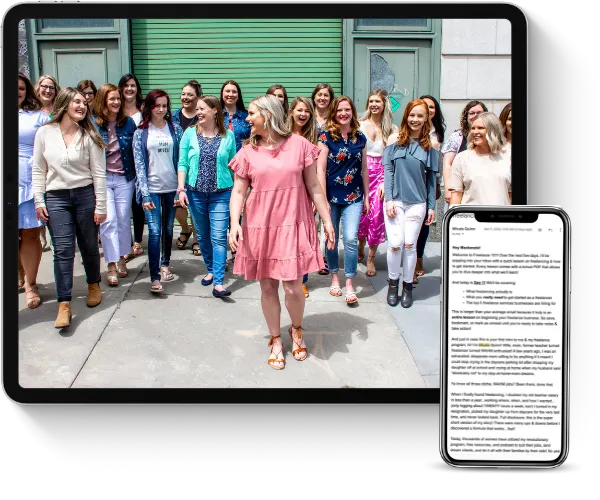 Learn how to earn $3K a month+ as a freelancer working less than 25 hours a week even if you think you have no experience.
This FREE crash course will teach you all about the freelance industry, so you can finally end the family vs. finances battle.
How to do Inbox Management
Now, you may be thinking.
✔️ Okay, I see the benefit I'm providing to the client.
✔️ I know how to sign in and organize emails.
❓ How do I actually sound like the client when I'm not them?
To do this, you will ask the client to provide the following information when you are in the onboarding process:
Templated responses and/or standard operating procedures (

SOP

)
A frequently asked questions list, and top customer service ticket requests they get. Also, ask for instructions on how to reply.
Training, list of questions, and responses for any other information that might be needed.
What your day might look like doing inbox management for clients
Check emails at agreed-upon times throughout the day or week.
Address all usual emails as instructed based on the SOP you were given in the onboarding process.
Address any unusual emails by consulting with your client as needed. (Over time you will learn how to address these, without as much client help.)
Research and resolve customer inquiries as independently as possible.
Provide weekly email summaries of inbox trends for your client to assess.
Bill your time in batches, not per email.
Why Would a Business Owner Hire Me to Do Inbox Management?
A question I get all the time from women just learning about this service they can offer to clients. Why would a business owner pay me to do this for them when they can do it themself?
The answer is that they are busy! A business owner is super busy running all the parts of their business. There are so many moving parts of a business and many parts that a business owner can't hand off to someone else.
Things like organizing emails and responding to customers, that is something they can train on, create SOPs and have someone else do for them!
How do I pitch inbox management to potential clients?
Now maybe you are thinking that all sounds great, Micala, but how do I discuss this inbox management service to potential clients?
You want to present them with the problem and your solution to their problem.
The problem: they spend a lot of time replying to emails, answering the same questions, and organizing incoming emails.
The solution: you can create a bank of their frequently asked questions and responses. That way you can pull from the bank to respond for them, while still making it sound as though they are responding.
You can also create a SOP for an organizational system to file emails in specific folders.
The big selling point to your solution is that it saves the business owner time while still keeping them the face of the business! This time saved can be used to either grow their business to make more money OR give them more time to enjoy the business they built and family time knowing the email inbox is being handled.
How to Get Started with Inbox Management
Now that you know the ins and outs of inbox management for clients, are you ready to start your virtual assistant business doing inbox management virtual assistance for clients?
If the answer is yes –> please know that I'm here to help you! With my course, The Live Free Academy, I'll break it down step by step with training videos, templates, and scripts for landing clients! You get all the tools you will need plus coaching, job leads, and the best student community around. Sign up for The Live Free Academy here!
Not quite ready, and want more info? Download the skills assessment!! In this free resource, you will take the next step to become a virtual assistant by determining the skillset you already have that business owners will pay you (good money) for.