All the details you want to know for the Live Free, Mama Podcast giveaway!
But first, let's chat about the podcast!
Who is your host?!
That's me! Micala Quinn! I am a wife, mom, teacher, and life-long learner on a mission to help moms like you launch, grow, and scale a profitable freelance business… from home
! 
When does it air?!
We go live on September 3rd with three episodes!
Then join me every Monday for a solo show and every Wednesday for an interview show!
What are you covering on the podcast?
The podcast will provide you with tangible business advice along with inspiring interviews, all with one goal in mind: helping you create a life you love, where you don't have to choose between being a working mom or a stay to home mom but where, instead, you can do both! And on your own terms!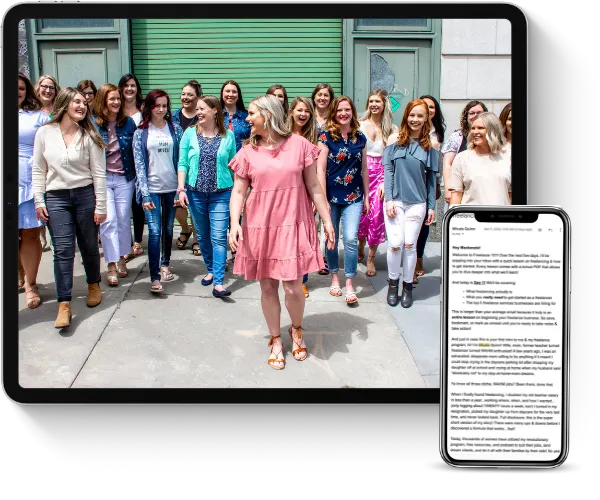 Learn how to earn $3K a month+ as a freelancer working less than 25 hours a week even if you think you have no experience.
This FREE crash course will teach you all about the freelance industry, so you can finally end the family vs. finances battle.
Our Solo show, to start, will be geared towards those just getting started, while our interview episodes will cover strategies to scale your service-based (freelance) business.
Once a month, we will feature an interview on a strictly "mom" topic: parenting, marriage, self-care, fitness, to name a few!
Plus we will also be featuring success stories from some of our LFM students! So you can hear how moms maybe 1 or 2 steps ahead of you have made the successful transition to WAHM life!
Whether you're just starting your journey or you're looking to scale your business, this podcast will help you cultivate a life where you can MOM strong, work smart, and live free!
Here's a sneak peek at some of our first solo episodes:
Opportunities out there to be a WAHM
A detailed look at what freelancing is, who hires freelancers, why they hire freelancers, how much they can earn
How to pick what services you should offer
What is a Virtual Assistant
How to get confident as a beginner
The [FREE] tools you need to run your business
And here's a sneak peek at some of our initial guests:
April Lewis: we are chatting all about adding in passive income to your service based business! April started out as a VA and then transitioned into a business coach and strategist and now she helps businesses add in passive income streams, so they can work smarter, not harder!
Samantha Johnston: we are chatting all about building your business despite not having a college degree! So excited for this interview: Samantha is the biz techie behind Neapolitan Creative and has such an inspiring story from quitting her job cold turkey 5 years ago and growing a massively successful online design business, plus maybe even some bonus tips on scaling your design business!
Jessica Principe, founder of All Girl Shave Club, will be joining us to chat about launching a product based business PLUS overcoming that pesky fear and doubt in the beginning stages!
Meghan Dicklin will be joining us to chat about prepping your service based for maternity leave! I can't wait! Meghan can help moms prepare and plan for a maternity leave where they can take up to 6 months of leave without sacrificing their income!!
Dr. Sharon Somekh will be joining us to chat about uncovering your why for your parenting philosophy AND how to talk to your toddlers so they listen, but still foster their confidence and independence!
Plus I will feature amazing success stories from the moms in my program, Overwhelmed to Overbooked!
If there is a topic or someone you would love for us to interview, send us an email at hello @ micala quinn . com
Or if you want to submit an application to be on our podcast, fill out this form here!
And NOW… The giveaway details!
There are MULTIPLE ways to enter and opportunities for DAILY entries, once the podcast launches! Thank you so much for helping us spread the news not only about our podcast launch, but also the opportunities out there for moms to work at home, earn a full-time income, and have MORE time with those they love.
Live Free, Mama Podcast Launch Giveaway

Here's a special pic showing you my why:
I'll share with you more about my "WHY" in the intro episode. But these two sweet faces and the faces of my future children are my why.
Life is fleeting and too short to be stuck doing something you hate.
My sweet baby boy George passed away when he was 8 months old. One of the few things that brings me comfort is the time we had together because I was a work at home mom. We had so many snuggles, cuddles, kisses, and giggles in his short life, and I am forever grateful for those memories.
Family is my top priority and a lot of careers do not give moms the option to make their family their top priority. A lot of moms are forced to either stay in the workforce and sacrifice that time with their children or give up working and sacrifice nurturing all of their God-given strengths and talents. As a Live Free, Mama… you no longer have to sacrifice. You can have both in a way that you choose and a way that works for your family.
Thank you for your support!