EPISODE 11: SHOW NOTES
Today we are talking all about getting started… Now if you are like well… I'm already started, so I am going to skip this episode don't!!
Perhaps you are struggling with ALL the different advice out there on getting started as a freelancer… analysis paralysis… this happens from following too many people. Everyone has a great plan or approach, but when you try to do everything that everyone says you end up overwhelmed!
or maybe you are brand spanking new to the idea of getting started freelancing and you have NO idea where to begin.
This episode is for you…
Or if you are started, and you are not quite seeing the results you want… this episode is for you too.
First, I am going to give you permission to NOT focus on everything…
In this episode, we are going to talk about the essentials that you need to get started! And I am going to debunk the myth that you need a 3 month or 6 month period to build your business before you start taking on clients!
And that you need to spend a lot of money to get started.
And also that you need a website.
You don't.
So think of this as your get started ASAP plan.
**This post about how to get started as a freelancer may contain affiliate links, which means if you click one of our affiliate links and decide to make a purchase, we receive a tiny commision from the seller at no additional cost to you. We only share products and services we have used, tested, and love ourselves!**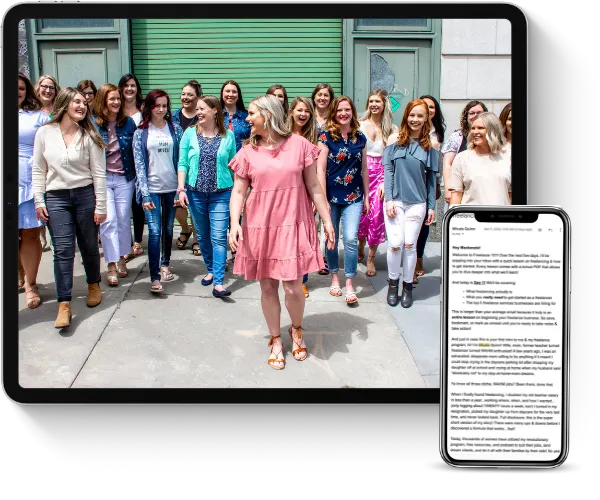 Learn how to earn $3K a month+ as a freelancer working less than 25 hours a week even if you think you have no experience.
This FREE crash course will teach you all about the freelance industry, so you can finally end the family vs. finances battle.
In this episode, we cover:
the five essentials to get started
what are the top five jobs you can choose from to get started as a freelancer
ways to get free visibility
ways to find clients
the make it or break it item in getting started
Resources and links mentioned in this episode:
Wrapping up:
If you look at where you are at right now, is this the place you want to be at in 3 months, 6 months or even a year from now?
I am going to assume for some of you that answer is no.
Because that's how I felt. I was longing for something more. And I keep hearing that from those of you who reply too my emails or introduce yourself in the group…
I've just laid out for you what you need to make this happen.
But what we didn't have time to cover in this episode is all of the how and the strategy behind landing clients and growing your business.
Some of you may want to go the DIY route and try to see if you can figure it out on your own.
And some of you may be thinking you don't actually want to go the freelancing route, and that's okay! Keep searching. Keep looking for what it is you want to do!
However, some of you may decide that you are in, you are committed, and you want someone to walk you through exactly how to build a profitable freelance business ASAP.
And if that is you… I would love for you to check out my program overwhelmed to overbooked and see if that is what you are looking for!
But ultimately, I hope this episode was helpful for you to see just how possible it is to launch a freelance business.
You do not need any fancy things. A ton of start-up costs! Just these essentials!