Facebook groups are my hands down favorite way to get new clients. For all freelancers, beginners, intermediate, and experienced. There are so many opportunities to get clients from Facebook groups! 
Today, I'm going to discuss how to get clients from Facebook groups. Breaking it down step-by-step for you, to help you find Facebook groups and land clients.
My very first client came from a job board. Let me preface this by saying, I don't really love getting clients from job boards.
Unless it's the LFA job board!
That is because they tend to be more employee-based in that the client wants to dictate the terms and how much they are paying and that's not really what freelancing is about.
As a freelancer, you have control over what you charge, where you work, and how you work.
And sometimes those job boards take away the control that you have. Plus, there is a middle man and chances are the job board takes a cut of the contract price.
So, for those reasons, I don't love job boards. BUT that is how I landed my first client. And it took forever because with job boards you don't have much control. You are left to what is posted each day and what's available each day. You are not able to go out there and make your own opportunities.
For that very first client, I would do basic things for her working as a virtual assistant. Email inbox management, research, she wrote blogs and I would publish those then repurpose them on LinkedIn, Twitter, and all the platforms.
After a few months of working with her, she gave me a project. She gave me a list of Facebooks groups to go to and research that had engaged audiences. She wanted me to go and join them, watch the conversation, and see what they were doing to engage people and build a community.
Then report back to her and help put together a plan on how she could do that in her Facebook group.
So, I did that. When I joined these Facebook groups, it was like a whole new world to me. I saw so many different business owners that I could potentially work with that were hanging out in these groups, asking and posting, "I need help with this in my business, who do you recommend?" There were all these potential clients looking for help. The help I wanted to offer and with people, I wanted to work with.
So, this is where I started focusing my time. After a few short months, I landed a few clients from Facebook groups, and doubled my salary!
How to Get Clients from Facebook Groups
Most people think landing clients from Facebook groups is joining a bunch of groups, waiting for someone to say, "hey, I'm hiring" and then commenting on that post.
Then they don't land a client and get discouraged.
That's not really how it works. That's one piece, but it's not just joining 100 groups, and commenting the same mundane thing on every post. That's not how to get clients from Facebook groups.
Steps to get clients from Facebook groups
What you actually need to do, to find and get clients from Facebook groups, is to follow these steps.
1. Pick 3-5 Groups
Don't focus on every single group out there. Find the best ones for you to start with. To determine what groups those are going to be, you need to know who to start with. You need to know who your ideal client is and some keywords to describe them.
Type those keywords into the Facebook search bar and filter by groups. That's the groups you should be focusing on joining.
At this point, you will be joining a lot of groups. Join a bunch, but try to find ones that have high engagement rates with fewer people. A group with 100,000 people and 1 post per month is not an active group. Find active groups to join and be a fly on the wall.
Look at the engagement and the posts. Is it active? Is there an opportunity for you to chime in on posts to add value? Is the vibe one that you jive with? If your answers to these questions are no, remove it from the list.
You want to spend about 1 week spectating in these groups, then narrowing them down to your favorites.
2. Join the conversation
After you have picked your top 3-5 groups, then join the conversation. Don't only respond to the "I'm hiring" posts.
You're not going to land clients in Facebook groups by just responding to hiring threads. You will get clients in Facebook groups by joining the conversations and getting to know people.
To do this you want to provide value to others without the expectation of anything in return. You can do that by doing 3 things.
Answer questions. People are in Facebook groups to ask questions, form relationships, and collaborate.
Be a good person. Celebrate and cheer on the other small business owners and entrepreneurs in the group. Tag someone when you can, if you don't know the answer to a question, but know someone who can answer it, tag them. Maybe they'll tag you in the future.
Respond to hire posts when you see them. Even if you're the 100th post in the comment section, it's not about the 'here first' people. It's about the best-fitting person.
Promote yourself, when appropriate. Some groups do allow self-promos, so promote yourself when it's allowed. Different groups will have different rules, so make sure you are following their rules when you do promote your services.
3. Be consistent
Now when you are joining the conversation and forming relationships it's not going to happen after just one comment. You have to be consistent. You want people to know who you are and start tagging you or reaching out to you.
Commit to showing up. When you join The Live Free Academy course, you can join the monthly challenges to finding your first or next client!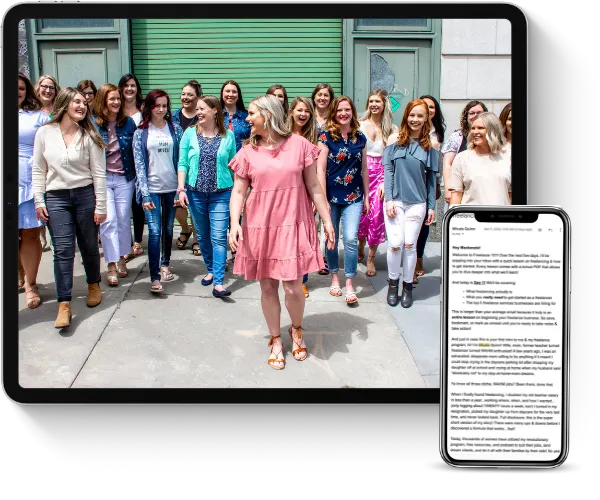 Learn how to earn $3K a month+ as a freelancer working less than 25 hours a week even if you think you have no experience.
This FREE crash course will teach you all about the freelance industry, so you can finally end the family vs. finances battle.
Commit to going into your groups daily or at least 30 minutes a day engaging using the above steps for 30 days.
4. Evaluate
After 30 days evaluate if your strategy is effective. What changes can you make? You'll know you are on the right track if you have had any discovery calls booked.
Even before the discovery calls are booked, if you are having people talk back to you in Facebook groups and if they are starting 1-on-1 conversations with you outside of Facebook then you are on the right track.
There you have it, how to get clients from Facebook groups in just 4 steps!
If you want more support for finding clients and building your business, please go check out the newly launched Freelance Template Shop! In there, you will find pitch templates, a mini-course on how to get clients from Facebook groups, and a mini-course on how to land clients with direct outreach! If you are going the DIY route, be sure to check out the template shop today!
If you want more support, then check out the full course The Live Free Academy! It's the most direct, hands-on way you can learn how to build a business, land clients, hit your goals, and retire from your day job!