This post about full-time income as a virtual assistant may contain affiliate links, which means if you click one of our affiliate links and decide to make a purchase, we receive a tiny commision from the seller at no additional cost to you. We only share products and services we have used, tested, and love ourselves!
Episode 08: Show Notes
Today I chat with Jenn Bays, and she is so honest and open on her journey from Transportation Broker to full-time Virtual Assistant from home.
Now when I say full-time, she technically works part-time but earns just about the same as she did in her full-time career working HALF the hours.
I hope Jenn's interview and story will help inspire you to keep working hard, keep focusing on your dream, or help you to see really and truly how possible your dreams are!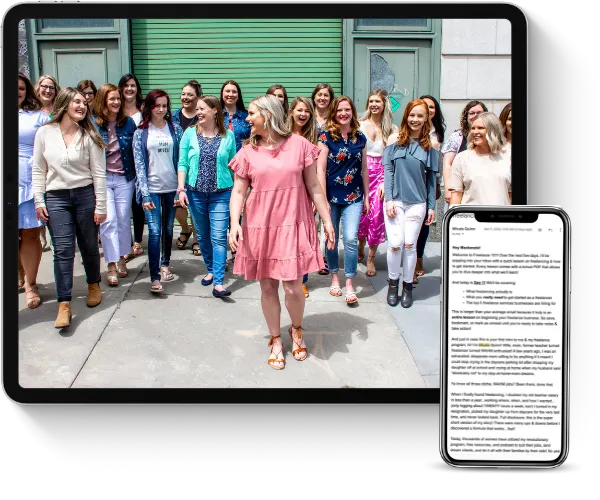 Learn how to earn $3K a month+ as a freelancer working less than 25 hours a week even if you think you have no experience.
This FREE crash course will teach you all about the freelance industry, so you can finally end the family vs. finances battle.
Meet Jenn
Jenn is a 28-year-old mama to an 8-month-old little boy, married to the love of her life, living in Kentucky. She started her virtual assistant business while on maternity leave and six months later took the leap to go full time. Now she has the incredible privilege of serving hardworking entrepreneurs with their day to day operations, so they can focus on the aspects of their business that they love.
Before launching her virtual assistant business
Jenn was a transportation broker and managed the logistical aspects for clients getting their goods from point A to point B. This was a very stressful job, requiring her to almost be on call 24/7 and definitely involved many long days in the office.
Jenn and her super supportive husband struggled with infertility, so when they finally got pregnant and she became a mom, her passions and priorities started to shift. This happens to us all, right?!
She reached a point where she no longer had a passion for her job, became sick of not being there when her son was sick, however she didn't really want to be a full-time SAHM and still needed an income.
When she discovered she could have both, it was a game changer!
How Jenn discovered virtual assisting
While Jenn was on maternity leave, she found herself scrolling facebook one day, saw a blog post that sparked her curiosity about working from home, read it and then signed up for a course (not mine, just to be clear). Before the course was over, Jenn had reached out to her first client and the rest is history!
Nitty Gritty: how Jenn replaced her full-time income as a virtual assistant
early morning wake-up (coffee is her best friend)
networking over the lunch-break
focusing on networking and connections
client work in the evenings and on weekends (she worked on average 15-20 hours on top of her full-time job
took on any and every project
Make sure you listen to the episode because she also shares with us:
how sometimes it just takes ONE client to get your whole business moving
how her background gave her confidence, even though she did not have direct experience as a virtual assistant
how she left her 9-5
what life is like now as a work at home mom
where her business is headed
Wrapping up:
I have come across SO many women who are virtual assistants or trying to get started and what stands out about Jenn and what I think makes her so successful is her attitude and mindset. Jenn was very decisive and very quick to take action and did not stop or give up.
When she launched her business she had a THIS IS GOING TO HAPPEN, COME HECK OR HIGH WATER attitude, and it most definitely paid off in spades!
Links and resources referenced in the episode: