Many of you know my story…so this is might be a refresh or maybe this the first time you're hearing it. Regardless, as the stories of working mom burnout continue to capture headlines across the country, it's important to make sure that EVERY mom knows and understands the benefits of freelancing.


So this is the story of how I went from teacher to freelancer, earning 3x my teacher salary working a fraction of the hours – and how you can, too! 

Let's rewind 4 years ago whenever I was a high school English teacher. First…I loved my job. I was one of those crazy people who knew exactly what they wanted to do when they grew up. My mom was a teacher and I knew that I wanted to follow in her footsteps. And I kept that passion throughout all of school and college and within my teaching career, truly. I was 100% satisfied and excited about teaching…until I got pregnant with our first child, Mclaren. As the weeks passed and my belly grew, I started having anxiety
about what daycare to put her in and who would care for her while I was working at school. We couldn't afford the fancy Montessori-style daycares because – hello! Teacher budget! The fancy daycares and preschools would have been 3/4 of my salary. That was really the first time I started to think "…maybe I don't actually want to be a teacher."
I wanted to be home and have more freedom and flexibility.
So, I turned to the Internet and started googling "how to become a stay-at-home mom without going broke" and all the answers were things like budgeting. Now, there's absolutely nothing wrong with budgeting or coupon clipping or foregoing Target runs and Starbucks drive-throughs. But I'm also incredibly realistic and I just knew that my husband and I would not be able to adhere to a super-strict budget. It just was not going to happen.
And, I could budget and coupon clip all day long but that was not going to save enough money to replace my full-time income.
I knew I had to make a change and do something different, but at that time it seemed like my options were join an MLM, complete surveys online, or start a home daycare. And my family's solution was that maybe I should try going into the corporate world! Sure- it would be equally as miserable as teaching but hey! At least the pay would be better!
Basically…every option was not for me. Then I found freelancing.
Finally- this was what I had been seeking! A career where I was in charge of where, when, and how I worked – plus how much money I made!
I will be the first to admit I was not an overnight success. In fact, it took me SEVEN months to land my first client. But instead of giving up at the first sign of failure, this time I kept going. I woke up before everyone else and squeezed in early AM working and networking time. And then I worked more after Mclaren was in bed. Then it was 6 more months to fully replace my teaching income and hand in my resignation. And then from there, it was a total snowball effect. I started making 3x my old teacher salary, working around 20 hours per week!
I traded my 9-5 in for a work whenever I want, wherever I want, flexible life in 2017. No more daycare. No more rushing. No more boss.
Now I help women just like YOU build profitable freelance businesses from home! Using the simple, step-by-step format I used to wish existed when I was sitting at my day job…grumbling, crying, & complaining about a legit way to make money & be home with my baby. 
I have helped thousands of women uncover their talent & dramatically shortcut the time it takes to build the business of their dreams- & now it's your turn! End working mom burnout and the family vs. finances battle…forever!
Wondering what freelancing actually means?
I'm glad you asked! A freelancer is someone who operates as an independent contractor- meaning you are your own boss! Freelancers can have specialized skill sets (think graphic design, social media management, copywriting, etc.) or they can work as a virtual assistant– taking over the various miscellaneous tasks a business owner might have at any given moment. Freelancers set their own rates & hours & can work from just about anywhere- it's the perfect way for moms to stay home with their babies & still earn an income!

You've heard this before though, right? Some perfect, magic, "legit" work-from-home job that turned out to be just another scam. Or..maybe it was actually legit! But it just wasn't sustainable. It didn't fit with family life or there was no way it could match your "day job" income. Regardless, how can I possibly know freelancing is different? Let's run some stats!
36 hours. That's

t

he average amount of time a freelancer works each week.




Want more? Want less? You're the boss!
$75,000+ per year.

Freelancers making

more

than 75K+ represented the

largest

growth segment in 2018. This isn't just for side hustles anymore.
⅓ of all American workers

are now freelancers. It's expected to be the majority by 2027!
Every mom deserves to have the same freedom, flexibility, and financial stability that I get to experience each and every day. 
FOUR tips that transformed my freelance business ended my working mom burnout, and brought me home from my 9-5:
1. Make a commitment and stick with it.
2. Know your why.
3. Find the time.
4. Evaluate what's working and what is not.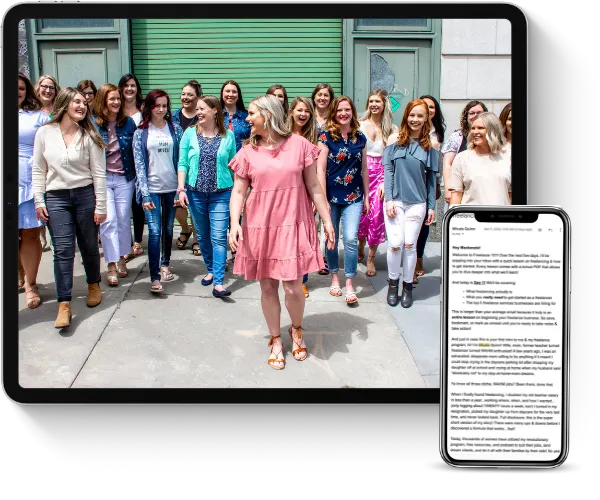 Learn how to earn $3K a month+ as a freelancer working less than 25 hours a week even if you think you have no experience.
This FREE crash course will teach you all about the freelance industry, so you can finally end the family vs. finances battle.
For the full scoop on these tips + more, watch the LIVE video training below!
You can also follow me on Instagram for my freelance tips + our day in the life series, where successful OTO alum take you behind the scenes of their freelance business every Wednesday!