As new technology evolves and many jobs evolve with it, moms in the workforce are left to figure out what their role will be.
Moms are leaving the workforce in droves for other more balanced opportunities that allow them to work at home with their babies and raise their families simultaneously.
Luckily, there are more options than just working full-time for a big corporation! A few options are start-up businesses and freelancing. How do you know what you should choose when looking for other options?
Read on as we talk about work environments, work you will do, and other benefits to both career paths.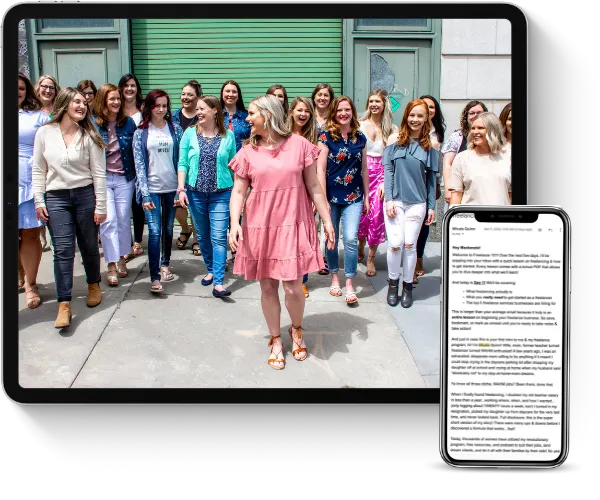 Learn how to earn $3K a month+ as a freelancer working less than 25 hours a week even if you think you have no experience.
This FREE crash course will teach you all about the freelance industry, so you can finally end the family vs. finances battle.
What is Freelancing?
Freelancing is when someone operates as an independent contractor rather than an employee. Freelancers offer a specific service, based on knowledge and skills, to other business owners under self-employment that allows them to sell their services on a contract or project basis.
Freelancers can choose the projects they work on, project-by-project, or on a monthly retainer. Freelancers pick services they want to offer clients, and how they want to charge for those services (flat-rate per package or hourly basis).
Pros about being a freelancer are controlling the variables for which you work! That would be things like where you work (from home); when you work (during naptime), and how much you make (you get to choose your rates).
Making it possible for moms to balance work and family life, without sacrificing an income.
Learn more about freelancing with the FAQ: What is Freelancing? blog post.
What is a Start-Up?
A start-up is a small, new company created to bring unique products or services to customers. The most successful start-ups are full of innovation and fix a problem or offer a solution to a problem for targeted customers.
Working in a startup can be fast-paced as startups usually are smaller and have fewer employees to conduct all the business dealings each day. Usually, because of the smaller workforce employees wear multiple hats and do many different jobs.
Start-ups can be more demanding and strenuous on the way you work regarding work hours and where you work. Depending on the company and when the work needs to be completed, you may work in the office or from home. The hours you work are dependent on the company's needs upon when the work is to be completed, and how it best serves the customer of the company.
Since start-ups are risky because 90% of start-ups fail, you may suddenly find yourself without a job if the business goes under.
On the other hand, startups that succeed can offer great rewards as the company grows. Just being a part of that team can be a reward in and of itself.
Which Career Should You Choose and Why?
Understanding what each type of company is, is the first step. Next, you'll want to consider the other factors of working as a freelancer and in a startup to determine what you should choose. Consider what you like to do and how you like to work.
Ask yourself these questions when determining which career path is best for you.
Is work/life balance important to me?
Do I need predictability in my income stream?
Do I want to be in control of how my business grows and the business goals?
If you answered yes to these questions, you may be more suited for a career in freelancing. You would be your own boss and be able to determine many variables about the company and its growth. You will choose your business goals, what projects you work on, and your income. As we mentioned earlier, you'll also be free to choose where and when you want to work!
Am I risk-seeking versus risk-averse?
Am I more productive if I need to report to someone?
Do I want to work with a team of other people?
If you answered yes to these questions, you should look into a start-up business. Startups come with risk, but the companies that are successful come with big rewards. You'll be working with a small team of people, most likely, and have either a boss or investors to report earnings and other company metrics to.
Add other questions that are important to you when determining what career path is best for you. Is creating your processes and systems important or would you rather have an established SOP in place for you to follow? Questions like this are important to consider as they will affect your every day!
Did freelancing sound like the path for you? Do you want to learn more about freelancing, but are unsure how to get started?  Check out the free resources on MicalaQuinn.com to learn the skills you already have that will help you start a freelance business and more!