Are you ready to start selling an online course? It's an avenue many freelancers eventually venture into because of the seamless transition and additional income it can provide for freelancers who are not taking on new clients for the foreseeable future.
Is it worth it, though? Online courses are everywhere, and it's easy to see why they are so popular!
But is the time and effort worth it? Let's consider the benefits and disadvantages of selling online courses vs. selling freelancing services.
Freelancing Benefits and Disadvantages
What is freelancing?
We've covered this topic before on the blog discussing common questions moms ask about freelancing. Read the FAQ: What is Freelancing for a more in-depth discussion. Or download the Crash Course to learn how to get started and land your first client today!
Freelancers offer a specific service, based on knowledge and skills, to business owners under self-employment that allows them to sell their services on a contract or project basis.
Freelancers can choose to work on a project-by-project basis or a monthly retainer choosing what services they want to sell and how they want to charge for those services. Some freelancers charge their services on an hourly basis, while others will package their services and charge a flat rate per package.
Freelancing Benefits
You don't need a website, degree, or training to get started. You can use the skills you have to start as a freelancer today.
The more experience you get, the more you can increase your rates, giving you the freedom to determine how much money you want to make.
You can make more money by adding more clients in the same amount of time. Over time you will start to work faster, increasing your productivity and ability to take on more and more clients while working the same number of hours.
One of the easiest ways to get clients as a freelancer is through current client referrals. Meaning, that you won't have to spend tons of time marketing your services to find new clients.
Freelancing Disadvantages
You may encounter clients who are demanding or difficult to work with even after talking on a discovery call. (Luckily, you can end that contract and replace them with someone easier to work with!)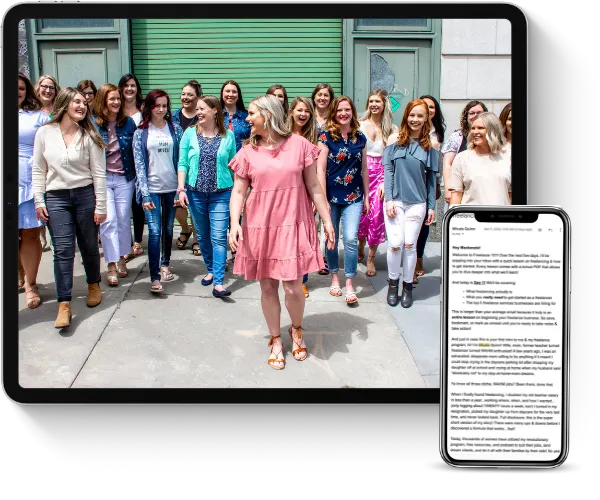 Learn how to earn $3K a month+ as a freelancer working less than 25 hours a week even if you think you have no experience.
This FREE crash course will teach you all about the freelance industry, so you can finally end the family vs. finances battle.
What is Selling Online Courses?
Selling an online course is essentially creating a training or a course consisting of one or multiple videos and documents and selling it over the internet.
Generally, it's made and distributed using a learning management system, where students can view modules and progress.
Selling Online Courses Benefits
You can diversify your income by selling a course, making it an additional stream of income. And this can be very beneficial for freelancers looking to scale their income when their schedule is filled with clients and not taking on any more.
Once you create the product, it is done. You do not necessarily need to constantly update it.
Selling Online Courses Disadvantages
You need to learn new software and skills to record, market, and sell your new course.
It can take time and money to build up an audience to buy your product. To sell an online course, you have to be able to show why or what problem you solve for your customer by taking the course.
The course creator market has a lot of competition because online courses are so popular.
Once you create the product it may be done, but you are constantly updating and testing new marketing techniques to make sales.
Should You Sell Services or Products?
Should you make the switch from selling your services to selling a product? To determine this consider what you like to do and how you like to work.
Do you like to work with clients or work one-on-one with people? Maybe you like a smaller clientele list between 15 and 20? Do you enjoy working closely with a client in their business? If you answered Yes to these questions, then you may be more suited to stick with selling your services via freelancing.
Do you like teaching? Do you mind pitching your product to strangers or potential collaborators? If you answered Yes to those questions, you might enjoy switching to selling online courses.
Or maybe you set yourself up to become a course creator unknowingly, like me! Did you know I started as a freelancer?
Back in 2016, I was working the naptime hustle as a freelancer and living my best life. I wasn't paying for daycare, I was only working 15-20 hours a week, and was bringing home 3x as much money as I did when I was teaching.
I loved marketing and social media and was working on pivoting my business into an expert role in social media. Thought it would be cool to someday teach moms how to freelance, but I figured that was 5+ years down the road.
I had already set myself up for a seamless transition and didn't even know it. And by the end of 2018, I had transitioned my business from freelancing to online course creation and focused on growing it. It has been growing exponentially since.
You can listen to the full story here on the Live Free Podcast!
Maybe selling your services via freelancing is right for you now, and selling an online course will be right later. Weigh the benefits and disadvantages of both, then think about what you like to do and what you don't like to do. These things will surely tell you whether to stick with freelancing or transition or add an online course to your portfolio.