Have you been searching for alternatives to rushing to drop your kids off at daycare and then get into the office by 8 AM every morning…5 days a week? Maybe for the past year, you've been wanting to work from home but can't convince your employer to let you be a remote employee.
Freelancing may be the answer you are searching for!
There is no doubt that there are benefits to freelancing. So, if you are serious about working from home as a freelancer, or just wanting to get more information- let's explore the pros and cons. Plus, weigh them against the pros and cons of working remotely as a full-time employee.
Freelancing Benefits and Disadvantages
What is freelancing?
As discussed in the FAQ: What is Freelancing blog a freelancer is someone who operates as an independent contractor rather than an employee. Freelancers offer a specific service, based on knowledge and skills, to business owners under self-employment that allows them to sell their services on a contract or project basis.
Freelancers can choose to work on a project-by-project basis or a monthly retainer choosing what services they want to sell and how they want to charge for those services. Some freelancers charge their services on an hourly basis, while others will package their services and charge a flat rate per package.
Benefits
Besides the obvious of working from home in your pajamas, if you want, there are plenty of benefits to freelancing!
You get to control the variables upon which you work. So, things like
Where you work. You can work from home, the park, or the doctor's office- wherever you want!
Your hours. When you work is up to you. During the day, doing the naptime hustle while your kids are sleeping is a popular option among moms in the LFA Facebook group.
Who you work with. Holding discovery calls with potential clients is sort of like an interview, but on these calls, you both assess whether working together would be a good fit or not.
How much you make. No more waiting for yearly bonuses or annual 3% raises. You decide how much you want to charge your clients. And when to take training so you can up your rates with newly acquired skills.
Disadvantages
I can't honestly review freelancing without addressing the disadvantages. With freelancing, your time is making you money. It's not passive income (is any job).
You will get paid more as you get faster and more efficient at your tasks because you will be able to take on more in the allotted time frame. You do have to do the work to get paid.
Instead of the company paying for contributions to a 401K or access to the company insurance plan for healthcare, you are responsible for making those arrangements on your own.
It can sometimes be isolating when you work from home all the time and don't have a lot of communication with the outside world. There are tons of opportunities for socializing on and offline with other people who are in the same situations as you. For example, joining a freelancing or a mom Facebook group can help you find other adults to talk with. Check out the Common Challenges of Working from Home for Stay at Home Moms blog post for other ideas on overcoming isolation from working at home.
Remote Employee Benefits and Disadvantages
What is Working Remotely
A remote worker works for a company, either fully or partially remotely.
Remote workers can either be working from home or anywhere around the world.
Generally, the company will have core working hours that all team members (remote and in-office) will be required to be online, available for questions, and working.
Often remote workers are contracted to work full-time hours, but can be part-time or some combination. And they are typically contracted to be eligible for company-provided contributions like 401K matching and the company health insurance plan.
Benefits
Many people consider the benefits of working remotely with traditional employment are…
eligibility for health insurance coverage
401k matching
paid sick leave
paid vacation
Additionally, you will probably be on a team and be on video calls or instant communication with other people, making it less isolating to be a remote employee.
Disadvantages
Working as a remote employee means you have more flexibility, but not total flexibility.
You can work from home, but there may be specific hours you are required to be online or available to take phone calls, answer emails, or be available for questions. And you likely are not able to determine what those hours are going to be. The company will tell you when they need you to be online.
Since you have all the tools and equipment necessary to work from home, it may make it difficult to take time off and actually be off.
A common issue for remote workers and freelancers is finding the balance between working from home and being at home.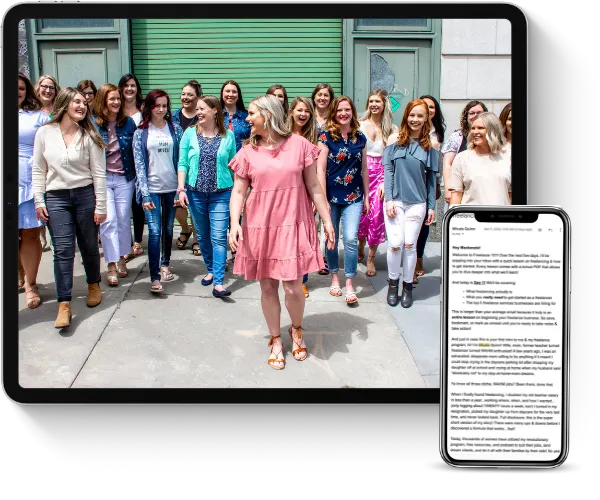 Learn how to earn $3K a month+ as a freelancer working less than 25 hours a week even if you think you have no experience.
This FREE crash course will teach you all about the freelance industry, so you can finally end the family vs. finances battle.
Conclusion
It is important to weigh your options when considering your next term of employment. This article can help you when considering the remote employee vs. freelancing benefits and disadvantages.
They both have great benefits. And they both offer the freedom and flexibility from a traditional 9-5 job that work-from-home moms are searching for!