Is this you? You are searching for work-from-home jobs and found freelancing, coaching, and a world of online business ideas. Researching all the options has left you wondering whether a freelancing or coaching business is right for you.
Let's discuss the differences, similarities, benefits, and roles of freelancing and coaching to help you determine which business is right for you.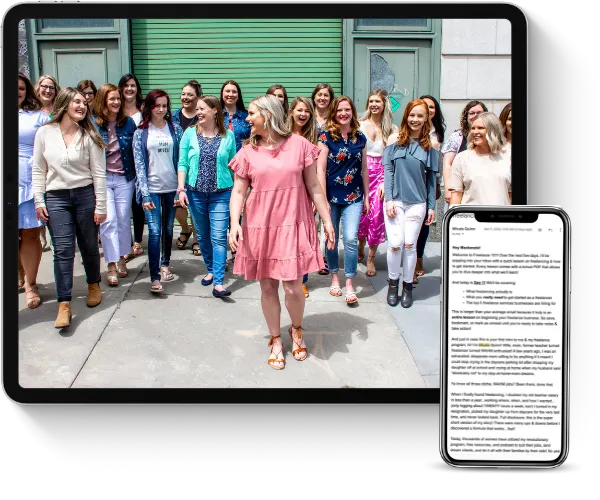 Learn how to earn $3K a month+ as a freelancer working less than 25 hours a week even if you think you have no experience.
This FREE crash course will teach you all about the freelance industry, so you can finally end the family vs. finances battle.
What is Freelancing?
Freelancing is working as an independent contractor rather than as an employee. A freelancer offers specific services based on their knowledge and skills to business owners under self-employment.
If you want to learn more about freelancing, check out the FAQ: What is Freelancing blog where I discuss commonly asked questions and answers about freelancing and how to start.
What is Coaching?
Coaching is helping a business owner achieve a specific professional goal. A coach helps with identifying personal challenges and helping to become aware of how the business owner can make the changes they seek.
Some skills a business owner may hire a coach to improve upon include:
Time-management
Self-esteem/confidence
Leadership
Public speaking
A coach works with a client over a specific period, designing a process to work toward set goals. By providing encouragement and making them accountable for their actions, the coach helps the business owner reach their determined goals.
Benefits of Freelancing and Coaching
The benefits of both are easy to see. Whether you are working as a freelancer or a coach you can control the variables. These are things like…
Where you work (from home)
The number of hours you work
When you work (early morning, during nap time, etc.)
How much money you can make
And with both freelancing and coaching, income is earned when fulfilling a project for a client.
However, each position does have specific benefits.
Freelancing Benefits
Freelancing has the shortest learning curve and is probably the easiest to start a business in. You don't need formal training or skills to start as a freelancer.
The Freelance Skills Assessment will help you identify the skill set and interests you already have, that you can leverage into a freelance service that business owners will pay you for. With this assessment, you can be on your way to starting a freelancing business today!
Coaching Benefits
With coaching, you can work one on one with a client, and see them through their challenges. This can provide a great feeling of accomplishment for both the coach and the client. And because of this, coaches often generate clients based on referrals and testimonials, which means you won't have to network as much.
The Role of the Freelancer and the Coach
As a freelancer…
You will help a business with achieving a goal, for example setting up a website. Being given a budget and all the tools necessary for accomplishing this task the freelancer will work through a process of creating and finishing the project with some direction or input from the client. The finished product or service is then given to the client at the end of the project.
As a coach…
You will help the client create realistic goals of what their website would look like. As a coach, you will give assignments for the client to work on, breaking down the project into smaller, workable tasks the client can do themself. If the client struggles or needs assistance, the coach helps by asking questions to figure out the best approach to solving the problem and completing the project.
Is Freelancing or Coaching Right for You?
So, which position is right for you?
If you are starting a business or learning about ways you can start an online business, freelancing as a virtual assistant is the best way to start.
You can start with NO formal training and scale your business quickly.
There are unlimited options for you in pivoting your business down the road. It would be easy to transition to coaching or another more specific business when you get some freelance experience.
This would also help you determine how you could coach future clients because you will learn as you go! It will help you to create a process and craft messaging that will resonate with your future coaching clients.
If freelancing has piqued your interest, and you want to know more about getting started as a freelancer, check out The Live Free Academy.