When it comes to working from home, not all jobs are created equal. Freelancing, blogging, coaching, consulting. There are tons of options for working online from home.
And it's no secret that freelancers are making it big time.
You get to work at home, in your pajamas, with your babies by your side.
You get to be your own boss.
Choose the hours you want to work.
And who you work with.
However, online businesses have their cons, too.
So, today we are breaking down the ins and outs of freelancing and blogging to help you determine if freelancing is the best route for you.
What is Freelancing?
Freelancing is working as an independent contractor rather than as an employee. A freelancer offers specific services based on their knowledge and skills to business owners under self-employment.
There are tons of options when freelancing. And copywriting is a common one. A freelance writer helps clients with:
Web content for their website
Blog articles for their website
Ghostwriting
eBooks
Case studies
White papers
Emails
Social media posts
Press releases
Video scripts
If you want to learn more about freelancing, the FAQ: What is Freelancing blog discusses commonly asked questions and answers about freelancing to help you learn more.
What is Blogging?
Blogging is similar to freelancing in that you get all the benefits of working from home and being your own boss. However, with blogging, you are setting your deadlines and not working with any clients. The goal of a blog is to get as much traffic as possible to help you make income from it. The more traffic a blog gets, the more passive income you can make from affiliate marketing.
If you want to become a blogger, running a successful site will take a lot of training and trying things on your own to see what works.
Things you will need to learn to help your blog grow in traffic:
SEO
Content
Social Media
Email marketing
Web design
Affiliate marketing
Traffic generation
Starting a blog takes time and effort, and most bloggers don't start making money from their blog for months (or years!).
Pros and Cons
The pros of both are pretty obvious. As I stated earlier, you get to work from home in your pajamas, be your own boss, and determine your own hours.
Pros of freelance writing
Start making money immediately.
No formal training is needed.
Make a full-time income working part-time.
You have more control over your income, depending on the number of clients you bring on, the hours you work, and the rate you charge.
Cons of freelancing
It's not passive income, so you are trading your time for money.
Pros of blogging
Set your own deadlines rather than working with a client to determine them.
Do not need to find clients, so once the blog is profitable it's passive income.
You generally connect with other bloggers and make new friendships.
Cons of blogging
No guaranteed return on your investment of time or money.
You need to learn a lot and quickly to start your blog.
You give up a lot of your time for free, learning to set up and run a blog before it can become profitable.
There's no such thing as true passive income! Even if you are not working with clients, as your blog grows you will need to dedicate hours to engaging with readers, negotiating sponsorship deals, etc.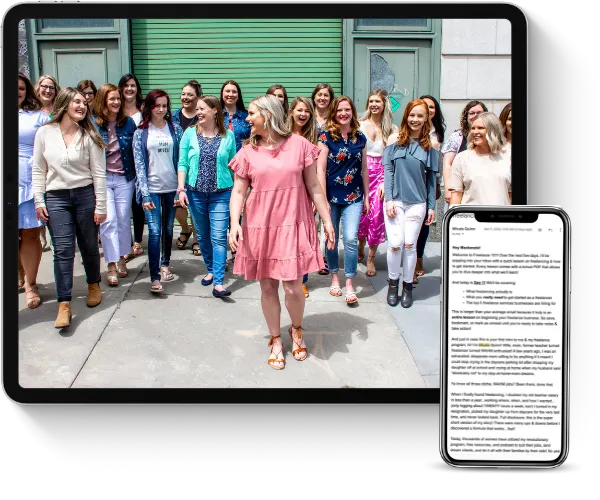 Learn how to earn $3K a month+ as a freelancer working less than 25 hours a week even if you think you have no experience.
This FREE crash course will teach you all about the freelance industry, so you can finally end the family vs. finances battle.
Knowledge and Qualifications
It's worth noting that your knowledge and qualifications will make a difference in both freelancing and blogging.
Freelancing knowledge and qualifications
None! You honestly don't need any freelancing knowledge or qualifications to get started as a freelancer.
You have the skills, talent, and experience that can easily translate into a freelance job that can be helpful to tons of businesses- already!
Brainstorm what services you can offer. Inside the Live Free Academy, there is a step dedicated to helping you select the right services.
There are so many opportunities for beginners who are willing to learn on the job. And extra training you can take to expand your skill set to make yourself more valuable and more in demand down the road.
Blogging knowledge and qualifications
Learning to blog requires a lot more time and effort upfront. There are things like SEO you must consider when creating a blog. SEO is necessary not just for creating content but for setting up your Website and growing your readership.
Be prepared to spend your time learning how to set up the front-end and back-end of your website, determining your audience, messaging, and branding when you are creating your blog. You will want to keep all your messaging, like the about me page and social media content, consistent.
Some of the things you'll be learning more in-depth about when you have a blog are SEO, keywords, content, social media, affiliate marketing, web design, and the most important part, how to use all these things to generate more traffic to your blog.
Conclusion
Freelancing is the answer to your work-from-home dreams if you are open to working with clients, meeting deadlines, and little training. You have the freedom and flexibility to determine who you work with, what hours you work, and what rates you charge.
Plus, with freelancing, you can start making money right away.
When it comes to freelancing, there are tons of options. Check out the 7 Legitimate Work from Home Jobs for Moms blog post for a more in-depth discussion about popular freelance jobs for work-at-home moms.
It just takes a little brainstorming, research, and the Freelance Skills Assessment to help you determine what freelance job is right for you to start making money from home today!