Many women who hear about freelancing don't realize they can freelance using their existing skills!
You don't have to sacrifice the degree you worked so hard to obtain or ignore all those corporate hours you logged into the 40-hour-a-week job you have. You have skills from all that education and work experience that are valuable in freelancing!
For Johnette Wilhemi, freelancing was the answer to her dreams; she found freelancing success in healthcare and replaced her corporate income in just six months!
On the blog today, we dive into Johnette's story about how she used her decade-long healthcare experience to create freelancing success.
Learn what skills Johnette transferred from her full-time healthcare position as an ultrasound technician to land clients and find freelance success in healthcare. Plus, where she finds her clients!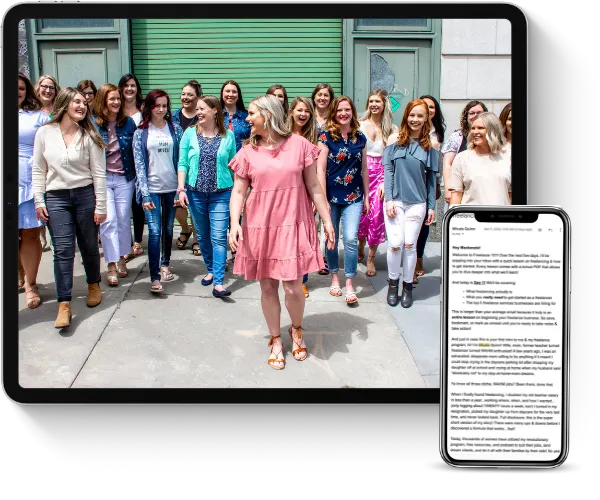 Learn how to earn $3K a month+ as a freelancer working less than 25 hours a week even if you think you have no experience.
This FREE crash course will teach you all about the freelance industry, so you can finally end the family vs. finances battle.
Johnette's Background in Healthcare
Johnette has been working as an ultrasound technician in healthcare for 11 years. She started looking into freelancing after the birth of her first daughter when daycare dropoff never seemed to get easier.
Johnette grew up in a home where her mom was home with them, and she remembers having many amazing memories of that special time together. Johnette knew she wanted that for her daughter too! So, she tried cutting back her hours from 5 days a week to 4 days, but it wasn't enough.
Johnette describes first learning about freelancing as feeling stuck.
She saw how all these other moms could work at home and wanted the same flexibility. Johnette loved the ultrasound technician work she was doing but knew she couldn't do that from home.
So, Johnette started doing some research on her options. She first found that she could switch industries or positions. Those options would result in a significant pay cut, which was less than ideal. Not feeling excited about those opportunities, Johnette kept researching and found the Live Free Academy course.
Honing In On The Skills Needed To Find Freelancing Success In Healthcare
At first, Johnette thought she could do healthcare copywriting and had other ideas of how her skills could transfer to the healthcare freelance space. Those ended up not working out, and she went down a completely different path.
She discovered skills she's always had that she can now transfer over to freelancing. Skills like being very organized, having a natural knack for wording things well, and being very tech-savvy.
Johnette creates systems and processes to help businesses succeed. And describes it as utilizing these same skills differently than as an ultrasound technician.
From Working Full-Time To Working At Home
Johnette decided to purchase the LFA course, told her husband about it, and purchased it all on the same day. She was so excited about it, Johnette binged the videos and finished in two weeks–4 weeks faster than she had planned!
After finishing the course, she started putting herself out there on the Live Free job leads board but didn't get any calls or clients at first. That's when, unfortunately, imposter syndrome set in. She started questioning if she made the right choice. But she listened to an episode of the Live Free Podcast with Jamie Kern Lima, who said,
"Rejection is God's protection."
Hearing that at the right moment, Johnette shifted her mindset by understanding that those opportunities were not working out for a reason. With that mindset shift, she landed her first client within days. Each month after that, she started landing clients and booking calls.
Where Johnette finds clients
While Johnette started by finding clients through the Live Free job board, she mostly finds clients from the referrals of happy clients now.
At the sixth-month mark, Johnette was fully booked and loving everything she was doing. She then decided to quit her full-time ultrasound technician job and freelance in healthcare full-time.
What Johnette Does as a Healthcare Freelancer
Johnette describes how she has a passion for systems and processes. Describing an example of working in social media and loving building the content plan and calendar for her client. She kept seeing this pattern of building systems and processes emerge.
So, Johnette decided to pivot her business services. She took a few courses and became certified in online business management, virtual project management, and business systems and processes. So that she could offer online business management and project management services.
Currently, Johnette has seven retainer clients. A couple of those are still virtual assistance clients she has worked with for her entire journey!
If you want to hear the rest of Johnette's story, listen to the full episode here!
How to Start a Freelance Business + Find Freelancing Success in Healthcare
Are you on the fence about freelancing as a healthcare professional? Do you want to start freelancing but don't think your skills transfer? You can find freelance success in healthcare just like Johnette did!
Discover all the skills you possess that will help you to build a successful freelance business with the Freelance Crash Course and the Skills Assessment here.
Ready to start the Live Free Academy course and fast-track your success? Sign up here!