Are you wondering what kind of business to start? If you want to start your own business, and you are wondering what is better freelancing or MLM then stick around to find out. Today on the blog, we are covering two business types that are very common for moms looking to work from home: freelancing or MLM.
You will learn about the pros, and cons, plus how to start your business!
And in case you missed it, read about coaching and blogging here!
What is Freelancing?
Freelancing is working as an independent contractor rather than as an employee. A freelancer offers specific services based on their knowledge and skills to business owners under self-employment.
If you want to learn more about freelancing, check out the FAQ: What is Freelancing blog, where I discuss commonly asked questions and answers about freelancing and how to start.
What is MLM?
MLM is an acronym for multi-level marketing. MLM is also commonly known as network marketing.
This business model requires members to build up the business to generate an income. There are tiers of payouts for each level of the business. Salespeople are compensated for the sales they personally generate and for the sales of the people they recruit.
However, to become a distributor you must buy into the company by purchasing a starter pack of products, then buying a monthly supply of products to sell. This monthly supply can be upwards of $100.
That can add up fast!
Chances are you have either heard of, bought products from, or have been invited to a party selling the products from an MLM business. Some of the bigger names with this business model type are Mary Kay Cosmetics, Pampered Chef, Amway, and Arbonne. Or maybe you've heard of ones like Beach Body, Jamberry, Lularoe.
Now, you may be thinking this sounds like a pyramid scheme, and I thought pyramid schemes are illegal. There is one main difference that makes pyramid schemes illegal and MLMs legal. MLMs' primary purpose is to sell products (mostly to the people within the MLM!) and is not to recruit more distributors.
What are the Pros and Cons of Freelancing vs. MLM
With both, you get to work from home in your pajamas, be your own boss, and determine your own hours. But there are clear benefits to both freelancing and MLMs that you will want to understand before starting a business.
Pros of freelancing
Start making money immediately.
No formal training is needed to get started.
Make a full-time income by working part-time hours.
You have more control over your income, depending on the number of clients you bring on, the hours you want to work, and the rate you charge.
Cons of freelancing
It's not passive income, so you are trading your time for money.
Pros of MLMs
Easy to start.
You do not need to find products to sell, develop a brand, or worry about marketing because the company has already developed these.
These companies generally have really good support teams, and training in place to help newcomers start selling.
Cons of MLMs
Generally, there is a sign-up fee and a monthly fee, and you have to buy products to sell monthly. These can add up quickly and make your earnings take a hit.
Because you are selling and recruiting the people you know, the market can become oversaturated. Making it harder to sell if many of your contacts have joined.
It can damage your relationships with your friends and family.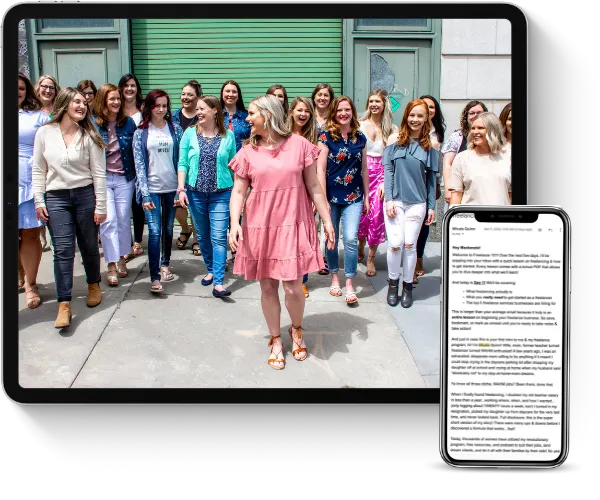 Learn how to earn $3K a month+ as a freelancer working less than 25 hours a week even if you think you have no experience.
This FREE crash course will teach you all about the freelance industry, so you can finally end the family vs. finances battle.
What Do You Need to Start
With both freelancing and network marketing, you do not need formal training or a fancy degree to start.
With freelancing, you can get started quickly and easily by finding the skills and experience you already have and utilizing that to help other businesses. Want to learn what services you can offer? Download the free Freelance Skills Assessment here!
Starting with an MLM company is easy, but gets expensive fast! Most MLMs require you to purchase a bundle of products to either have and show at parties, or as inventory to have on hand to sell. Plus, there is generally a sign-up fee.
These costs can repeat monthly, and they add up quickly! According to the Consumer Awareness Institute, after subtracting the costs and minimum monthly purchases of products, 90-99% of all MLM members are losing money being a part of the business.
Which Type of Business is Right for You?
After discussing the pros and cons of both, I hope it helps you determine whether freelancing or MLM is a better business model and the right one for the work-at-home business you want to start!
Freelancing is an amazing opportunity if you want to work with clients and be your own boss. You have the freedom to determine who you work with, how many clients you take on, and what rates you want to charge.
If freelancing sounds like the answer to your work-at-home mom dreams check out the How to Start Working From Home: An Easy Guide blog post, or learn how to start your freelancing business today with the Live Free Academy program.