Are you a freelancing mom looking for creative ways to land clients in 2020? Does it seem like your old client-landing strategies just aren't cutting it lately, or are you worried that the market is oversaturated? Today we are breaking down the latest + greatest ways you can land clients as a freelancing mom, earn an income, and stay home with your babies in 2020!

Ok…if all the freelancing moms had to name ONE good thing to come out of 2020…it might just be that we've all had to flex our client-landing muscles and get super creative in our pursuit of new business. That's not to say that plenty of Overwhelmed to Overbooked (OTO) alumni and freelancing moms aren't still landing clients the traditional way- the OTO hire form is proof of that! But, I have noticed more & more freelancing moms stepping outside of their comfort zones this year to get noticed by their ideal clients- and I think it's amazing!!
First, let's discuss why businesses hire freelancing moms in the first place (yes- even during COVID…)
As it turns out, the COVID-19 crisis and the need for remote work environments allowed hiring managers to pull in the best and brightest talent. No longer confined by driving distance, 47% of hiring managers stated they are now more likely to hire independent professionals.   92% of small businesses are run by a single owner plus their contractors and freelancers. That means 92% of small businesses do not use employees, they use freelancers. The freelance industry has been growing for years and there's only more growth to come. In the coming months, businesses will need freelancing moms (or dads!) to finish out the year, recoup losses, and strategize for what's ahead in 2021.

And most businesses aren't just outsourcing in one area, they need additional help and resources throughout their company. Upwork also found that the most popular jobs in the freelance space at the moment include roles in writing, creative, web development, and software development, with popular projects at the moment taking place in the areas of motion graphics design, front end development, and conversion rate optimization.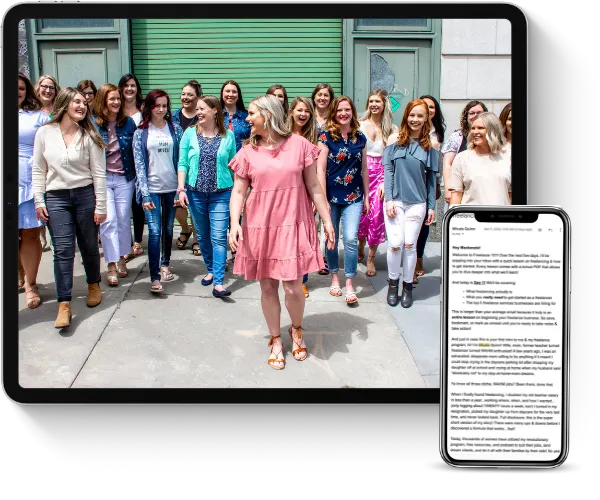 Learn how to earn $3K a month+ as a freelancer working less than 25 hours a week even if you think you have no experience.
This FREE crash course will teach you all about the freelance industry, so you can finally end the family vs. finances battle.
On my team right now, I outsource to 5-7 business owners each month.
All virtual.
All women-owned.
All freelancing moms.
Most are OTO alumni.
And I am just one tiny business!
What other businesses outsource to freelancers?
Bloggers, influencers, photographers, wedding planners, e-commerce shops, boutiques, real estate agents, restaurants, therapists, doctors, podcasters, lawyers, agencies, other freelancers, coaches, online course creators, the list could go on and on! Now let's chat about why these businesses outsource.
Why do businesses choose to outsource, and continue to outsource even with COVID affecting everyone's bottom line?

Because one person can only do so many things in a day.
People start businesses because they are passionate about what they offer. As their success and influence grow, business owners often end up trapped in their ever-expanding inbox. They spend 90% of the time on admin and marketing, and only 10% on the passions that led them to success in the first place.

So they hire freelancing moms to do the marketing, admin, Web design, whatever it is they know they need but know they do not want to do day after day. They are free to return to the brand and business they love. You are free to transform that brand and business with your expertise and knowledge. It's a win/win for everyone!
Now that you understand why businesses want to hire you, let's 
break down some of the traditional methods freelancing moms typically use to land clients and earn an income in 2020!
Traditional Methods Freelancing Moms Can Take to Land Clients:
Spread the word to your network.

The best & easiest way freelancing moms find & land clients is to tell everyone you know that you are launching a business & what problem your business solves. Tell your friends. Your family. Your neighbors. Announce it on your Facebook page. You just

never know

who is launching a business, owns an established business, or is looking for someone they

already

know and trust to hire and train. After spreading the word to your network…what else can freelancing moms do to complete a client roster?
2. Cold pitch local clients. Is there a boutique or restaurant in your area that you love? Have you noticed that their Website is super outdated/that they never respond to Facebook inquiries/their Facebook ads are targeted incorrectly/etc.? If you notice a gap in their services that you know you could fill – what are you waiting for?! Businesses need freelancing moms now more than ever to help transition their businesses online and ensure that their systems, processes, and public image aligns and works.

Plus cold pitching to a local business is a personal, profitable way to land clients and help out your community! Bonus! Unlike online job opportunities that can seem overwhelming or oversaturated, your local businesses are most likely not being approached and pitched by freelancing moms every day. Less competition = more room for you to stand out and wow them!  If you are new to freelancing or still struggle with pitching, check out this podcast episode all about cold pitching!

3. Facebook groups. Networking groups on Facebook are an invaluable resource for jobs, advice, and encouragement for freelancing moms. They are also where I invested most of my time when I wanted to earn over $3,000/month as a virtual assistant. The key to successfully landing clients in Facebook groups is to focus on value.

So first, that means quality over quantity. Do not join every.single.networking group that seems the least bit relevant to freelancing moms. Your feed will be so disjointed and overwhelming that you will not be able to invest the time and energy necessary to stand out. Instead, find the Facebook networking groups that your ideal clients are most likely to hang out in. And again, focus on value. As in…provide value. Answer questions posed by other uses, give honest feedback, don't just spend all your time pitching. As you continue to build value and trust in the Facebook groups most aligned with your clients and goals, you will gain a reputation as an expert in your industry or niche. Other users will recommend you, clients will reach out, and it will be much easier to stand out as an applicant when job postings roll in. PS: don't forget that OTO alumni gain access to an exclusive job leads FB group! 
Now that we've covered three traditional ways freelancing moms are landing clients in 2020, let's discuss two up-and-coming methods that you may not have tried yet!

Reddit.

That's right, ladies! Reddit is not just for your husband to read 9 million threads about his Fantasy Football team anymore! For those completely unfamiliar, Reddit is a social news aggregator and discussion Website. Think of it as a mix of social networking, GIPHY, and blogs. There are subReddits for basically every topic, hobby, job, whatever you can imagine.





If you are a social media manager, there's a

SubReddit for you

. Copywriter, there's a

SubReddit for you

.

Graphic designer

.

Bird watcher

. Whatever your interests, skillset, and experience may be – somewhere there is a SubReddit speaking your language!





Again, just like with the Facebook groups…

focus on value.

Many SubReddits have strict rules about self-promotion, so make sure you are leading with value and stay laser-focused on the SubReddits most likely to land you clients.

Reels/TikTok.

The latest and greatest! Right now, the big draw for freelancers looking to find clients, market their business, or simply amass a following is, of course, TikTok and Instagram Reels!





As with any new endeavor, Instagram is pushing for Reels to reign supreme – meaning they are

changing

the algorithm to favor users and posts that are utilizing Reels. If you are focusing only on your IG Feed to land clients, it's time to start maximizing those views and uploading Reels! Curious about how to get started?! You can view the fun I'm having with Reels by

following me on Instagram

, and check out this

podcast interview with OTO alumni Miranda Walden

! Miranda has grown a following on TikTok and has used TikTok to not only market herself but also

actually land

clients!!
One of the most exciting things about being a freelancing mom is the freedom an ever-changing industry provides. You can land clients within your network, your community, or even on the other side of the world! Mom-and-pop shops to global, fortune-500 companies. And the opportunities and avenues to approach and land clients continues to grow and transform!

Freelancing is the future.
2020 is just the start.
If you are new to freelancing and ready to start your business and land your first client, check out my newly revamped absolutely FREE workshop!
If you start right now, in less than 40 minutes you will know:
The Who, What, Why, & How of freelancing

The key secret to establishing a stable income while freelancing

What freelance services you can provide right NOW – no experience needed!

The magic formula  to landing discovery calls

How to wow clients with your answer to the dreaded

"what's your experience?"

question 

My no-fail method to quitting your day job
Your turn: what's the craziest way you've landed a client?