EPISODE 25: SHOW NOTES
If you're worried about how stable a freelance business can be, this episode is for you! You'll learn the 3 ways that freelancing is actually MORE stable than a 9-5 and how to build a stable and consistent income from day one.
So far on the podcast we have been talking about how to get started. If you've missed any episodes, this is great time to go back and catch up! In the new year we will start talking about how to scale your freelance business beyond 5k! The opportunities are LIMITLESS online and I can't wait to share this topic with you.
Lastly, if you're enjoying the podcast, share with a friend or family member! And if you haven't already, you can also write us a review. These are the most effective ways to support the podcast and we'll love you forever for helping out!
**This post about how to build your freelance business on the side may contain affiliate links, which means if you click one of our affiliate links and decide to make a purchase, we receive a tiny commission from the seller at no additional cost to you. We only share products and services we have used, tested, and love ourselves!**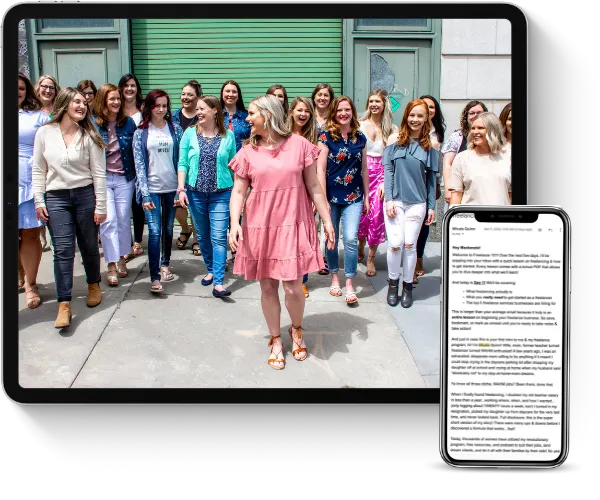 Learn how to earn $3K a month+ as a freelancer working less than 25 hours a week even if you think you have no experience.
This FREE crash course will teach you all about the freelance industry, so you can finally end the family vs. finances battle.
In this episode, we cover:
the 3 reasons why freelancing is more stable than a traditional 9-5
the keys to building a business that is both stable and consistent (hint: one is being really great to your current clients!)
Resources and links mentioned in this episode: