Freelancing in 2022
Should you try freelancing in 2022? There's only one valid reason you should not freelance this year. Read on to find out what that is!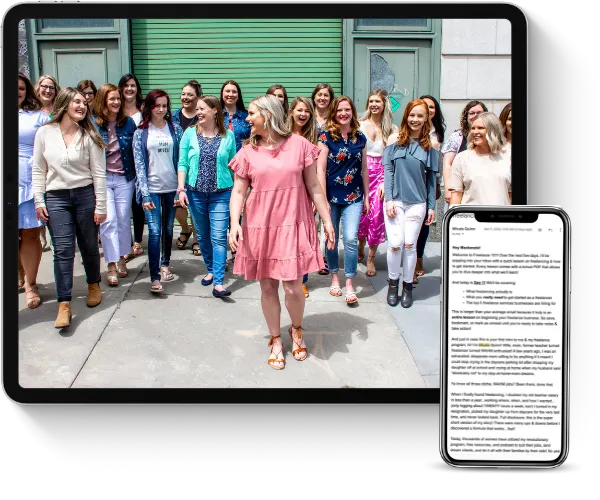 Learn how to earn $3K a month+ as a freelancer working less than 25 hours a week even if you think you have no experience.
This FREE crash course will teach you all about the freelance industry, so you can finally end the family vs. finances battle.
On the FAQ: What is Freelancing blog, we covered what a freelancer is and who hires freelancers. If you missed it, be sure to check it out. I go in-depth on the most common questions about freelancing. Now let's chat about exactly who freelancing is for. Maybe you're thinking that freelancing is only for people with special talents or who have a specific skill set from a previous corporate job like a social media executive or an administrative assistant. Wrong!
Anyone Can Freelance
Freelancing is for everyone, well almost everyone. Freelancing is a great option for a stay-at-home mom looking for some extra money. Or for a mom who is experiencing burnout being at the office 40+ hours a week and struggling to spend time with family. Truly, freelancing is something anyone can accomplish. So, what do successful freelancers do to make it that unsuccessful freelancers don't?
They stop listening to that voice in their head telling them they can't do it!
Are you scared you'll fail? (I was too!) You've got to ignore that little voice telling you that you can't do it, or that you don't have the skills to do it. That voice saying this isn't going to work out. You need to suck it up and go back to your day job.
You may feel like you've tried everything and nothing ever works out exactly as you planned. Yep…been there too. I have failed before. Before the Live Free Academy, I started a bow business making handmade bows. That business went nowhere, for lots of reasons. I had no idea how to run a business. I did not seek support, or invest in education on how to turn a small handmade craft into a profitable business, and when it got hard…I gave up.
After more false starts and failed attempts and many, many hours of research…I found freelancing, and even though I was scared to fail again, I went after it anyway.
This time I did it differently than before. I Invested in myself and various training to better my skills and my business and met (then exceeded!) my goals.
The truth is we all get these feelings and a case of the "what if's".
What if I fail? I know I have had this little voice in my head too many times to count. When I start this downward spiral, I take action. You can't wait for the fear to subside, because it never will. However, this little reframe helped me quit my job, live a much happier life, and allowed me to make a really, really good income working for myself.
Focus on what you can control, and let go of what you can't.
First, identify what you can control and shift your focus to that. Define what failure is to you. Then put your energy and effort into the things that will help you accomplish your goals. This could be a Crash Course To Get Started Freelancing or doing a skills assessment to identify your services. What other kinds of things do you have control over? Make time to network by taking out 5 or 10 minutes a day to connect with other online business owners, or sit down and write out your goals for the next day, week, or year. Start with what you want to accomplish tomorrow and go from there. The feeling of getting things accomplished can start to have a snowball effect. Do the easy ones first and use the momentum to work toward the harder-to-reach goals or the tasks you don't enjoy doing as much.
Realistically that voice may never truly go away. You will just learn how to ignore it. And with each new goal met and the client signed, that voice grows smaller and smaller.
When To Try Freelancing
I sometimes hear from freelance moms in my group and women thinking about freelancing that they don't feel like they have skills to offer. If you are feeling that you have no skills, no training, and can not even really be sure the last time you updated your resume, you are not alone. You are just like so many of the women who have been a stay-at-home mom for years and felt like they had forgotten how to be anything else before they signed up for the Live Free Academy and gave freelancing a try.
Freelancing can and has given thousands of women experiencing 'stay-at-home-mom burnout' the freedom, flexibility, and financial stability that come with owning your own business. It gives moms an outlet to have something just for them to focus on a few hours a day or week. So, if you've been looking for something that will allow you the freedom to be at home with your kids, and help contribute financially to your family's income, maybe this is your calling to stop listening to that voice in your head telling you that you can't do it. There are people with less experience than you enjoying more success because they got tired of doubting themselves and decided to go for it.
So, should you try freelancing this year? Yes, you should give freelancing a try. The only true reason that you should not try freelancing is if you truly don't want to! Freelancing is for anyone and everyone. You've already got a valuable and profitable skill set that you can leverage into a freelance business that clients will pay you good money for! You just need the tools to figure out what those skills are. Download my Freelance Skills Assessment today to get started for free.