Crystal Ramirez is a mom of 2 who found freelancing and it changed her life! She found The Live Free Academy after quitting her full-time job prior to her maternity leave with her first baby. Shortly after she joined the LFA group she dove into the course and landed her first, second, and third client within 3 months!
Today we are following along with Crystal to see how she spends her day as a work-from-home mama of 1 and 1 on the way. Plus, we learn how freelancing changed her life!
How Freelancing Changed Her Life
Beginning the day
Crystal had planned to have some time to get ready and do some work before her daughter woke up for the day. But her daughter woke up early today, so instead she made some pancakes for breakfast and they are eating together.
Crystal explains how she never had time for breakfast at her previous job, but says freelancing changed her life and allows her the flexibility to do that!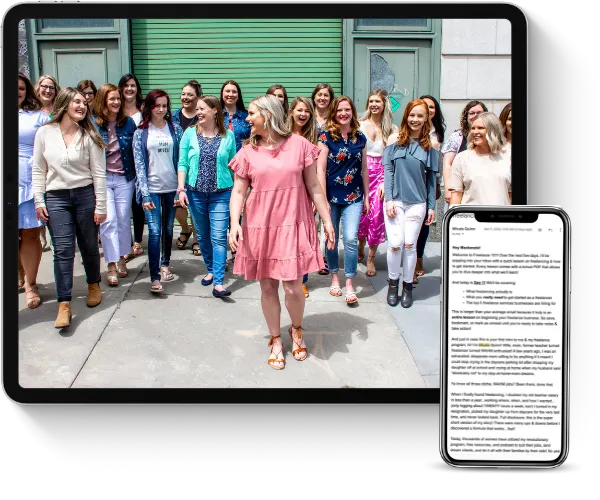 Learn how to earn $3K a month+ as a freelancer working less than 25 hours a week even if you think you have no experience.
This FREE crash course will teach you all about the freelance industry, so you can finally end the family vs. finances battle.
Morning work
Crystal explains her work schedule in that she's already done most of her client work for the week. So she plans to apply for a new job opportunity in The Live Free Academy course group with job leads.
Then plans to check email and respond to clients.
Lastly, she will create a to-do list for the day.
Crystal signed into the weekly coaching call to ask questions!
Then, we get a brief "hello" from Crystal's daughter!
Finding Clients
Crystal says she started applying to job leads on the group board about 30 times and received 30 no's in the beginning.
Her first client signed with her when she was refinancing her house. The real estate broker asked her what she did for a living as part of the refinance process. When she explained it, she jokingly said, "If you're ever looking for somebody or need help with any of this, it's what I do".
His response was, "Yes, actually, I'll take you up on that." They started working together before the house was done being refinanced!
Crystal found another client when she made her first post about her business on social media explaining her business and what she does. A high school friend of hers tagged her in an Instagram post for someone who was looking for help. So, Crystal reached out and they ended up working together.
After finding 3 clients, Crystal explains that she's been working about 20-25 hours and has replaced her income from her previous job!
Next, she shares a screenshot of her website. She says she didn't have a website for the first year, but now it's easier to send clients there to see her portfolio and book clients all in one place.
Eventually, Crystal wants to niche to working with salon owners, but says she is in no rush because she works with amazing people right now!
Next, Crystal breaks down all the skills she had before starting the LFA course and changing her life, what she learned during the course, and the skills she has now.
Next Crystal and her daughter take a break to go to the library for storytime. These are perks of a flexible schedule that have changed with freelancing!
Q&A
Q: Were you able to replace your full-time income? If so how long did it take you?
A: Good question! When I got all 3 clients after 3 months of applying, working literally only half the time–that was $2,700. Then about a month later, I had fully replaced my income. However, that first month when I had all 3 clients is when I say I fully replaced my income because if you subtract all the gas from commuting back and forth to work is the difference.
Q: Will you continue working once baby comes or take time off? How does that work with clients?
A: Communication is key. I make sure to let them know as soon as we have a discovery call or I send them the initial email in the job leads. I let them know I am due in March, and plan to take a few weeks off.
The clients I have now are super understanding. Of course, they want to make sure we get really ahead. So they have really been messaging me these last few weeks to get really ahead. So that when March comes everything is done ahead of time and I can take that time, and they are not falling behind on their business.
Q: How many hours a week do you work and roughly make? I'm a single mom and need good income.
A: First of all, you're amazing! I can only imagine how difficult it is, being a mom itself is difficult. A few things I have learned is that I could be working a lot more hours and be making a pretty good income if I needed it. I honestly don't.
We do want to get a bigger house soon because our family is growing so I will need to be working more then, but that's what is amazing about this. If you're a single mom and need to go pick up your kids or do anything with them, take them to the doctor, you have that flexibility.
Second, I've learned to not put all your eggs in one basket. Have some clients where you work a lot of hours with. More than just 1 or 2 clients with all your hours because if they ever don't want to work with you or can't afford you anymore then you don't have that stable income.
That happened to me that's why I'm saying that.
Also, keep your business up to date with CEO days because if you ever do need another client, you are not having to waste any time updating that and can start applying to potential clients.
Q: Can you elaborate on CEO days?
A: Micala elaborates a little more on these in her course, and at first I thought they were only for bigger businesses. I didn't even take it into account.
However, after the first 2 years of running my own business and not doing CEO days, just focusing on my clients' businesses when the business started to get a little bit slow for me, then I would have to start all over on updating my social media, my website, portfolio all my information. It took up so much time, it felt like starting over again.
So, CEO days are just 1 day out of a week or month, however much time you want, or are available to do where you focus on your business. So right now because I'm trying to get everything ready for the baby I'm doing 1 day a week, sometimes 2.
Mondays usually because that's when my husband has off, or Sundays and Mondays when I just focus on my business. I don't do any client work or if I don't have very much client work that day I just focus on my business. I'm just making it a point to work on my business. So like on that day I'm setting up Dubsado. And I'm creating a bunch of social media content and content for my website so that I can have it all scheduled out to post those first few weeks post-partum. So that even when I'm unable to work my business continues to work for me, so I'm still getting leads and people reaching out to me.
Q: How many clients do you usually take on?
A: The number of clients I take on depends on how many hours they're looking for. For about a year and a half, I only had two and was working about 25 hours a week. I try to keep it under 30 hours a week just because I don't really need to work more than that for income goals at the moment, and it gives me plenty of time with my daughter.
Q: Have you landed clients by pitching or the job board mostly?
A: The majority of my clients have come from the group, only three have come from referrals. I have never done a cold pitch, besides casually mentioning my services to our broker.
Q: Is that $2,700 you said you made before you set aside for paying taxes?
A: The $2,700 was after tax. I use Novo business banking and I have it set up so that it pulls out 30% for taxes into a reserve (so I have a little extra). Out of sight out of mind lol.
Resources
Are you ready for freelancing to change your life too? If so, check out the free resources here to see how freelancing can work for you! There is so much information to help you learn about freelancing and how to build a successful business that can replace your full-time income and change your life!
If you are ready to make the change and try freelancing, sign up here for The Live Free Academy program to get full support and all the training videos, challenges, access to job opportunities, and more!