On the blog today, I am back with another work-at-home mom success story! Today we are with Britt Jackson. Britt is the Director of Operations at a non-profit organization and works with small businesses to bring their ideas, visions, and dreams to life.
Not only is Britt super successful in her freelance business, but she did it as a single mom. She lost her only job as a nanny at 7 months pregnant, was on food stamps, and had no other means to support herself. After starting to freelance, Britt began earning $2-3K per month, then moved into $5-6k months, and now makes around $9-10k per month–all solo freelancing as a single mom!
So, if you want to freelance but are on the fence because you're also a single mom this post is for you! I hope you get some inspiration from Britt's journey and it helps you realize you can freelance too. There is no reason that should stop you from starting a freelance business!
Britt's Journey to Freelancing as a Single Mom
Britt was a professional nanny in her 20s, was traveling a lot with the families she was working with, and had her bachelorette pad in Atlanta. She thought she really found her calling as a professional nanny. And she describes it as "living her best life".
Then she fell in love and became pregnant. Shortly after her son was born, she and her partner split up. Britt was 7 months pregnant and had lost her job. Unsure about her future, she took a job as an administrative professional from a gracious friend.
After raising other people's kids for so long, Britt knew she wanted to be home with her own kid. Able to survive on the little bit of savings she had after her son was born, she knew she needed to figure out a way to work from home.
Britt was still doing the administrative assistant stuff on the side. Meanwhile, some people she knew hired her to post on their social media in the past. So, Britt reached out to see if anyone in their networks needed more help posting on social media. That is how she fell into freelancing.
In the beginning, it was something that she could do to keep the lights on and food on the table.
Britt's timeline
Britt fell into working with her first client. Then the organization she worked for hired her to do paid work.
Britt built out her website with graphics on Canva for interested potential clients to contact her. She did that all while simultaneously asking everyone she knew and telling everyone she knew about her work.
Then Britt volunteered to do social media work for her son's preschool and built their website. Soon she started having samples of her work for her portfolio to show potential clients.
After that, she was able to hire a VA and survived that lifestyle for a while. Britt knew that when her son was big and in school full-time, she would make real money. In this vision, she wanted to make sure they were not living month to month anymore.
Britt says she kept doing different kinds of projects and taking different things on but settled on operations.
While working for the nanny agency in Atlanta, she was working from home with them and built out systems and processes for herself. After being introduced to Trello through VA training, she built a system to keep organized, showed it to the owner, and it was pushed it out to the whole company!
After that, she knew operations was what she should do, and she loved it!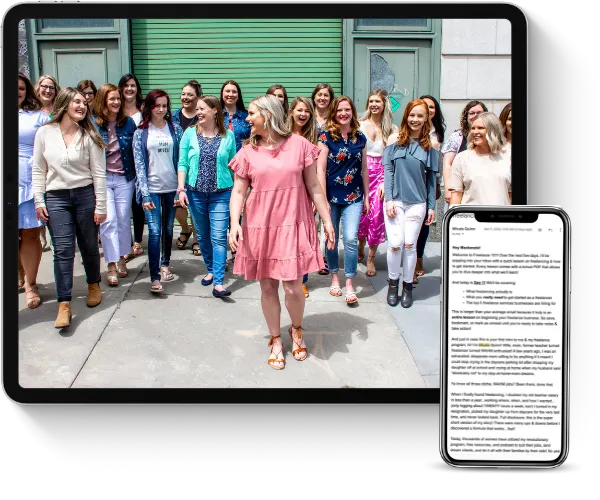 Learn how to earn $3K a month+ as a freelancer working less than 25 hours a week even if you think you have no experience.
This FREE crash course will teach you all about the freelance industry, so you can finally end the family vs. finances battle.
Britt's Schedule Freelancing as a Single Mom
Britt says when her son was brand new she worked between 25-35 hours a week. At about 8 months, she had her son in nursery school from 9 AM to 12 PM, a couple of days a week. So between that and nap times, she was able to work.
Finding out what a freelancer is, creating her business, and focusing on getting clients took her about 3 months. Working 25-35 hours a week, in the beginning, she made around $3,500 in a good month.
Then it took her 5-6 months to get into a good rhythm in working with her clients, and as she progressed it probably took a little over a year to get into the $5-6k months.
Feeling like she was in survival mode during that timeframe when her son was 1-2 years old, and from the ages of 3-5 she was just maintaining their quality of life and building her skill set. She started planning for kindergarten.
Preparing to level up her skillset, she believed the next logical step was OBM. So the summer before her son went to kindergarten she took an OBM course. After taking that course, she realized her love for operations ran deep and started working with some business coaches. With this OBM certification and clientele, she was making about $8-9k per month.
At the same time, she also took a salaried position, which was an operations role for a business coach. When it ended organically, they split ways. However, Britt had been working for a non-profit for 7 years and they promoted her to Executive Director!
How Can I Begin Freelancing?
As I said before, there is no single reason you cannot do this! If your lifestyle is not working for you, whatever it is, working a full-time job, being a stay-at-home mom, or whatever your dream is. Don't let your fears or questions take away from your dream.
If you are asking yourself, "Can I do this?" Next, ask yourself why wouldn't I be able to do this if Britt's been able to do this if Micala's been able to do this, if all the other women who have been on the podcast been able to do this–why wouldn't I be able to do this? Sit with this question for a few minutes or a few days. Do you have a solid reason why you wouldn't be able to do this? No. Then go for it!
I posted on my Instagram stories 3 questions to ask yourself, and if you answer "yes" to these questions you can get started with freelancing!
Am I willing to learn?
Am I willing to take action and implement what I learn?
Am I willing to lean on Micala and the Live Free Academy support system when I get stuck in building my business and for support?
If you can answer yes to all those 3 questions, your success in The Live Free Academy is inevitable! You can learn more about LFA on my website MicalaQuinn.com.
LFA is the coaching program that will teach you all you need to know about starting a business working from home. When you sign up you get outreach templates, step-by-step training, coaching calls, challenges, and daily job leads to build a successful work-from-home business!
So, what are you waiting for? Get started today with The Live Free Academy!