Pregnancy is an exciting time! Life seems to stop when you meet this perfect little person for the first time.
At least for the first few hours, feedings, no sleep, and all your worries about life rush back.
When you've just had a baby and are in the newborn stage, you want to spend time with the baby and get to know them—not worrying about finances, clients, or going back to work.
That can be difficult as a freelancer or full-time worker, though. So read on as we cover popular questions about maternity leave, freelancing from home with a newborn, and how to prepare your business!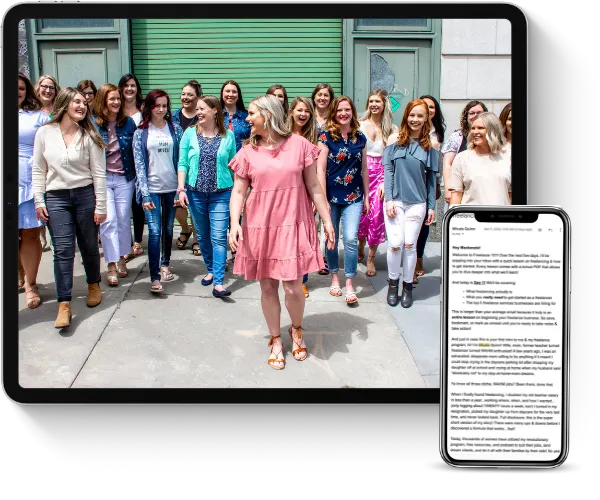 Learn how to earn $3K a month+ as a freelancer working less than 25 hours a week even if you think you have no experience.
This FREE crash course will teach you all about the freelance industry, so you can finally end the family vs. finances battle.
Common Questions on How to Make Money at Home with a Newborn
Whether your freelance business is brand new or experienced, specific questions always arise when you are considering maternity leave.
How can you make money while on maternity leave?
If you have a full-time job that doesn't offer paid maternity leave or are a SAHM, you might wonder how you can make money while you're not working.
The answer is freelancing!
You can undoubtedly do freelancing from home with a newborn. The key will be to find pockets of time when the baby is sleeping or playing so that you can do some work.
How can I stay at home after maternity leave ends?
So, you're almost through maternity leave and are realizing that you are not ready to leave your baby yet, but it's quickly coming to an end.
You can start freelancing today and land your first client fast!
You don't need a fancy degree to start your freelance business. No matter your experience, you have a skill set that will transfer to a freelance business offering valuable services to other businesses.
Learn what skills and experience you already have that can help you build a freelance business today (all while being at home with your babies) with the Freelance Skills Assessment!
How can I make time to work and be present at home?
This is a common question asked about freelancing at home with a newborn. How is there time to be home with my kids and be present when they are home and have time to work?
It's all about creating a balance. Many moms in the Live Free Academy group have found the best balance for their families when they work in chunks.
For example, when your kids or baby sleep in the morning, you work 2 hours. When naptime comes, work two more hours. Finish your day with two more hours of work after bedtime.
That adds up to 6 hours a day you can dedicate to working. So six hours a day for five days a week is 30 hours you have a week to work just while your kids are sleeping!
What if I need to work when my baby is awake?
Having a plan is great for getting work done. BUT we all know that kids are kids; they don't always sleep on a schedule, especially a fussy newborn!
I've heard many women express concerns about working when the baby is up—or taking a call when their kids are playing in the background. They wonder if it will make them look unprofessional with a baby on their lap during a discovery call.
To which my answer is NO, it's not unprofessional! Do you want to work with someone that does not understand you have kids at home?
Often in the freelance space, so many business owners are doing this because they want to be home with their kids too. You'll figure out if you want to work with a potential client (or not) by their acceptance of a baby on your lap during a discovery call. You'll find that most are not just accepting but embracing it because they've been there too!
Can you take maternity leave while freelancing?
Yes! You certainly can take maternity leave while you freelance.
If you search for freelancing and maternity leave on Google, you'll get grim results that tell you it's impossible to freelance in your service-based business and take maternity leave.
WRONG! That is so wrong! You absolutely can, and there are a few things you can do to help set your business up.
Hire a team and outsource.
Take a look at your retainer clients and the services you offer to them. Then brainstorm ideas on outsourcing the expected services for the time you want to take off. Be sure to plan and allow time to work together before your maternity leave starts so that you and your clients can get a sense of trust in the new team member.
Create a passive product.
You do some things for your clients that can be made into a DIY for your clients. That could be a course or top-of-funnel idea that you can sell.
Take a break.
You'll tell your clients that you're taking a break. Then, they can keep up the work you've been doing. That could mean preparing social media posts in advance.
If you want more information about planning for maternity leave, check out the full episode with Meghan Dicklin on the Live Free Podcast!