Are freelance writers in demand? You bet they are!
In fact, according to Zippia, 82% of freelancers in the United States are freelance writers. And more than 30% of Fortune 500 companies use freelancers.
Why Are Freelance Writers In Demand?
Content is king
Content (whether it's a blog, newsletter, or social media content) can help a business get more traffic, boost brand awareness, increase sales, and gain loyal customers.
Content marketing brings in traffic
Content marketing includes social media, blogs, podcasts, newsletters, and more. Its reach has increased in the past few years bringing content marketing to the forefront of a business's strategy to gain more traffic. Since content marketing is cheaper than other types of marketing (like print marketing and paid ads) its reach has increased dramatically.
Consumer preferences
Consumers are gaining more and more awareness of the way traditional, paid advertising works and are less willing to trust it. Consumers are beginning to trust user reviews, comments, and images of the products from real people over endorsements from celebrities and influencers, and paid ads. Building a relationship and providing value (without the expectation of anything in return) to a potential consumer is the way to gain their trust, and for many companies content is a simple and cheap way of doing that.
Growing demand for content
Because of the age of information we live in, content is available anytime you want it. There is always something out there to read or be entertained by. And it is all contained in a tiny device in our pocket. Because of this on-demand content trend, we as consumers have come to expect content to be churned out weekly, daily, and even multiple times a day in some cases. More content = more need for writers.
Outsourcing saves owners time and money
Content takes time to write, and time is not what most business owners have an abundance of. So, they hire a freelance writer to help create blog posts, email newsletters, social media posts, podcast scripts, and more. Outsourcing these tasks to a freelance writer saves the owner time and money. They get focused and well-written content for their business. Plus, no overhead that a full-time writer comes with needing vacation, benefits, and an office.
More results, less cost
A freelance writer can and should have the writing skills to focus on the message the brand is trying to communicate to the consumer. A great writer is able to capture a brand's tone of voice to generate more leads than conventional marketing. Copywriting skills can essentially turn boring copy into a captivating sales pitch, unnoticeably.
What Is Freelance Writing?
Freelance writing is the act of writing content for clients. Freelancing means you are self-employed by clients as an independent contractor. Working as a freelancer allows you to control the variables upon which you work. That means you can choose the hours you work, where you work, how many hours you work, and who you work with.
Writing as a freelancer means you write content for clients. Content can be in many different forms. It can be in the form of an e-book, blog post, social media post, or script. Almost anything marketing-related will need a writer to write it!
What Do Freelance Writers Do?
Research and check the competition
Researching the topic, niche, keywords, and competition are all part of writing content. Without researching to see what readers want to learn about, there is no way to know what kind of content is performing well. Research is a big part of the writer's job.
Write
Generally, before sitting down to write, one must create an outline for the content. Without a clear purpose, the reader will get easily lost. A good writer will communicate clear points to the audience while holding their attention.
Edit and proofread
First, edit for clarity and cohesiveness to ensure all the points and information gets onto the page.
Then proofread for grammatical errors and tone. Make sure to use the jargon and any special terms the audience connects with.
Manage projects and tasks
Beyond writing content, freelance writers manage their own tasks and projects. A project management tool can create good habits for tracking projects and tasks.
Read more about 5 Things A Copywriter Does, here!
How Can I Become An In-Demand Freelance Writer With No Experience?
Now that you see the demand for freelance writing, are you thinking, "Maybe I could be a freelance writer?"
Yes, you can! Plus, you do not need experience to start! Download this free 5-day email course that will teach you about the freelance industry and what services you can offer as a beginner!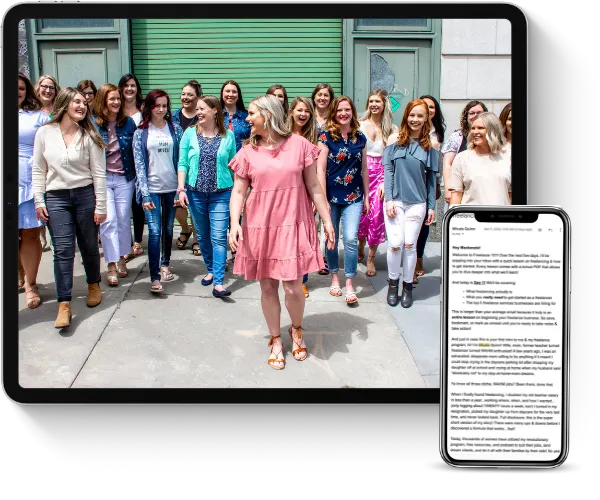 Learn how to earn $3K a month+ as a freelancer working less than 25 hours a week even if you think you have no experience.
This FREE crash course will teach you all about the freelance industry, so you can finally end the family vs. finances battle.
In Demand Freelance Writing Niches
Writing niches
Types of writing
E-book writing
E-books are popular with businesses because they are easy to publish digitally, and can establish the business as an expert in that niche.
E-books work great for lead magnets because they are easily downloadable in exchange for an email address, which puts the potential customer into the sales funnel.
Ghostwriting
Ghostwriting is a bit different because the writer is not published. All credit will go to the client.
This writing pays more than the other types since the writer does not receive any social credit for the work (nor can they include it in a portfolio).
White paper
Generally, white papers contain technical information. For example, it will present a problem and then present a solution guiding the customer to their product or service as the solution. These are also usually used in exchange for an email address to put the customer into the sales funnel.
Video script writing
As video becomes more and more popular, thanks to apps like YouTube and TikTok, more companies will switch over to creating video content. No need to worry though a content writer will still have a job. YouTube videos, social media apps like TikTok, and even webinar videos will all need a script to keep the sales pitch consistent and forefront of the brand's messaging.
Email writing
Email can be the most effective way to nurture leads by getting the buyer through the awareness stage through the buyer's journey to the purchase stage. It can include content in the form of newsletters, email campaigns, and even landing page copy.
Sales and landing pages
Sales pages and landing pages are written with the intent to get people to buy a service or product. The goal is to convert visitors into paying customers. So, the copy needs to be compelling and convincing without being pushy, salesy, or cringy!
All websites need copy on the home page, about us section, product pages, blog pages, and more.