This post about freelance tools to manage your business. may contain affiliate links, which means if you click one of our affiliate links and decide to make a purchase, we receive a tiny commission from the seller at no additional cost to you. We only share products and services we have used, tested, and love ourselves!
I am so excited to share with you today the tools that you need to launch your business!
The best part is all of them have a FREE option that will be just what you need in the beginning!
One of the reasons I love freelancing and it is such a great option for moms, beyond just the fact of the freedom and flexibility is that it does not take a TON of money to startup.
In fact, you can get started with ZERO investment if you have wifi and a laptop already.
But if you were looking to invest, the only (non-shameless plug here) investment I would recommend is my Overwhelmed to Overbooked program.
It will take away the guessing and the checking, wondering what steps to take, when to do what, how to do it… PLUS most moms see results VERY fast. Some within their first week, others the first month!
But it is amazing to see what can happen in such a short time when you launch your business the smart way!
And in my program, I provide tutorial videos of how to get all these tools up and running and connected, so you can get to landing clients right away!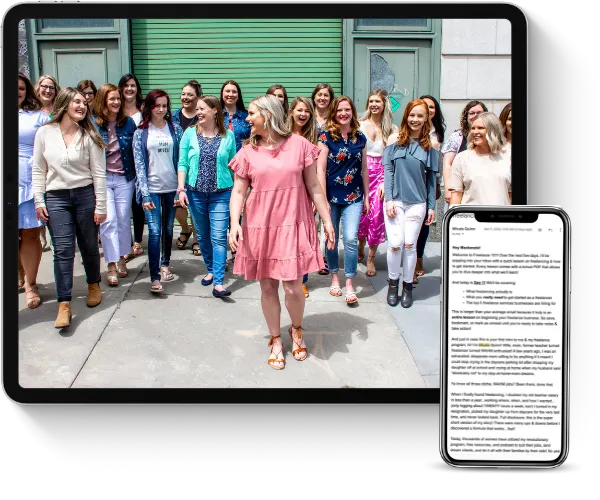 Learn how to earn $3K a month+ as a freelancer working less than 25 hours a week even if you think you have no experience.
This FREE crash course will teach you all about the freelance industry, so you can finally end the family vs. finances battle.
You need these freelance tools to manage your business
1. A calendar tool — Acuity
2. A way to meet with potential clients — zoom
3. A way to send proposals, contracts, and invoices — And.co
4. A tool to create your portfolio, your pricing sheets, and promo graphics — Canva
5. A tool to manage clients projects and YOUR business! — TRELLO!
If you were to pay for ONLY one tool, I would pay for the upgraded Acuity account.
It is $10 a month, and the paid version allows your potential clients to book appointments with you based on their timezone so there is no confusion. It also allows you to take payments… so for example, if you start offering strategy sessions or paid calls, you can require people to pay before they schedule that appointment.
All right friends, I hope this episode on freelance tools to manage your business was helpful! And you can see just how cost friendly running a freelancee business is!
Got a tool you love not mentioned here? Let me know!
Resources mentioned in this episode: