Megan Schoenleber is the student success story today!
We will hear about Megan's top freelance tips for building your business, her journey, and how she structures childcare.
Plus, how to ask for feedback and tips for pitching to clients.
Megan's Story
Megan is a digital business manager, which is very similar to an online business manager role. She niched down into working with female course creators helping to get their courses up, running, and launched.
Before freelancing she obtained a degree in business management with an emphasis in HR. Worked for 8 years in corporate human resources doing recruiting, benefits, and employee management.
When she was 6 months pregnant with her now 2-year-old, the company she had been working for told her they were being bought out. It was really scary to be on that side of an acquisition and decided she needed to find something else.
Finding the Live Free Academy
Not wanting another full-time, corporate job, she looked to Pinterest and found the Live Free Academy course. Thinking it sounded too good to be true, she ignored it. However, says, it lived in the back of her brain for about 6 months after that.
It would keep coming up, and she kept digging into the testimonials and resources from the website!
Then when her graphic designer best friend wanted to leave corporate, Megan persuaded her to join LFA and they completed the course together.
Megan didn't quit her corporate job just yet, she wanted to do it on the side while keeping her full-time job in case it didn't work out.
Childcare: full-time vs. freelancing
Childcare working a full-time business and building her business on the side
This all started around the time of the pandemic, so she was forced to work from home.
She was working 8 hours and on the phone a lot while her 5-month-old daughter was in full-time daycare. Megan recalls only seeing her daughter 1-2 hours a day, and missing a lot of "firsts".
Childcare during freelancing
Now with her freelancing business, her childcare looks way different.
Megan's daughter is watched by Megan's mom 1 day a week in the morning, then she comes home to nap. This gives Megan all day to work.
Her daughter also goes to a church preschool for a few hours 2 days a week.
Megan's husband works 100% from home, so on mornings when Megan has client calls, their daughter is with him so Megan can work.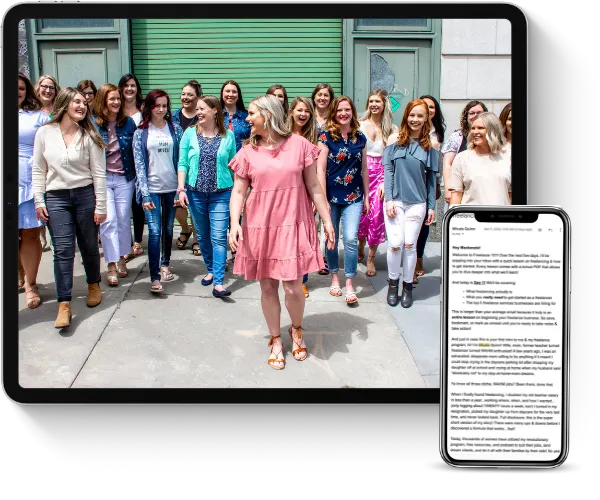 Learn how to earn $3K a month+ as a freelancer working less than 25 hours a week even if you think you have no experience.
This FREE crash course will teach you all about the freelance industry, so you can finally end the family vs. finances battle.
3 Freelance Tips
Tip 1: Show up to the coaching calls
Megan when to every single coaching call that she could, even if she didn't have anything to say.
Tip 2: Don't let 'no' discourage you
Megan heard so many no's in the first few months. When you first start and are refining your pitch, you could get a lot of no's, as Megan did, but try not to let it get you down.
Tip 3: Ask for feedback
One thing that helped Megan after hearing no was asking for feedback. Sometimes you get fluff or don't want to tell you, but sometimes you get some good information.
Remember, sometimes it is not necessarily something you did or didn't do.
You never know if the potential client just had some weird connection with someone one town away or something that is out of your control.
Freelance tips on how to ask for feedback
Asking for feedback from someone that just rejected your pitch can be no. However, keep it tactful. You never know what doors will be opened from it later on.
Here is what Megan said, "Thank you so much for letting me know. I wish you the best of luck with your new hire/who you are moving forward with. If you wouldn't mind, could you provide some feedback for me on how I can improve moving forward?"
Keep it super simple.
Keep it short and not a huge block of text to read through.
Landing Clients
When Megan started the LFA course, she set a goal to do 1 module per week. She did 2-3 per week and finished it in about 3 weeks.
First 2 Clients
Once her portfolio was put together, she started pitching and looking for clients. In a Facebook group, she left her elevator pitch on 2 job posts. That ended up being 2 friends hiring together but for separate businesses.
3rd Client
About a week later, she landed one more client, totaling 3. She kept those for about 3 months while doing her full-time work.
Top 3 Freelance Tips for Pitching to Clients
Freelance Tip 1: take control of the discovery call
Megan's biggest freelance tip, the thing that sticks out in her mind the most, when landing clients, is taking control of the discovery call.
Take charge, jump in, you lead it; because 9 times out of 10 whether landing a client or not that sticks out to them. It makes it clear that you are passionate about what you do when taking charge and making it easy for the potential client.
Freelance Tip 2: always follow up
Follow up.
Even if you have to do it 3-4 times, always follow up!
Freelance Tip 3: pay attention to the details
Megan says, always pay attention to details.
There were a few that burned her in the beginning. For example, in her reply to a job posting, she sent it to the wrong email. That automatically excluded her from the beginning.
Or sending an email instead of filling out the job application. This is another one that weeds people out.
Future Business Goals
Megan says her goals for her business in the next year are to focus on her new offering to help mom entrepreneurs better manage their time.
With this, she helps by hosting one session where they talk through pain points and Megan helps to give an action plan moving forward to find a work-life balance.
Megan plans to focus on that offering and, eventually, turn it into a mini-course. Megan plans to scale back with retainer clients while building out her business more robustly around time management.
If you are looking for more freelance tips or want someone to help you build your freelance business, I would love to support you in my program  The Live Free Academy!
Inside the program, you will have everything you need to get started, up and running, and land clients as soon as possible!