Brittany is a freelance social media manager who is now making double her income from working full-time as an occupational therapist!
She shares how she's been working on her freelance business for 5 years. She also shares how she began her freelance business as a virtual assistant, and then transitioned to social media management.
Brittany talks about the tasks she works on for clients and her work schedule! If you've ever wondered whether freelancing can work long-term, follow along because this post is for you!
How Brittany Started Freelancing
Brittany remembers when she started with LFA about 5 years ago before it was The Live Free Academy Course. Back then, Brittany was an occupational therapist. That's what her degree is in, and she had a great career and income working as an OT.
But she always knew she wanted to be home with her kids. She says even before they had kids, both her husband and her knew they didn't want her to work from 9-5 and have the kids in daycare full-time.
So, when her first daughter was born, she left her full-time job as an OT.
At first, Brittany dabbled in direct sales and helped out as an OT one day a week, but it was on the weekends. She says that wasn't ideal because her husband working full-time Monday through Friday allowed them only two days together as a family on the weekends.
She knew she was looking for something different, so Brittany started researching her options.
From those searches, Brittany found the LFA course and started talking to other moms who had taken it. After asking a bunch of questions, she was still hesitant to try freelancing with 3 kids at home with her.
Her supportive husband told her to just try it. So she did just that. She took a leap of faith and signed up!
The Journey From Occupational Therapist to Freelance Social Media Manager
Brittany signed up and then landed her first client, in just two short weeks, through the Live Free Academy community. This client was another student that had previously taken the course, grown her business and was needing a subcontractor.
Then a few weeks later Brittany signed another client outside of the course group. This client signed up for a monthly package that was double what Brittany was expecting for her first 'big' client.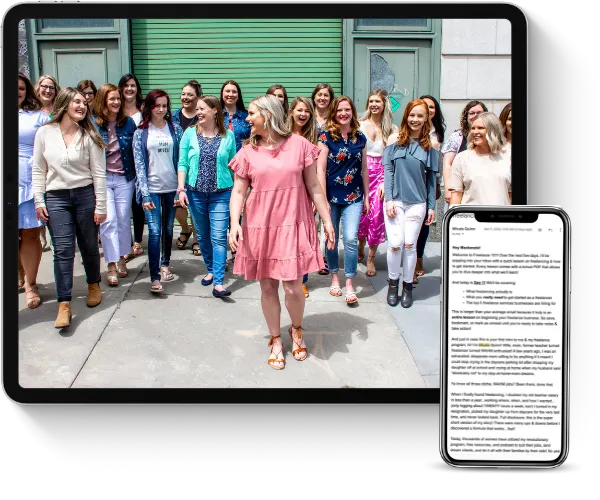 Learn how to earn $3K a month+ as a freelancer working less than 25 hours a week even if you think you have no experience.
This FREE crash course will teach you all about the freelance industry, so you can finally end the family vs. finances battle.
Although she wasn't working as a freelance social media manager just yet, she did get experience in social media, Pinterest, and copywriting while working with this new client.
Brittany always knew in the back of her mind she wanted to be a freelance social media manager. However, she is thankful for these first few clients that allowed her the opportunity to gain experience in many different areas. This experience helped her figure out what tasks she likes and dislikes doing.
Once she figured out that she loved social media services, she decided to dive (full-blown) into being a freelance social media manager (SMM).
Client Breakdown
Brittany says it's been three and a half years since she decided to make that switch to SMM.
When she first began as a freelance social media manager, Brittany's first client (the subcontracting client) was pivoting her business so they parted ways. This left Brittany with one client who was a full-time big package client.
Networking in Facebook groups, Brittany found another client who was her first full-blown social media management client. This client knew she was just beginning in social media management. Brittany says this was a great opportunity for her at this stage because she had the opportunity to figure out problems learn from them, and really learn about social media management.
Freelance Social Media Manager Tasks
5 years later, Brittany says she is passionate about working with other mom-owned businesses or mom entrepreneurs. So, these are most of her clients (mom-owned businesses).
Client tasks
Social media is a key aspect of the sales funnel, so as a freelance social media manager, Brittany is an advocate for providing content strategy. Brittany says in her business, there is more to posting on social media than just coming up with a post and posting it. There should be a clear reason and strategy behind it.
She says that it's also how you are going to serve your audience, connect with them, and inspire them.
So, based on her client's business, goals, and ideal customer she comes up with a social media strategy.
Overall strategy
This includes branding, hashtag research, custom graphics feed/grid management, and a posting schedule.
Content
Creating the content, with graphics and writing copy, then scheduling them out.
Engagement
That could be responding to comments, and DMs (direct messages). If the client is trying to grow their account that could look like her going into the account and engaging with other accounts that are a target audience.
Reels
Doing video editing and creating reels, reel graphics, hashtags, and posting.
Trends
Since social media trends come and go so quickly, Brittany says she has to stay up to date on what the best practices are and what strategies she should and shouldn't be doing. She stays educated by following other accounts that are experts and doing paid training.
Schedule
She works early in the morning each weekday. Sometimes when her son is playing independently or when he is napping.
She says she hardly ever works at night because her brain is done for the day when the kids are in bed. And never works on the weekends.
This blog post is based on The Live Free Podcast Episode 238: WAHM Success Story: From OT to Social Media Manager with Brittany Hageman. Click to listen to the whole episode here!
How The LFA Course Helped Brittany to be a Freelance Social Media Manager
Have you ever wondered if becoming a freelance social media manager or any kind of freelancer is something that can work for you long-term? Brittany did too, but 5 years ago, she took a leap of faith.
That leap worked out for her, and it can work for you too!
What if, like Brittany, you took a leap of faith today and signed up for The Live Free Academy Course? What would your life look like just 1 month from now? Could you possibly have 2 clients, allowing you to work from home too?
The Live Free Academy Course is the fastest way to begin a freelancing business and sign clients. Inside the course, you will get full access to building your business with skills training in video format, workbooks, and customizable templates. Plus, exclusive access to the Live Free Community and hire form that Brittany mentioned helped her get her first client within just 2 weeks of signing up!