This post about the freelance services you can offer may contain affiliate links, which means if you click one of our affiliate links and decide to make a purchase, we receive a tiny commision from the seller at no additional cost to you. We only share products and services we have used, tested, and love ourselves!
Episode 03: Show Notes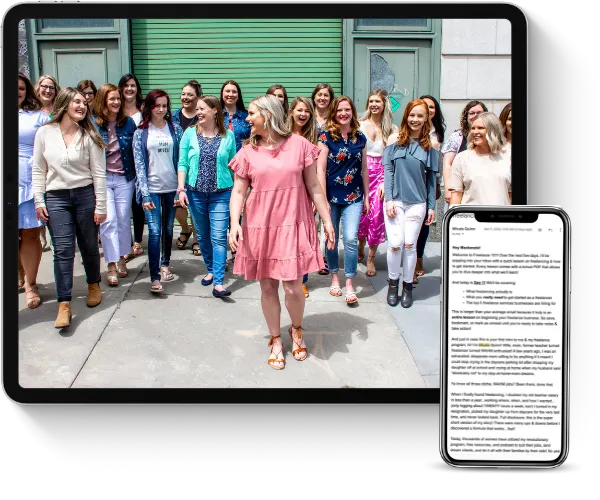 Learn how to earn $3K a month+ as a freelancer working less than 25 hours a week even if you think you have no experience.
This FREE crash course will teach you all about the freelance industry, so you can finally end the family vs. finances battle.
Ready to start freelancing? Then you will want to listen to this episode because I am going to give you the first thing you need to get started!
Drum roll…
The first thing you need to get started is a service to offer!
That's it!
One of the reasons freelancing is such an awesome opportunity for EVERYONE is that there are no set requirements of what experience you need to get started.
No certifications.
No specific degrees.
Nothing.
What you need are freelance services you can offer to potential clients,  specifically a service that solves a problem for online business owners, small businesses, or corporations.
And in this episode, I show you how you can translate your current and past experience into a profitable freelance business.
But before we dive in, I wanted to invite you to go to my website and grab my free Ultimate Freelance Guide. I am going to walk you through how to use it in this episode! Micalaquinn.com/brainstorming-guide
Everyone has a freelance service they can offer in the online space!
If you are sitting there thinking to yourself but Micala I am a __ [Insert current job title], I have nothing to offer… you are wrong I promise!
But don't worry, it's totally a normal feeling and I used to feel it too!
My background is in education, every job I had except for a brief stint as a waitress,  revolved around childcare, nannying, or education.
Summers growing up I nannied and babysat. I worked in a gym daycare. I worked at the boys and girls club in Manhattan, KS. I taught high school English for four years.
Nothing I did or was remotely interested in had anything to do with business… or so I thought.
And when I first started looking into freelancing, I got overwhelmed. I felt defeated and like I had nothing to offer.
Boy was I wrong.
But it wasn't until I figured out how to translate my experience into businessy terms and flipped the script on what I "lacked" and instead focused on what I had that I started to land client after client.
So here is my process to determine what freelance services you can offer
Again, I have this awesome guide on my website… micalaquinn.com/brainstorming-guide you can grab that and it will walk you through this. It also has a list of common freelance services with a brief description of each!
Step 1: Look at your current job… What are the skills that you have in order to carry out that job?
Whether you are a SAHM, teacher, lawyer, banker, waitress whatever… you have skills… spend some time giving yourself some love!
For me as a teacher my skills were: 
• Engage students
• Create conversations
• Engage different learning styles
• Customer service
• Constructive Feedback on papers
• Utilizing technology
• Research
• Reading
• Writing
• Creative
Step 2: Think about your main job responsibilities, the tasks and projects you were/are responsible for… write those down!
As a teacher, I was responsible for…
• Engage students
• Create conversations
• Plan curriculum
• Engage different learning styles
• Customer service
• Constructive Feedback on papers
• Utilize technology
• Research
• Reading
• Writing
• Creative
Step 3: Think about your personality traits… what are your strengths?
My strengths: 
• Passionate
• Self-starter
• Creative
• Dedicated
• problem solver
• good listener
Step 4: Determine what freelance services you can offer!
Now that you gave yourself some love, it is time to look at some of the top services and see which one makes the most sense for you! (my Ultimate Freelance Guide has this list ready for you)!
I took my brainstorm guide and came up with: 
1. Teachers are excellent planners. → Project Management
2. Teachers are skilled at engaging students. → Social Media Management
3. Teachers (English ones) are excellent with the written word. → Copywriting, Editing, Proofreading
4. Teachers are very creative whether with ideas or actually creating handouts or displays etc in their classroom. → Graphic Designer
5. Teachers are excellent teachers → Online Course Support
6. Teachers are amazing with technology (stereotyping here) → Technical Virtual Assistant
But when it came down to pick one service… it still didn't seem so clear as to what direction I should take… some of you it will be a really black and white decision…
If you have a graphic design degree and do a lot of graphic design for work… get into branding and/or graphic design!
If you do a lot of writing… become a copywriter!
If you do marketing… get into digital marketing or social media marketing!
But if you are looking at your strengths, tasks, and traits and it is not so obvious… you my friend can start as a Virtual Assistant!
We'll talk all about what a VA is in the next episode… so stay tuned!
Conclusion
No matter what your current or previous job experience is, you can launch a successful, profitable freelance business using your current skills and abilities!
I'd love to hear from you below!
What services are you going to start with? Have a question? Drop it below, and I'd lovee to help you out!
Resources mentioned in this episode: