Working previously with companies like The Ellen Degeneres show, Netflix, Buzzfeed, MTV, Hulu, Fox, the Las Vegas Raiders, and more, Carrie harnessed a freelance media and television career to create success!
Today on the blog, we are covering Carrie's story using her television, media, and production skills and her journey in freelancing. Carrie shares what she does in freelance media and television and her family life balance now!
Carrie's Background in Freelance Media and Television
Living in Las Vegas, Carrie has been in the media and television industry since college. While there, she got an internship with the Ellen Degeneres show and eventually scored a full-time position as a Production Assistant.
She worked her way up with the show for the next six years. Wanting to learn more about the production industry, Carrie then started working with Burnim-Murry. Then, with the help of her mentor, Carrie decided to do some freelancing on the side and moved back to Las Vegas.
During that time, Carrie's husband worked in sports, so she scored freelance roles helping with production for Fox 5, and the Las Vegas Review-Journal.
When Carrie and her husband decided to adopt two boys, ages 5 and 7, they became an instant family, and her priorities shifted.
She went from working 16 hours days and traveling all the time to going into mom mode with two little boys that took priority over everything else!
Shortly after that, Carrie experienced her mom's death, and she started reevaluating everything about her lifestyle. After dealing with losing her mom, learning how to be a mom, and the pandemic, Carrie found The Live Free Podcast.
After listening to other success stories and learning how to freelance with intention, Carrie figured out precisely what she wanted, to focus on family and a better work-life balance.
Starting a Freelance Media and Television Business
Deciding on services
Carrie describes deciding on services as the hardest part of starting a freelance business. Knowing her skillset, it took a lot of work to quantify it because of the unique niche she had experience with.
Thinking about doing virtual assistance and knowing she could do well, Carrie ultimately decided her skillset didn't equate to excelling in virtual assistance. After reaching out to another LFA member who helped her with branding, they came up with a catchy tagline, "producing passionate pivots." This helped Carrie determine what services she could offer.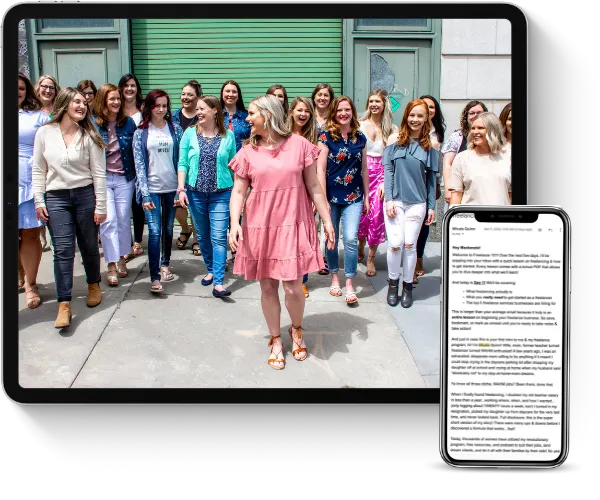 Learn how to earn $3K a month+ as a freelancer working less than 25 hours a week even if you think you have no experience.
This FREE crash course will teach you all about the freelance industry, so you can finally end the family vs. finances battle.
Looking for clients
Carrie landed her first client through the Live Free Job board about two weeks after deciding to do freelance media and television full-time. Carrie says she learned a lot, but this client was not a good fit. Leaving Carrie with feelings of failure right out of the gate.
During the coaching calls, Carrie realized that not everyone is a good fit, and that's okay!
After that, Carrie started searching every morning for jobs to apply for on the LFA job board and started searching LinkedIn for opportunities.  She made this a habit and took a new approach to client searching.
"An always take the meeting approach." – Carrie Roper
Carrie took multiple daily calls, which became her full-time job for the next three months.
Eventually, she was able to start leaning on her network and started winning more freelance opportunities, including a full-time opportunity. This full-time position ended up different from what Carrie wanted, and they finished the job amicably. It has since turned into several freelance opportunities that Carrie has enjoyed!
Freelance media and television roles
Carrie's services and roles range from pre-production work, including tasks like conceptualization, scripting, planning talking points for events, and line producing for budgets.
Production work where she is in the field managing the production of shows, ensuring that the crew is at each correct location with everything they need and on schedule.
With post-production work, Carrie ensures everything is going to the right place.
A few of the roles and projects Carrie can share are producing a podcast about the history of Las Vegas. And a sports entertainment show with the Las Vegas Raiders, where she gets to go to the football games and work with the television host to produce another season of the show.
Want to hear more about Carrie's story and what she does in freelance media and television? Listen to her episode of the Live Free Podcast here!
Balancing Work & Home
Balancing freelancing with home life, Carrie loves that no two days are the same.
A typical day usually consists of waking up early and walking or running. After school drop-off, she works in her business until school pick-up, with an occasional work call in the car at after-school activities.
Carrie's self-rule is that she does not bring a computer to after-school activities.
After the kids go to bed around 9, Carrie works a little more answering emails.
Are You Ready?
No matter what your experience is or is not, your strengths are or are not, and no matter what you've been doing for the past year, you have the skills and strengths you can leverage to create your success story!
Are you ready to start your freelance business? Join the Live Free Academy and get everything you need, from the skills training to the course teaching you how to build your business to members-only access to the Live Free Hire Form!
Who knows, you could be the next Live Free Academy success story!