From corporate marketer to freelance digital marketer to freelance marketing consultant. Betsy Moorehead, a Live Free Academy student, shares an update on her business. I am excited to talk with Betsy about how she became a freelance marketing consultant and what she does as a freelance marketer!
First, if you missed it, Betsy shared her story about how she found freelancing, began her business, and quit her corporate marketing job. Read the original post about freelance digital marketing here. Now she is solely a freelancer and marketing consultant from home with her kids by her side!
Beginning as a Freelance Marketer
Betsy started her freelance journey in 2021 after signing up for The Live Free Academy course. She was still working at her corporate job in marketing for a large entertainment event. Having been there for 10 years, she decided to take a leap of faith and start freelancing.
Betsy had a two-year-old daughter, had just moved to the suburbs of Houston, and decided to leave her corporate job. After 6 months of freelancing, she had replaced her salary and started freelancing full-time as a freelance marketer, which she has built into a freelance marketing consulting business.
Update on Betsy's marketing consulting business
Now Betsy has been working as a freelancer for 2-2 ½ years! Since she began, she has had another daughter, has narrowed down the services she offers, and has stepped back from taking on any task related to marketing.
What Does a Freelance Marketing Consultant Do?
A freelance marketing consultant does not provide implementation but creates the big-picture strategy for marketing a business. A marketing consultant can look at the marketing in place (or lack thereof) and make suggestions or create a plan to implement one.
Contract employee, not full-time
A freelancer is not a full-time employee. A freelancer is an independent contractor who works for themselves, offers services to businesses, and can work on a retainer or project basis.
Real-world example
Using one of her clients as an example, a clothing boutique, her clients are in the store seeing all the new items arrive, being with customers, and creating images and videos of new products.
Betsy's job is to guide a page strategy focusing on the goals the client wants to meet, and the upcoming season. She will build all of the advertising using the creative images/videos collected in-store. She uses her knowledge to leverage it into ads that will work based on her advertising/marketing knowledge. She utilizes their target audience and tries to use the budget in the best way possible.
Freelance marketing tasks vs. marketing consulting tasks
At the start of her business, Betsy took on many marketing tasks for clients.
However, after a while, she realized she didn't need to do so many tasks and could focus on only the ones she really enjoyed.
Freelance marketing tasks:
Social media management
Copywriting
Blog writing
Marketing consulting specific tasks:
Creating strategy
Facebook ads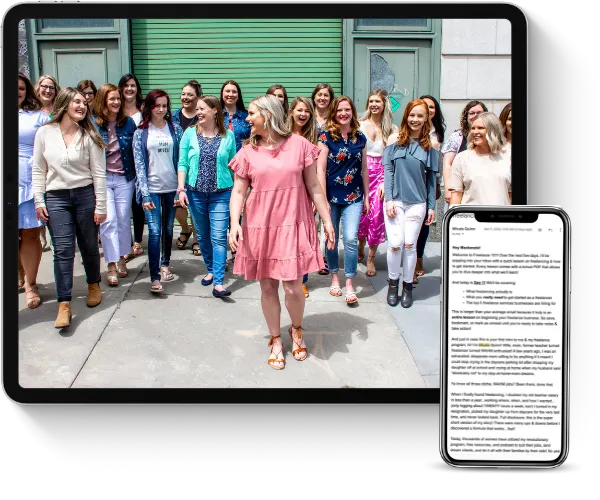 Learn how to earn $3K a month+ as a freelancer working less than 25 hours a week even if you think you have no experience.
This FREE crash course will teach you all about the freelance industry, so you can finally end the family vs. finances battle.
Where to Find Marketing Consultant Clients
Personal connection
In my course, I teach you to put your business out there in front of your personal network. It can be hard, I didn't do it at first, but I wish I had!
Betsy did, and that is how she got her first client, through a personal connection that needed a marketing opinion to look at what they were doing. She has worked with this client for 3 years since starting her business.
Local business
Another client was a local business, where Betsy went into the shop and talked to the business owner. She made conversation and shared about her business services. And it worked. The business owner reached out to Betsy for help!
Referrals
Another client was a referral from an existing local client.
Betsy says all her consulting clients have been through referrals or her personal network.
Freelance consulting client roster
Betsy has 4 full-time clients right now. Plus, 1 that may turn into project work after the retainer is over.
There is 1 potential retainer on the horizon.
Betsy describes this as her sweet spot of 4-5 retainer clients she can manage with work-life balance. Therefore, she is not actively marketing her business or taking on new clients right now.
Finding marketing clients
Betsy did find clients through Facebook group networking, job boards, and LinkedIn before she moved into the consulting role. She says those jobs were all implementation-based, not strategy or ads-based.
If you want to connect with Betsy, follow her on Instagram or her website!
Become a Freelance Marketing Consultant
Freelancing–no matter what freelance job you are doing–is a legitimate solution to working from home!
Use your experience and the skills you already have to start a freelance business as a marketing consultant, digital marketer, or virtual assistant!
The steps to becoming a freelancer are in this business checklist: 
Now, you can find blogs, Instagram posts, and YouTube videos telling you how to do each step. However, if you are overwhelmed at starting your business and just want someone to show you exactly what to do step-by-step–check out my virtual assistant course, The Live Free Academy.
The Live Free Academy has step-by-step training videos, and brainstorming activities to help you decide what services you can offer to clients, how to name your business, and more. When you become an LFA member, you will get exclusive access to the course, workshops to land clients, access to the job leads board and coaching calls!
Learn more about the success other students have had here!
Ready to make the change you have been dreaming about? Sign up for The Live Free Academy here!