Becoming a freelancing mom has its perks. You decide how many and which hours to work.
You work at home and in your sweatpants.
Plus, you get to skip the daycare costs and morning drama of daycare drop-off.
Working from home is honestly amazing!
But becoming a freelancer has a learning curve. And becoming a successful freelancer takes continuous learning.
So, if you are starting to freelance, or are thinking about starting, here are 4 tried-and-true tips that can help you in the beginning stages of your freelancing career.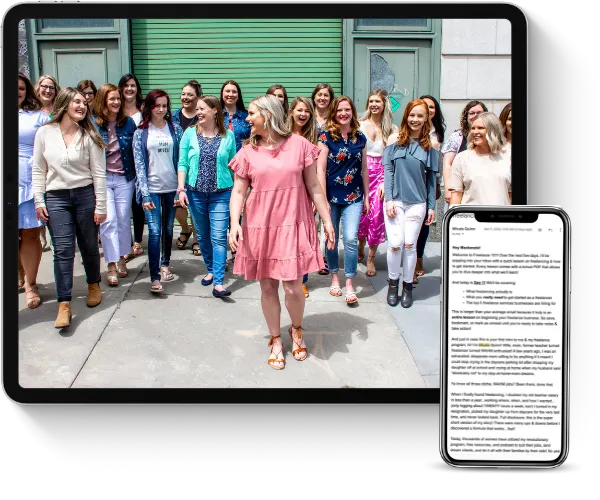 Learn how to earn $3K a month+ as a freelancer working less than 25 hours a week even if you think you have no experience.
This FREE crash course will teach you all about the freelance industry, so you can finally end the family vs. finances battle.
Balance Working-from-home and Home
Finding the right balance when working from home and being at home was, and still is, challenging.
It has taken trial and error to find a balance that works for my family. You can read more about 3 Steps to Balancing Family and Career in One Place here.
However, my favorite tip for balancing these two worlds is simply scheduling. I schedule when I work when I am in full "mom made", and when I will be focused on chores/errands/ etc.
Every week, I take a look at my calendar and break down each day of the week that is coming up. Then create a schedule.
This entire system is inside the Live Free Academy training! You learn how to add up how many hours you have to work by determining when you are going to work each week. That may be during naptime/quiet time in the afternoon. Or at night after everyone else goes to bed.
Say you can get in a couple of early morning, afternoon, and evening hours per day. That adds up to 6 hours per day of work time. Multiply that by the number of days you want to work. We'll say a regular 5-day work week for now. Roughly, that is about 30 hours.
And, since kids sometimes miss naptime or wake up early (because they are not robots!) you can even put a buffer in there. I give myself a few hours each week that if everything goes according to schedule, I could get a few extra tasks done. If not, then that is okay, too. When you know your priorities and focus on those tasks first, you'll feel better when plans change or shift!
Create a Dedicated Workspace
Removing distractions is one of the easiest things I can do when I want to increase my productivity. And one of the best tips I have for freelancing moms.
Luckily, our house has enough space where I can dedicate an entire room to my office space.
If you can't have a dedicated office or spare room you can use as your office, try these two things to help you stay focused when you work.
Set up a workspace with only work-related items on it. Things like your to-do list or inspirational quotes.
Remove all notes, bills, or family-related to-dos by putting them in a folder and filing it away or moving it to another room while you sit down to work. Keep these things out of sight and out of mind.
How to Own Your Strengths
The clients that are hiring you are people, too! They want to work with people they connect with. People want to get to know you before they do business with you.
Don't share everything. But the personal details and stories that relate to your potential client can help you bond with them. It can help you show them how you understand their pain points. And how you can help with a solution.
So how do you share these tidbits of your journey that relate to your client? Add it to your discovery call script or your social media content. The more personable you are, the more your potential clients will connect with you. Show you understand their problems and can fix them. How you are a better fit for them than your competition. These things will stand out to your ideal client in differentiating you!
So, know your strengths and share your background with potential clients. If you are a former teacher, you can use your prior experiences and skills in more than just the classroom.
A lot of freelance moms, when starting their business, get stuck in this phase where they focus on what they don't know and what they can't do. This chips away at your self-esteem and confidence, and often sends you on a what the heck am I doing downward spiral.
Do not do that! I will repeat, do NOT do that! Instead, focus on what you can do.
If you need help in determining what skills you have, download the Freelance Skills Assessment. It's free! And it will help you start freelancing jobs by identifying your strengths.
Write those strengths down. Now post them on your computer. Look at them every time you start to network. Remind yourself of all the things you can do. Remind yourself of the strengths you have that will help you to be successful.
Confidently Price Your Services
One of the hardest parts of starting and running a business is pricing your services.
How do I figure out what to charge? Is a commonly asked and answered question in the Live Free Facebook community.
Retainer Packages vs. One-Time Packages
First, let's discuss the two ways you can package your services. There are retainer packages. This is where you would sell a package of hours that you work and charge monthly. Common packages you see with these are virtual assistance and social media management.
Then there are one-time packages. Where you complete the work once, and the project is finished. For example, web design or logo design projects.
Flat Fee vs. Hourly
After determining how to package your services, you'll look at how you want to price the services. Hourly or a flat fee.
With a flat fee, no matter how long it takes you, you charge a set price for the service.
Or you can charge on an hourly basis. You set an hourly rate, and your client buys a package of hours price based on that hourly rate.
You can make both packages based on flat fees and hourly.
The easiest way to start your business and determine your pricing is to start with hourly pricing. Then once you gain more experience offering project-based pricing, it will help you make more money! (Because the more you do a task, the quicker you get at it. Allowing you to do more for more clients in your allotted work time.)
Do you want to learn exactly how to determine your pricing? Whether you are just starting your freelance business and are determining your hourly rate or are ready to offer project-based pricing. I teach it all in the Live Free Academy program. When you sign-up, you gain access to the Overwhelmed to Overbooked training that covers these topics more in-depth. Plus, you gain access to the Pricing Made Easy System that shows you how to confidently price your services.
Love these tips and want more? Head over to The Live Free Podcast Mastermind to get more tried and true solutions to making freelancing your dream job and share your favorites with the community!