This post about How to take your entry level freelance career to 5K and beyond in 6 months or less contains affiliate links.
The other day I did a facebook live on the different journeys and paths you could take as a freelancer to get you to the 5K and beyond a month mark.
And it could all be done in 6 months or less.
If you work hard, stay dedicated, and act now.
But before I get into it, I want to share my initial thought process.
I started freelancing as an ends to a mean. I wanted to quit my job. I wanted to stay home with my kids.
I was willing to do whatever it took to make that happen.
When I started freelancing I did not fully realize the opportunities that were out there.
My first client was very entry level stuff. Email management, scheduling, excel spreadsheet organization.
All things I hate. But I loved it and it became my passion because it was going to allow me to stay home.
Then my next client was a lady and for her I did some design of pdfs for her online course, and I also googled and did research for her.
Then my next client was Facebook group managing.
Then my next client was pinterest management and a social strategy gig.
Then my next client was designing sales pages, writing copy, and building out sales funnels.
And that just about covers all of my clients except maybe a few here and there.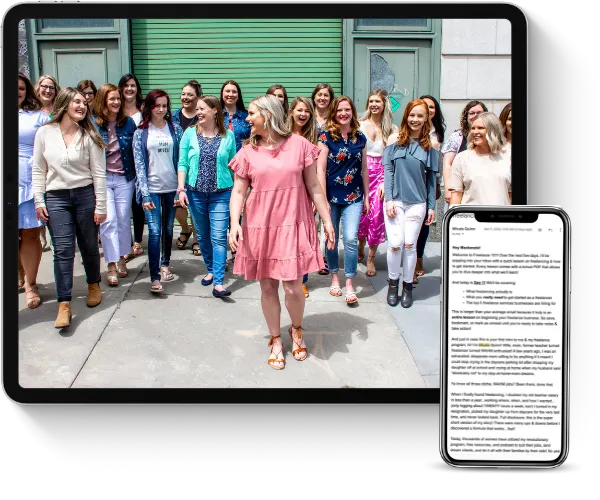 Learn how to earn $3K a month+ as a freelancer working less than 25 hours a week even if you think you have no experience.
This FREE crash course will teach you all about the freelance industry, so you can finally end the family vs. finances battle.
What I want you to take away from this is that no matter where you start, you do not have to stay at the entry level forever.
Sometimes, depending on how bad you want out of your 9-5 and how fast (if this is your goal), it might be worth it to just accept anything to get your foot in the door.
Sometimes, depending on your current job and experience, you might hold out for a dream job.
It all depends on your individual goals and wants.
Okay, so here is HOW you start at an entry level Virtual Assistant job and work your way up to a 5K and beyond business in 6 months or less.
Note: This is an ideal situation, your journey may look a little different.
Job path: Virtual Assistant → Social Media Manager → Sales Page Designer → Digital Marketer.
For this path, let's say you start out as a VA at an hourly rate of $20 an hour and you have 25 hours a week to work. (Typical hourly rate for a beginner is anywhere from $15-$30 an hour.) Let's also pretend that, since you are a rockstar your first month in business you booked out!
So this first month, at $20 an hour, 25 hours a week, you make $2k as a virtual assistant.
Pretty good right?
Now, one way you can make more money as a VA is to add more clients and hours to your work week, but I am a fan of part-time hours and like to show people what they can earn in part-time hours.
So here is how you make more eventually, working the same amount of hours.
As you learn more, and take on new responsibilities for current clients, raise your rates.
You can raise your rates whenever you want, but I would suggest an increment of $5-10 dollars every 3-6 months for current clients.
If you started out at $20 an hour and were an amazing VA, made minimal to no errors and your client loved you you *might* be able to raise your rates $10 dollars an hour every 3 months on current clients, if you are also taking on new responsibilities.
So now you are at $40 an hour, working 25 hours a week, making 4K a month in 6 months.
How do you get that up to 5K?
Add 6-7 hours more to your work week. OR…
Take on a new title as you learn and grow.
For me once I mastered being a VA, I began to call myself a Social Media Manager.
Social Media Managers can earn on average $30-$50+ an hour.
If you are successful as a SMM (your client sees a boost in engagement, they get more followers, more referral traffic from their FB or IG to their website and in the end more sales, you can command the higher rates.
At $50 an hour as a SMM working 25 hours a week, you can make around 5K a month.
WOW!
Once you master Social Media Management, you may have fallen in love with the design aspect and move to design and create landing pages.
Someone who designs landing pages may charge $40-$75+ an hour.
At the high end, working 25 hours a week at $75 an hour you could be making around $7,500 a month.
In. Part. Time. Hours.
Mind blown.
Especially for my teaching background. I was never going to make over 3K a month. NEVER.
And then when you move on to digital marketer, your typical hourly rate could range from $50-$90+.
25 hours a week, at $90 an hour = 9K a month. 
Is this real life??
For some, yes.
So how do you get from 2K a month to 9K a month or from Virtual Assistant to Digital Marketer?
Hard work.
Investing in yourself and your business.
Being confident.
Continuing to learn.
A couple of things to keep in mind:
When you raise your rates for current clients, you have to be able to justify to them either with results or what you bring to the table of why you deserve that rate increase

You can raise your rates for new or potential clients at any time

When you raise your rates on current clients, be prepared for pushback

I am just using an hourly rate for ease, but typically when you get to higher level jobs you begin to create packages for clients and move away from hourly work

Just because you are new to the online space, does not mean you have to start out at the beginner rate
This was just one potential path, there are TONS of other jobs and paths out there.
What step are you going to take TODAY, to make this your reality? Download one of my FREE resources below and start your journey to become a work from home mom!