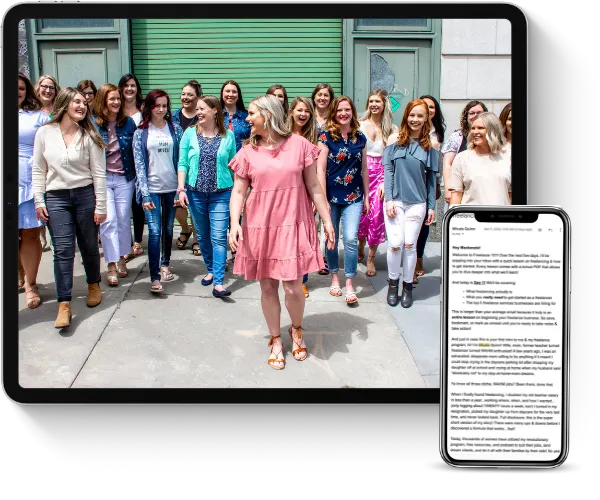 Learn how to earn $3K a month+ as a freelancer working less than 25 hours a week even if you think you have no experience.
This FREE crash course will teach you all about the freelance industry, so you can finally end the family vs. finances battle.
So you want to become a work at home mom … who doesn't it sounds ideal doesn't it?
No boss.
Work when you want.
Work where you want.
Make what you want.
But you are sifting through all of the options and trying to determine which one is going to be right for you… (Check out our post we did a few weeks ago on the opportunities out there to become a work at home mom) … I will admit though, I am heavily biased towards the freelance option.
Freelancing retired me from my teaching job super fast and lead me to become a work at home mom, but I get asked a lot… and I mean A LOT… how much can you actually make a month as a freelancer? Is it really possible to replace my full-time income? So to help you see the possibilities for you and just how profitable freelancing can be, let's dive right in!
Questions to consider:
How much money do you need to be bringing in a month in order to quit your job?

Do you want to quit your job or just supplement your current job?

Will you keep the kids at home or keep them in daycare?

How many hours do you want to work a week?
Determine your purpose to become a work at home mom
You want to become a work at home mom, but do you…
Want to quit your job?
Want to supplement your current job?
Want to work full-time?
Want to keep your kids in daycare?
Get clear on this first.
Look at your finances
Once you have your purpose determined… take a look at your finances. (I am going to assume for ease of this post that most people here with a current 9-5 want to replace their current income, quit their jobs and become a work at home mom.
Finances, especially when starting out can be super depressing because there's nothing there yet and the initial number may seem huge and too far out of reach, but I will show you that's not the case.
How much money do you bring home a month?
How much money do you spend on daycare a month?
What other work related expenses do you incur a month? (Think gas, commuting expenses, etc)
Do you need to keep in mind any benefits or health care expenses?
For me, I brought home around $1800 after taxes, paid around $800 in daycare, did not have any commuting expenses and we do health insurance through my husband's job.
So in order to quit my job, I needed to bring home around $1500.
I came to this number by subtracting daycare from what I brought home a month and added on a buffer for taxes.
But guess what… In less that two months of getting serious about building my business, I not only replaced my full-time income, I doubled it.
Look at your schedule
Once you have your finances mapped out, look at your schedule.
You need to figure out how much time you actually have to build your business on the side.
To do this, look at your typical weekly plan and think about where can you squeeze in an hour or two (or more if your schedule allows) to build your business.
For me, I looked at my week and added 2 hours to each morning, so instead of sleeping in until 7, I woke up at 5 and worked from 5am-7am Monday-Friday.
This added 10 hours a week to my work schedule.
Then I added on two hours in the evening from 7:30-9:30 once my daughter was in bed.
This added 10 more hours a week to my work schedule for a total of 20 hours!
I could also add 4 hours to both Saturday and Sunday if I needed, but I didn't really want to work weekends.
If you are a working mom, struggling with finding the time, and figuring out how to build your business on the side, grab my How to Build Your Business on the Side workbook now!
Determine if what you have will be enough to quit
Now that you know how many hours you have a week to work, it is time to determine if that is enough to get you out of your full-time job.
To figure this out let's take the number of hours you have available to work a week and times that by your hourly rate.
**Your hourly rate may be different or you might even charge a package price, but it is still a good idea to know your hourly rate… you'll use this to help determine your package prices anyways…
To use me as an example again, my available hours were 20 to 28 hours a week. Times that by my hourly rate at the time $30, and I had the potential to make $600 to $840 a week.
Now times that by four to get your monthly take home… Mine was $2,400- $3,360 a month.
YES that most definitely allowed me to quit my job!
Not only that… it almost triples my take-home pay!
So essentially, it would have made bad financial sense for me to stay in my 9-5 job.
I worked 55+ hours there a week… and only brought home $1k after everything was said and done… oh the joys of being a high school English teacher.
I could make double, almost triple, what I did as a full-time teacher, working less hours a week as a freelancer.
Now if your numbers don't add up as nice and neat as mine did, don't get discouraged.
You can still build your business up on the side, it just might take a bit longer, and you might either need to make the leap to full-time freelancer before you have fully replaced your income… especially if you are fully booked, have more clients wanting to hire you, but no time to work!
Or you might need to be okay with taking the leap and living off a smaller budget until you fully replace your income… you could use your freelance earnings from the start to pull into a quit my job savings fund and try to get 3-6 months saved to have as a cushion when you do quit your job!
If you did the math, the numbers are in your favor and you are ready to begin your freelance business now, check out my Jumpstart Course. This course will guide you through step-by-step how to build your business + land clients right away. The moms who implement my tips and strategies end up making anywhere from $1k-$5k a month depending on how many hours they want to work a week.
Check out the course that can help you replace (or double) your full-time income now!
But first hear one mom's story on how my course helped her become a work at home mom below…