EPISODE 85: SHOW NOTES
We have yet to talk about the scaling option of building an agency… until now! I am so excited for you to hear this interview with Ali Parrish because not only do we talk about building an agency, but also how she went from teacher to corporate instructional designer to running a freelance agency!
Ali shares what her agency looks like now, what she believes are the most important things to do as you build an agency, and what she considers when she hires someone for her agency.
Whether you're considering the agency route yourself or you're brand new, Ali's story is so inspiring and shows us another possibility for WAHMs!
Thanks for joining us today! What were your takeaways from this episode? Share them with me in the Live Free Mastermind fb group. I can't wait to chat with you over there!
**This post about running a freelance agency may contain affiliate links, which means if you click one of our affiliate links and decide to make a purchase, we receive a tiny commission from the seller at no additional cost to you. We only share products and services we have used, tested, and love ourselves!**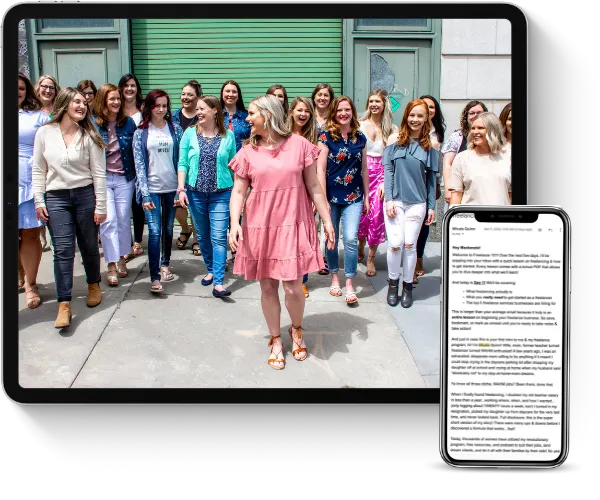 Learn how to earn $3K a month+ as a freelancer working less than 25 hours a week even if you think you have no experience.
This FREE crash course will teach you all about the freelance industry, so you can finally end the family vs. finances battle.
In this episode, we cover:
what Ali did to go from teacher to corporate instructional designer to running a freelance agency,
what you should do today if you're thinking about starting a freelance agency, and
how Ali is helping teachers transition into their next thing
Resources and links mentioned in this episode: