Women are always asking me, "Can I freelance with no experience?"
The answer to that question is yes, you can freelance with no experience by becoming a freelance administrative assistant!
Let me back up a bit, and tell you my story of how I found freelancing, became a freelance administrative assistant, and quit my full-time teaching job.
I was a high school English Lit teacher a few years ago, and when I had my daughter my whole world changed. I loved teaching, but when she was born I just wanted to be with her. I hated rushing to drop her off at daycare all day, then only getting a short time after school to be with her before putting her down for the night. Then doing it all again the next day. It was exhausting!
And I wanted something different for us.
So I started searching the internet and stumbled upon the world of freelancing. I had no idea at the time, but it would be the answer to my problems.
I started as a freelance administrative assistant, also known as a freelance virtual assistant, or whatever you want to call it–it was the answer I had been searching for!
According to Statista, the number of freelancers in 2022 was 70 million!
So what jobs can you do as a beginner freelancer? You can start out doing freelance administrative assistance just like I did.
What is a Freelance Administrative Assistant?
A freelance administrative assistant does administrative tasks for business owners doing daily, weekly, and monthly tasks. These are usually tasks that can be done by someone other than the business owner. Things like ordering supplies, email inbox management, customer service, calendar management, and scheduling.
These tasks can vary day-to-day and week-to-week. As an administrative assistant, you may wear a lot of hats. You are an extra set of hands to help get stuff done.
List of administrative assistant duties:
Supply management
Customer service
Email inbox management
Calendar management
Fulfilling customer orders
Google Drive organization
Data entry
Research projects
Social media graphics
Taking meeting notes during virtual meetings
Travel arrangements
Invoicing or billing
Transcribing
How to Start with No Freelance Administrative Experience
Skills
You need good communication skills and an organizational system. You do not need a degree or experience to become an administrative virtual assistant!
If you can problem solve and are willing to learn as you go, you can do this role!
What is administrative experience?
I bet you have most of these skills already, from previous jobs and life experience. Check out the Freelance Skills Assessment, a free activity that can help you brainstorm the skills you already have! A lot of these skills are things you do every day in your personal or professional life. Things like checking email and organizing an inbox, responding to comments and questions, and creating social media posts.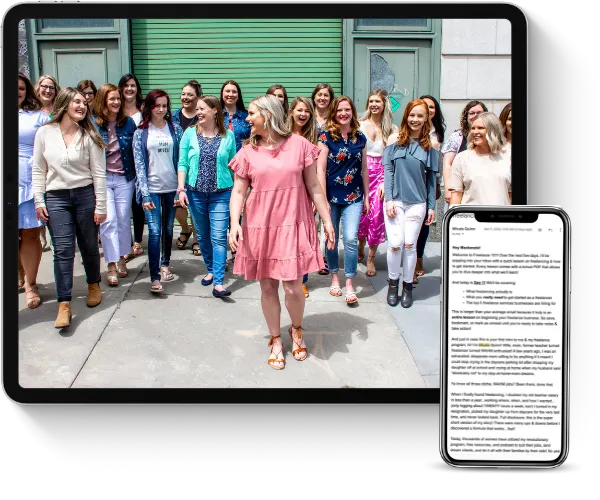 Learn how to earn $3K a month+ as a freelancer working less than 25 hours a week even if you think you have no experience.
This FREE crash course will teach you all about the freelance industry, so you can finally end the family vs. finances battle.
Tools
For a freelance administrative assistant role, you will need a computer and an internet connection. You might need a phone. That's it! Any other software needed to do this job should be provided by the client.
Freelance Administrative Assistant Pay
As a virtual administrative assistant, the pay starts at around $25/per hour starting out. As you gain more experience you can charge up to $40/per hour!
How to price and package administrative assistant services
Virtual or freelance administrative assistants will typically create packages for a set of monthly hours of support that a client can purchase. To create a package, you would charge your hourly rate by the number of hours in the package which would give you the package price.
How to Become a Freelance Admin Assistant
To become an administrative assistant you will start a freelance business. To do this you will want to research requirements for starting a business for the local state and country laws where you live. There will be different rules on starting a business, what type of business you want to start, paying taxes, etc.
Then you will determine the services you can offer to clients.
Next, determine who you want to work with or your ideal client.
Create a portfolio with sample work you can send to clients when applying or pitching for jobs.
Check out this Virtual Assistant Checklist to learn more about what exactly you need to start your freelance business.
And if this all sounds like a lot and you want step-by-step help check out The Live Free Academy course here!
Where to Find Freelance Admin Assistant Jobs
There are many different routes you can go to find clients! Once you have determined who you want to work with you can think through where these potential clients might be hanging out.
Facebook groups: there are so many Facebook groups out there, pick a few your ideal client would be in, join the conversation and show up as an expert on Pinterest.
Direct outreach: Also called cold pitching. When going this route you want to find a need you can fill, then reach out with a very personalized email.
Online job boards: For example, the job board that available to all students that sign up for The Live Free Academy course. Potential clients will post what they need, and you reach out to them.
Current employer: depending on your role in your company and how open they are to the idea, you could ask your current employer if there is any capacity to move to a freelancing role.
Referrals: once you start landing clients, they will refer you to other potential clients.
Marketing on social media: this route takes more time and energy, so I don't recommend it unless you are established in your business.
Resources That Can Help
Are you interested in freelancing but still on the fence about becoming a freelance administrative assistant?
That's okay! Learn more about freelancing with all the free resources on my website MicalaQuinn/freeresources. These are going to help you learn more about freelancing, starting a freelance business, and figuring out what skills you already have. Plus, they are all free!
Now, if you are sitting there thinking this all sounds great, but starting a business as a freelance administrative assistant sounds intimidating. The Live Free Academy course can help you at every stage of starting and growing your business. Inside this course, you get full access to a how-to build your business course so you can get ready for clients ASAP!
You will get all the tools and templates, skills training, and the most supportive community of freelancers on the internet by your side! Plus, you get weekly coaching calls, freelance job leads from the exclusive LFA Hire Form available only to the LFA community, and monthly land your client goals challenges.