Your step-by-step plan to earn $3K a month as a virtual assistant working 25 hours a week
Even if you think you have no experience. Yes — it is possible!
How to turn your current experience into an in-demand business as a virtual assistant.
Three industries that need your help right now & exactly where to find the business owners ready to hire you.
Exactly how to create a plan to meet your specific income goal — this is not a one-size-fits-all training.
next workshop: October 17th, 2022 @ 12 pm CST
Launch Fast Crash Course How to Get Started Freelancing
Meet (and exceed!) your income goals, land your first client ASAP,  and launch a business you love.
Download this FREE resource to discover:
Learn what it actually means to freelance!
Industry secrets: the top freelance services you can offer right now!
Your inside guide on exactly where to find paying freelance clients
3 ways to learn! Access this content via a Video Training, Podcast Episode or Workbook
Your Freelance Skills Assessment
You already have a very valuable and profitable skill set that you can leverage into a freelance service that business owners will pay you good money for, even if you doubt yourself right now.
Uncover your freelance skillset
Learn how to get started with the knowledge and experience you already have!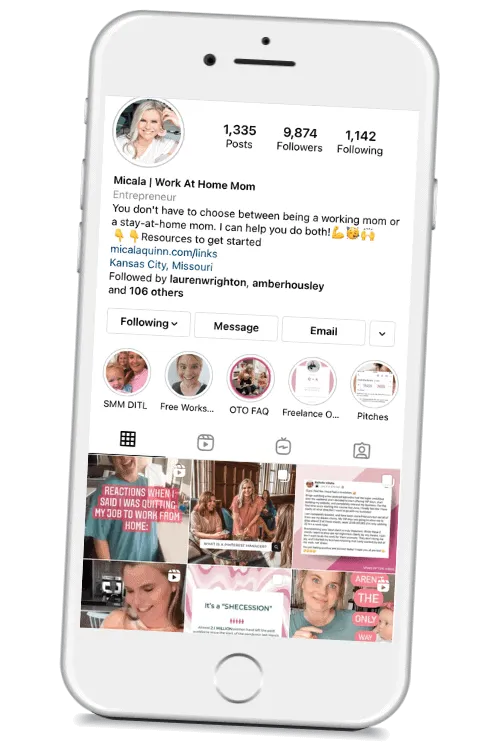 Go behind the scenes of life here at MQHQ to learn more about freelance life!
Receive exclusive freelance trainings
View our Day-in-the-Life series
Sneak a peek at OTO job leads each week
Each Monday a new episode drops with:
Tangible business advice & tips
The freelance news you need
Join me & 20,000 other women to learn more about freelance life!
Connect with other freelancers
Access LIVE trainings and Q&A sessions
Check out our Swap-it-Sunday portfolio builder opportunities