Watch the video version of this blog on the top five things holding you back from launching your freelance business and how to overcome them below!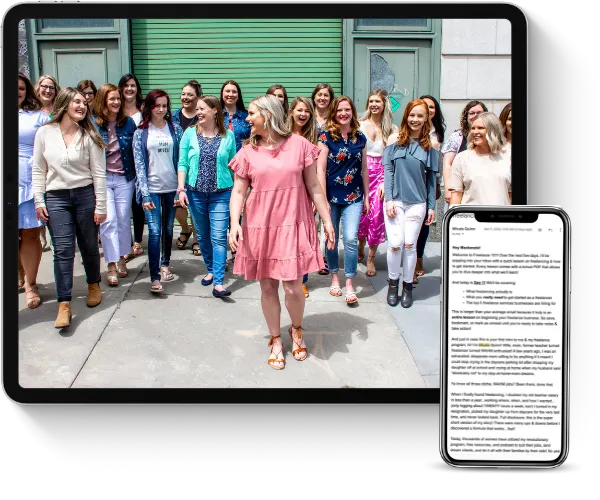 Learn how to earn $3K a month+ as a freelancer working less than 25 hours a week even if you think you have no experience.
This FREE crash course will teach you all about the freelance industry, so you can finally end the family vs. finances battle.
Don't like video? No worries — I got the cliff notes version too!
The top 5 things holding you back from launching your freelance business and how to overcome them!
1. Thinking you have no skills or services to offer in the online space
Nope, not true. Not even a little. You, no matter what your current job is, have skills and talents that you can package up and market to business owners.
My Ultimate Freelance Guide will help you not only discover what your marketable skills are but also help you translate them into a profitable career in the online space. Grab it below!
2. Thinking everyone else is already way ahead of you so why even bother
Truth bomb — there is ALWAYS going to be someone more experienced, more advanced, more [ fill in the blank ] than you. That's life. Instead of comparing yourself to them, learn from them!
3. Thinking you have no time
We've all got the same hours in a day, what matters is how you use them! If you want to grow your business and you have a full-time job it is going to take some sacrificing for a few months while you get your business up and running until you replace your income.
Look at your day, map out what you are doing hour by hour and see where you can makeover your time to include time to build your business or time to get in client work.
When I was working full-time, I worked 5 am – 7 am before work and then 7:30-9:30 or so depending on how much work I had to do + a few hours on the weekends in order to meet my goals.
It is hard work in the moment but definitely pays off in the end.
4. Wondering what if you fail
This isn't bad, necessarily, but it's bad when you let it prevent you from even getting started.
The truth is you will have small moments of failures in all stages of building and growing your business.
What is important is changing your mindset around failure. Failure isn't a bad thing, especially if you use it as a learning experience.
Learn from your mistakes. Persevere. And keep pushing!
5. Wondering how in the world do I get started
Yes, there are lots of steps involved in launching a business, and it can be intimidating, but that is why I am here!
I have another blog post on the five steps to you need to take in order to build your business.
Or if you are ready to take the first steps to growing your business, I'd love to hop on a quick fifteen-minute discovery call with you!
Let me know in the comments your story! What are you struggling with or what did you struggle with and how did you overcome it? We love continuing the conversation and hearing other mama's success stories!