Are you wanting to start a freelance business but need help finding clients as a virtual assistant?
Don't hesitate or delay your dreams of becoming a mom who can do it all! Working from home, doing a job you love, and spending time with your babies…it's possible with freelancing!
Many women are hesitant initially, wondering how to find clients as virtual assistants.
Today's LFA student success story, Erika Kramer, took a leap of faith to start her business. When the fear of not finding clients became her reality, Erika persevered. She stayed consistent and began finding clients as a virtual assistant!
Follow along as Erika shares the technique she used in finding clients with us on the blog today!
Erika's Story
Erika started as a teacher about six years ago after getting her teaching degree. She has three kiddos at home with her and her husband. After getting her teaching degree and meeting her goal of becoming a teacher, she tried a few different avenues in teaching, but ultimately they were not really what she wanted.
With freelancing, she learned she could have the best of both worlds! Erika gets to stay home with her son but also experiences the creativity and feeling of helping people that come with teaching.
When the pandemic started in March 2020, everything shut down, and Erika was able to be home for the next two years. She quickly realized that she liked working from home and providing financially for her family. So, she decided that she needed to make a change permanently and was going to make it work somehow.
Erika found freelancing through the school district she was currently working with when searching for something else that would allow her to stay home. She came across the then Overwhelmed to Overbooked course and started binging all the free resources.
So, Erika bought the course and started building her business while still teaching.
Admittedly, Erika shares that it took her longer to get through the course than many others in the LFA program who binge it in week one. However, she wouldn't change it because her foundation is so solid.
Erika's schedule
She says her work varies daily but has a general structure. She doesn't set an alarm to wake up but instead wakes up when her 3-year-old climbs into bed with her in the morning.
They have a lazy morning getting ready for the day, then go out to the library or play until lunch. In the afternoon, her son will nap or have rest time. During his rest time, Erika works for 2-3 hours on her business.
Then they have family time in the evening with her other two kids and husband after work. Sometimes Erika works after her son goes to bed.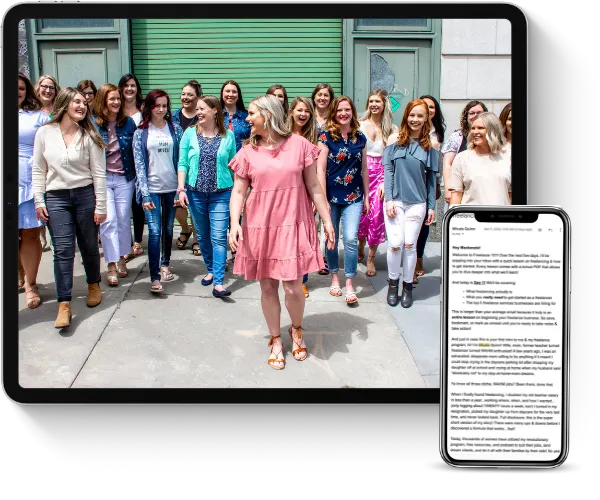 Learn how to earn $3K a month+ as a freelancer working less than 25 hours a week even if you think you have no experience.
This FREE crash course will teach you all about the freelance industry, so you can finally end the family vs. finances battle.
Finding Clients as a Virtual Assistant
Erika shares that it took her a while to find her first client. She kept a Trello board of all the jobs she applied to, every discovery call, and every client she signed.
Erika estimates that she applied for about 50-60 jobs and attended 10-20 discovery calls before signing her first client.
The first client
Erika's first client was a personal connection she made after sharing her newly formed business on her Facebook page.
Erika's first few clients ended up being personal connections that reached out to her through her post on Facebook.
After finding her first full-time client at the end of the school year, she has picked up a few more.
Erika found one client from Slack, a few more from Facebook groups, and one from the LFA job leads board.
On Not Getting Discouraged
Erika admits there was not a time when she wanted to walk away, but there were difficult times that she went through–especially before she landed her first client.
She says,
"I would rather try and fail than not try at all."
Erika didn't want to wonder "what if" for the rest of her life.
The Technique Erika Used For Finding Clients as a Virtual Assistant
The technique Erika used for success was being picky.
Erika did not apply to every single job she saw posted. If the job didn't sound right to her, she didn't apply for it.
If it didn't pay her ideal rate, or part of the position was doing tasks she didn't want to do (didn't sound fun to her), then she didn't apply for it.
Erika's Work As A Virtual Assistant
Erika describes her work for her eight clients as mostly email marketing and social media work doing a lot of writing and designing. She creates social media images in Canva and writes some of the posts. She also does some blog copywriting.
Listen to Erika's podcast episode here for more details about the work Erika does and what she's planning for her business in 2023!
Where Can You Learn About Finding Clients as a Virtual Assistant?
Are you ready to buckle down and start finding clients as a virtual assistant? If you answered "yes!" we've got two resources for you!
The first one is the Freelance Crash Course. It will teach you how to get started and the basics of freelancing.
The second is the Live Free Academy. After finishing the Freelance Crash Course and deciding–that this is what I want to do. The The Live Free Academy will be your fastest and most direct route to starting your business and finding clients as a virtual assistant.
Bonus– when you finish the Freelance Crash Course, you'll unlock a discount to the Live Free Academy program! So don't miss out; sign up for the Freelance Crash Course today!